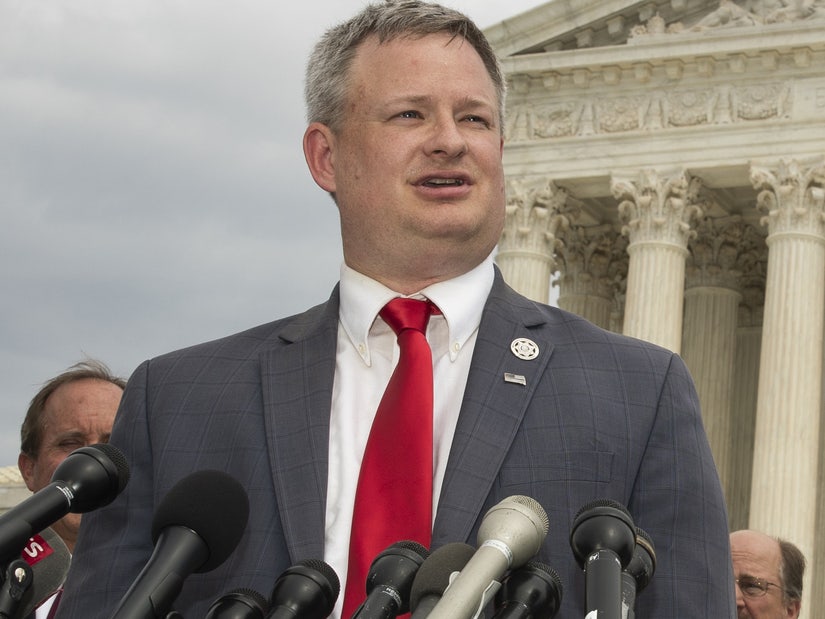 AP
The victim was hit so hard, his glasses ended up on the floor inside the car.
The careless driving charge against Jason Ravnsborg has been dropped.
On Thursday, the South Dakota Attorney General pled no contest to two misdemeanor traffic charges of making an illegal lane change, and using a phone while driving.
The third misdemeanor charge of careless driving was dismissed as part of a plea deal.
Each remaining charge carries a maximum sentence of 30 days in jail and a fine of up to $500, meaning his maximum punishment for killing a man he "thought was a deer" is $1,000 and 60 days behind bars.
However attorney Ryan Kolbeck — who was not involved in the case — told the Star Tribune he is unlikely to see the inside of a prison cell.
"It's not an admission of guilt, but a finding of guilt," he said of the no contest plea, which is treated the same as a guilty plea, but only for sentencing purposes. "You rarely see jail time in these cases."
The charges will not affect Ravnsborg's job, who insists on staying on as AG.
The victim's widow Jenny Boever previously stated through her lawyer she intended filing a wrongful death lawsuit.
The South Dakota attorney general who said he thought he hit a deer with his car had the victim's glasses inside his car.
Newly released police interview videos show agents asking Jason Ravnsborg if he noticed them after the crash, explaining that the only way they could have got there is when Joseph Boever's head smashed through the windshield.
During the interviews, released by the state's Department of Public Safety on Tuesday, Ravnsborg insists he didn't notice them lying on his floorboard.
This was the moment South Dakota's attorney General was told that the face of the man he hit and killed actually came through his windshield to the point where investigators say the victim's glasses were found in the attorney generals car. The AG insists: he thought he hit a deer pic.twitter.com/jXFT7RheBF

— David Begnaud (@DavidBegnaud) February 24, 2021 @DavidBegnaud
"They're Joe's glasses," the agent tells him. "So that means his face came through your windshield."
"That's a tough thing," Ravnsborg sighs, arguing that he didn't think anyone's head came through his windshield because there wasn't blood everywhere.
"We know that his face came through your windshield," the agent goes on. "We know that. We already talked about that. That's, I would think, substantially clear that that's what happened."
"We also have the imprint on the hood where his body, part of his body, likely was riding. At some point time he rolls off, takes out the mirror and slides into the ditch."
Ravnsborg continues to insist he never saw the victim until the next day, and never saw the glasses until the interviewer showed them to him.
Elsewhere in the interview, they tell the silent AG that they know Boever wasn't walking in the middle of the road, but on the verge, and that Ravnsborg had to have been driving in the shoulder.
South Dakota Governor Kristi Noem has since called on him to resign:
Now that the investigation has closed and charges have been filed, I believe the Attorney General should resign. I have reviewed the material we are releasing, starting today, and I encourage others to review it as well.

— Governor Kristi Noem (@govkristinoem) February 23, 2021 @govkristinoem
Watch the full police interviews, below:
South Dakota's attorney general has been charged with just three driving misdemeanors.
Jason Ravnsborg avoided any felony charges five months after he reported hitting a deer with his car, when he'd actually run over and killed a pedestrian.
Instead, his wrist was slapped with careless driving, driving out of his lane, and operating a motor vehicle while on his phone, AP reported.
If found guilty, he could face a maximum of 30 days in jail and a $500 fine on each charge.
Hyde County Deputy State's Attorney Emily Sovell announced Thursday that there simply wasn't the evidence to support felony charges of vehicular homicide or manslaughter.
She pointed out that Ravnsborg wasn't intoxicated at the time; a toxicology report from a blood sample taken approximately 15 hours after the crash showed no alcohol in his system.
Sovell said that to charge him with manslaughter the state would have to prove he "consciously and unjustifiably" disregarded a substantial risk — which it could not.
"At best, his conduct was negligent, which is insufficient to bring criminal charges in South Dakota," Beadle County State's Attorney Michael Moore, who helped handle the case, added.
Crash investigators determined Ravnsborg was not on his phone at the exact moment of impact, but had been one minute before.
They could also tell he walked right by the body of 55-year-old Joseph Boever while surveying the crash scene with his cellphone flashlight; but because it was a "very dark night" and there was no lighting on the stretch of road, Sovell deduced Ravnsborg — as well as the sheriff who attended the scene — might not have seen him.
"I appreciate, more than ever, that the presumption of innocence placed within our legal system continues to work," Ravnsborg said in a statement following the charges.
Boever's family meanwhile expressed frustration and disappointment, not just at the leniency, but at the amount of time it had taken to get there.
"I was afraid the charge would be something on the order of crossing the white line," the victim's cousin Nick Nemec said. "And that's exactly what the charge was."
He said he expected the family to now pursue civil action.
original story 9/14/2020 2:52 PM
The Attorney General of South Dakota reported hitting a deer with his car on Saturday night — but he'd actually killed a pedestrian, investigators say.
Jason Ravnsborg was driving home from a Republican fundraiser in Redfield, a 110 mile journey, along a rural stretch of Highway 14 when he was involved in a collision.
According to a statement by the Department of Public Safety issued on Monday, Ravnsborg informed Hyde County Sheriff's Office that he'd hit a deer. It was not made clear when he contacted the authorities.
But on Sunday morning, investigators found the body of a 55-year-old man at the scene.
The victim, later identified as Joseph Boever, had crashed his truck earlier on Saturday, AP reported.
According to relatives, he was walking near the roadside towards his crippled vehicle, when he was run over.
In a statement of his own the AG said he was "shocked and filled with sorrow" over the incident, but did not get into the details. His office said he thought he'd hit a deer and immediately called 911; they insisted he had not been drinking before the crash.
The DPS statement did not mention the cause of the crash, if speeding was a factor or if charges are pending.
However Ravnsborg does have a history of speeding: in the four years leading up to his election in 2018 he racked up six separate speeding tickets, as well as two other motorist violations, for driving a vehicle without a proper exhaust and muffler system in 2015, and a seat belt violation in 2017, the Argus Leader reported.
The victim's cousin Nick Nemec confirmed Boever had crashed into a hay bale near the road on Saturday evening; his brother had given him a ride home — about a mile and a half away — before they made plans to make repairs on Sunday.
He said the family were frustrated and suspicious it took almost a day to identify his cousin as the victim.
"I don't know if cousin Joe was laying on the highway for 22 hours or if they had bagged him up before that," his cousin said.