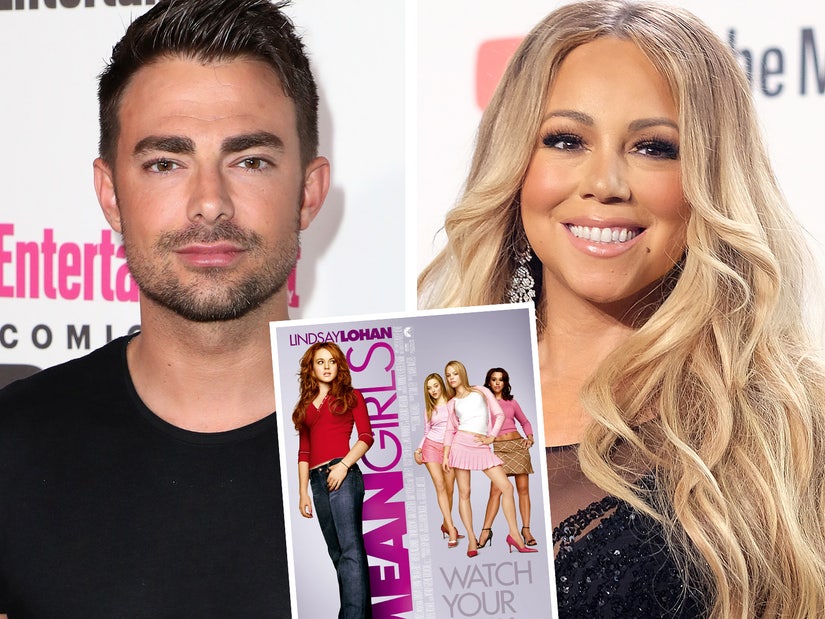 Getty/Everett Collection
The actor also gives some very valuable advice for anyone planning a "Mean Girls" Halloween costume this year -- and who he'd like to play in the movie musical.
While the singer just proved her fandom to the world, it's something star Jonathan Bennett -- aka Aaron Samuels -- has known for a while. But, when he tried to get some one-on-one time with Carey, she proved to be a truly elusive chanteuse.
After asking Bennett whether he had watched Billboard's video -- he hadn't -- the actor filled TooFab in on his own "Mariah Carey story."
It was New Year's Eve 2017. Bennett was hosting a live stream of the ball drop from NYC, while Mariah would hit the stage that evening for a performance that would be remembered for all the wrong reasons.
"I saw her walking to rehearsal and she had just shot a movie with Lacey Chabert from 'Mean Girls,'" said Bennett, referring the the Hallmark holiday film "A Christmas Melody," which Carey directed.
"Lacey was like, 'She's a huge 'Mean Girls' fan," he continued. "So I'm hosting New Year's Eve, she's going there to rehearsal and I see her walk by my trailer and I want a photo, but I can't muster anything to yell to try to get her attention because everyone's yelling."
"And I literally yell, 'I was in Mean Girls!' like a loser. That's what comes," he explained. "I go, 'I'm friends with Lacey Chabert!' I yelled this at Times Square to Mariah Carey."
The attempt was not successful, leaving Bennett "mortified with myself" he had just screamed that in front of a huge crowd of people. "Like, I can't believe I said that," he added. "I walked in and I was like, 'I can't, I'm done.'"
"I love her. I am absolutely obsessed with Mariah Carey and I think she's fantastic," said Bennett. "I love that woman."
While the film came out 16 years ago, its legacy lives on. Earlier this year, Fey confirmed that a film adaptation of the Broadway musical, itself based on the original movie, is in the works.
"Did not get a call for that. Nothing yet, but I'm expecting a call," said Bennett. "Here's the thing, Tina, if you're watching … you're not, but, I think I should play a teacher."
The actor, now 39, said he'd also be happy with a "Mean Girls" TV series "where all of the mean girls are grown up and parents and they have kids in high school."
Lastly, Bennett offered up some very valuable advice to anyone dressing as any of the Plastics for Halloween this year.
"This is a message from Aaron Samuels himself. If you're going to do a Mean Girls costume this year and go out, the best costume you could do is not to go out and spread COVID! Stay home!" he exclaimed. "We can miss a year. It's fine. We don't need to go out."
"And if you do, wear a mask, please," he pleaded. "You don't need to go to a Halloween party. You don't need to go trick-or-treating. Stay home, wear a mask, be safe."
Bennett is currently hosting the new season of "Halloween Wars," airing on Food Network.