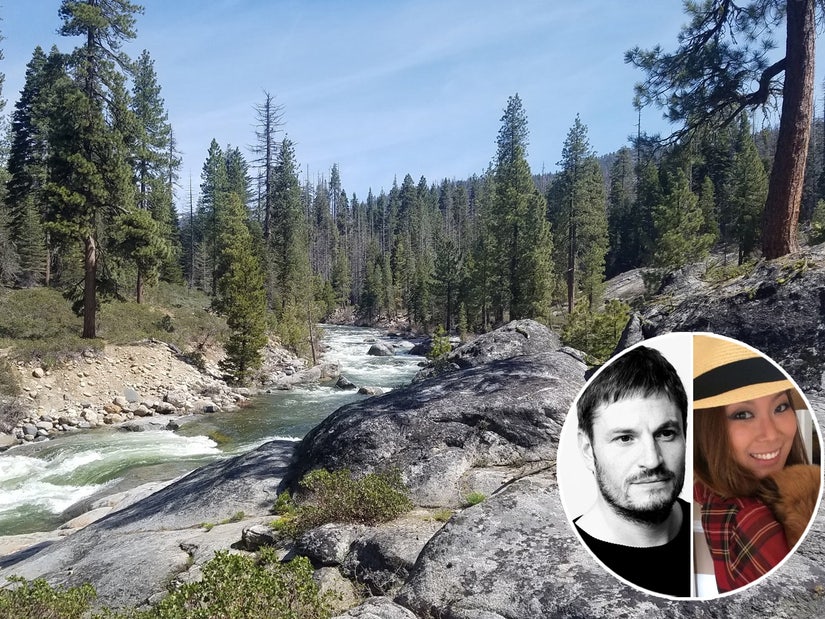 USDA/Forest Service/Facebook
Update 10/21/2021 2:20 PM
Investigators believe they have finally determined what killed John Gerrish, Ellen Chung, their one-year-old daughter Muji, and their 8-year-old Akita mix, Oski.
The mother, father and baby died of hyperthermia and probable dehydration, Mariposa County Sheriff's Office announced at a press conference Thursday.
While the exact cause of the dog's death was not determined, Sheriff Jeremy Briese said the condition of his remains and other evidence also pointed to "heat related issues."
Explaining why it took so long to figure out, Sheriff Briese said "Heat-related deaths are extremely difficult to investigate. I want to thank you all for being patient with us."
Despite being experienced hikers, the family had taken to the trail on a day where temperatures reached as high as 109 degrees; the route had little-to-no shade, having been stripped bare of foliage from a 2018 fire.
Deputies found just one empty water container, an 85oz CamelBak, at the scene.
Waiting for your permission to load the Facebook Video.
Six more causes of death have been ruled out in the baffling case.
Mariposa County Sheriff's Office announced the results of several toxicology reports on Thursday — none of which revealed what killed John Gerrish, Ellen Chung, their one-year-old daughter Muji, and family dog Oski.
Per the results, detectives have now ruled out:
Gun or any other type of weapon
Lightning Strike
Carbon Monoxide
Carbon Dioxide
Cyanide Exposure
Illegal Drugs / Alcohol
Suicide
"ALL other potential causes of death remain," the Sheriff's Office said.
Sheriff Jeremy Briese said the department is continuing working closely with a toxicologist, environmental specialist, the FBI and other specialists.
"We respect and understand the need for information and details regarding this case. Our current priorities remain supporting and informing the Gerrish / Chung family during this tragic time," he said. "As we navigate through this investigation with the family, we will later share our findings with the public."
The Sheriff added that while many toxicology reports have been completed, "we are still pending a few key results. We have no timeline for those pending results."
Lightning may have been what killed the family of three and their dog.
According to the New York Times, investigators "were investigating possible lightning strikes in the area", as they continue to probe the baffling case.
None of the four victims bore any signs of obvious trauma; however according to the National Weather Service: "Lightning is primarily an injury to the nervous system, often with brain injury and nerve injury. Serious burns seldom occur."
Fatal lightning strikes are rare, but do occur; 17 Americans were killed by lightning last year alone. While the average since records began is 41 fatalities per year, the trend has been sharply decreasing from the 1940s and 1950s, when several hundred died annually.
Last week, several trails and campgrounds around the Merced River Recreation Site near where the family died were shut down "due to unknown hazards".
On Friday, officials announced that 28 miles of public area along the Merced River — downstream from where the family was found — were closed off after high levels of toxic algae were discovered in the water.
Update 8/27/2021 12:34 PM
The family were not killed bay a gas leak from a mine — nor were they killed by any kind of weapon, police have determined.
In its first update on the bizarre case in a week, Mariposa County Sheriff's Office revealed it had ruled out two causes of death — but still had not found any answers. Homicide had already been crossed off the list.
The department also provided a more detailed timeline of events leading up to the mysterious deaths; dad Jonathan Gerrish had researched the Hites Cove hike on a phone app on August 14, the day before they set out. Investigators revealed the family had completed most of the grueling 8.5-mile loop and were on their way back to their truck when they died on a steep switchback.
Gerrish was found in a seated position on the trail, with his infant daughter and eight-year-old dog next to him; Chung was discovered a little bit further up the path, the San Francisco Chronicle reported.
Because of the 2018 Ferguson Fire, some five miles of the trail has little or no foliage coverage or shade, meaning the family had been exposed to between 103 to 109 degree heat during the trek.
Toxic algae still has not been ruled out; detectives are still waiting on toxicology reports back from the autopsies; a camelback of water the couple were carrying is also being tested, as are samples of water taken from the nearby creek.
Warrants for the couple's phones and social media accounts were obtained and are currently being scoured by the FBI; searches of their truck and home have turned up nothing of significance so far.
The investigation is now being treated as a homicide.
While there is still no evidence to suggest foul play, in the absence of any other explanation, County Sheriff Jeremy Briese said he had no choice but to treat the case as such.
"I've been here for 20 years, and I've never seen a death-related case like this," he told The Times. "There's no obvious indicators of how it occurred."
"You have two healthy adults, you have a healthy child and what appears to be a healthy canine all within a general same area," he added. "So right now, we're treating the coroner investigation as a homicide until we can establish the cause."
The HAZMAT declaration on was lifted Wednesday, as the bodies of the three — as well as their dog, Oski — were finally airlifted from the scene.
The already-outlandish theories of toxic algae or a gas leak from the mines below have even begun to lose weight.
"We have not found any old mine shafts near the area," the Sheriff said. "There are some mine shafts, but we can't confirm if that's the cause yet."
Police must now wait on toxicology reports from the autopsies, which could take as much as six weeks.
original story 8/18/2021 8:38 AM
A young California family of three have been found dead in a remote area of Sierra National Forest.
The bodies of John Gerrish, Ellen Chung, and their one-year-old daughter Muji, as well as their pet golden retriever, were discovered on Tuesday morning near a hiking trail miles into the park.
There was no obvious cause of death, and investigators are treating the scene as HAZMAT.
The family, from Mariposa, were reported missing by a family friend on Monday night. They had not been seen since Saturday; their final social media post was uploaded at 6:45 AM Sunday morning: a picture of the baby backpack the couple carry their daughter in.
Rosanna Heaslett told News4SA that the couple regularly went hiking on weekends, but had not returned or turned up for work on Monday morning.
Mariposa County Sheriff's Office began a search-and-rescue operation, and located their new dark grey Ford Raptor parked at the Sierra National Forest gate, at the bottom of the trail leading to Hite Cove, a five mile hike.
But by 10 AM, the search was over: all four bodies were discovered in the open on a trail near the Devil's Gulch area in the South Fork of the Merced River drainage.
The area was so remote, rescuers had to hike back out to get satellite phone reception to report their grim find.
Sheriff's Deputy Kristie Mitchell told the Fresno Bee that because of mines in the area, and because there was no obvious cause of death, the scene was being treated as a HAZMAT situation.
"We're processing the scene right now. There's no clear indication of cause of death," she said, adding that the bodies have still not been recovered.
"Coming across a scene where everyone involved, including the family dog that is deceased, that is not a typical thing that we have seen or other agencies have seen," Mitchell said. "That is why we're treating it as a hazmat situation. We just don't know."
Deputy Mitchell told TooFab that while foul play has not been ruled out, there was nothing to indicate it: no gunshot wounds, no trauma of any kind, no suicide notes.
Some of the theories include a significant carbon monoxide leak from one of the mines deep below, or possibly even toxic algae, which can be caused a gas leak; hence the abundance of caution and the HAZMAT approach.
"It's just a very bizarre situation," she said.
The California Department of Justice is now assisting the Mariposa County Sheriff's Office with the investigation.
"This is never the outcome we want or the news we want to deliver, my heart breaks for their family," Sheriff Jeremy Briese said in a news release.
"Our Sheriff's Chaplains and staff are working with their family and will continue to support them during this heartbreaking time."