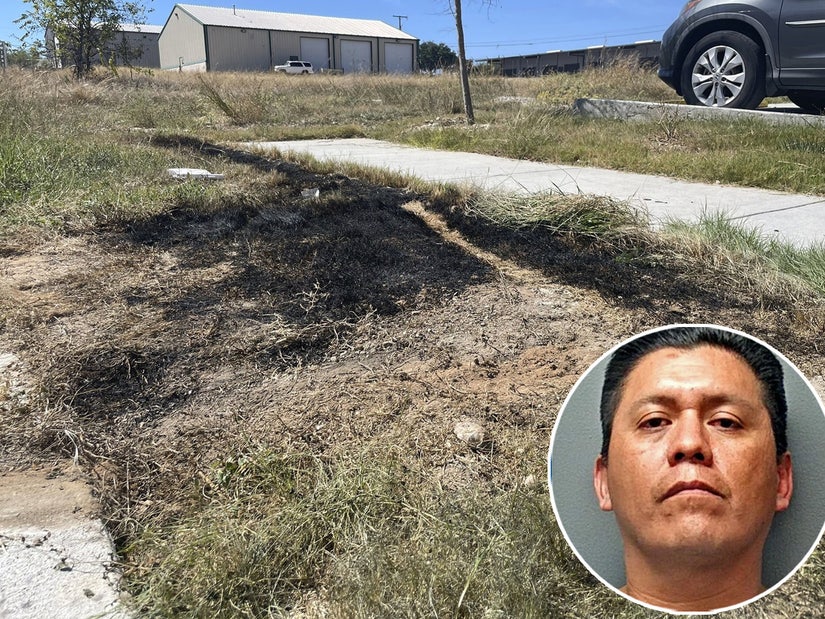 AP/Fort Worth Police Department
He volunteered that he had also previously "sacrificed" his roommate, and his girlfriend.
A man has confessed to killing the three people found dismembered in a burning dumpster in Texas — and two others, according to police. Fort Worth PD said Jason Alan Thornburg (pictured), a 41-year-old electrician's apprentice, admitted to a total of five murders.
Thornburg and 42-year-old victim David Lueras has been sharing a motel room in Euless; police said he admitted slitting Lueras' throat and chopping him to pieces, before doing the same to two other woman he casually knew, who had turned up at the motel room in the following days. Police had initially reported one of the victims to be a child, but now believe to be an adult female.
After volunteering that information, police said Thornburg went on to admit previously killing his 61-year-old roommate in May, and murdering his girlfriend before that. All five killings he described as "sacrifices," which he had been called on to carry out; he also boasted in-depth knowledge of the Bible.
Speaking at a press conference Tuesday, Fort Worth Homicide Unit Sgt. Joe Loughman said they picked up the trail by reviewing security footage near the dumpster, spotting a 2005-2010 black Jeep Grand Cherokee. Cross-referencing the list of 7,000 owners in the area, "a familiar name to our office came up, a gentleman named Jason Thornburg," Loughman said.
Police knew the name in connection with an investigation into the suspicious fire death of Mark Jewel — his then-roommate — in May, but they did not have probable cause to arrest him at the time.
Surveilling the vehicle, they discovered Thornburg was staying at the Mid City Inn Motel in Euless; reviewing security camera there, they saw a guest on the night of the fire "exiting a room carrying plastic bins, with what we believe to be body parts of our victims," making a number of trips back and forth to the Jeep.
When officers approached him, he agreed to come voluntarily. At the station, Loughman said, Thornburg admitted to his involvement in the three murders. "Mr Thornburg went into intimate detail as to how he committed his crime," Loughman said, adding he could not reveal the gruesome details because of the ongoing investigation.
Police then asked him about the May killing of his roommate, which he also admitted ... before volunteering he had previously killed a fifth person, too. "Mr Thornburg then went on to admit to us that he had killed another female in another state," Loughman said.
Much of those gruesome details are in the arrest warrant affidavit. It shows that Thornburg said Lueras had shown up at his motel room five days before the bodies were discovered. Believing he needed to be sacrificed, Thornburg said he slit his throat and dismembered him in the bathtub. He said he initially stashed the remains in trash bags, before obtaining Rubbermaid-type tubs to store them in.
Two days later a woman he knew, whom he described as "a very small Hispanic female", turned up at the motel room. He "sacrificed" and dismembered her in the same fashion.
Two days after that, another female he knew turned up. He said he initially tried to stab her but ultimately had to strangle her. Once again, he said he used a Milwaukee brand straight blade knife to chop her up.
When asked about Jewel's death in May, he said he also "sacrificed" him by slicing his throat. He said he then uncapped the natural gas line and lit a candle in the room. Asked if he had performed any other sacrifices, he told investigators he'd also killed his girlfriend in Arizona.
Police have since contacted colleagues in Arizona about the confession. They are still working on identifying the two women found in the dumpster.
The affidavit points out that the only way they were able to identify Lueras was because the letters "UERAS" were still visible on a large back tattoo, and because of a penis implant recovered from the remains.
Thornburg is currently being held at Tarrant County Jail on $1 million bond
original story 9/28/2021 8:40 AM
A triple murder investigation is underway in Texas after a horrifying discovery in a burning dumpster.
Shortly after 6 AM on Wednesday morning, Fort Worth Fire Department responded to a dumpster fire outside of a business on Bonnie Dr.; after extinguishing the flames they found three bodies — a man, woman and child — burned and "heavily dismembered."
Some of the body parts were unaccounted for.
The condition of the remains has made identification of the remains difficult; police say the female was either a young teenage girl or an adult woman. The male victim however has been identified as 42-year-old David Lueras (pictured), who had lived on and off in north Texas for 25 years.
According to Fox4, Lueras had several previous run-ins with the law, including charges for burglary, drug, fraud, and theft. His cousin Aaron Torres, who had not seen him in years, told the outlet Lueras had recently reconnected with family out of state in an attempt to hide — because he was in fear for his life.
"I know that he was scared and I know he knew somebody was after him to get him," Torres said. "He wouldn't tell us their names."
"Whoever did this definitely wanted to make an example out of him," Torres speculated. "Got lost with the wrong crowd. But I know he went over there to go hide."
Torres said he has no idea who the other two victims might be.
"Only God knows the truth, you know, we've just got to keep investigating," he said.
Fort Worth Police Department's Homicide Unit has appealed for anyone with information to come forward. "Identifying the perpetrators and suspects of this triple murder is the primary goal of this investigation," they said.
Investigators have not indicated if they know where the murders took place, nor the relationship between the three victims — if any.