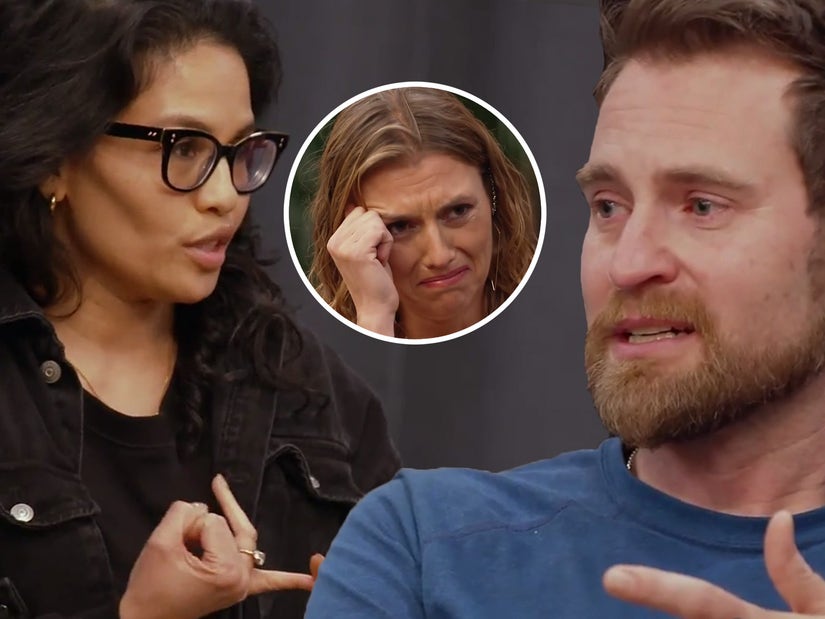 Paramount+
The drama erupted almost immediately, as Julie was put on the spot over her "f---ed up" actions involving two of her ex-roommates after the show.
In 2000, one of the very best seasons of "The Real World" aired on MTV, introducing the world to the likes of Melissa Beck, Jamie Murray, Danny Roberts, Matt Smith, Julie Stoffer, Kelley Wolf and David Broom -- who now goes by the name Tokyo.
It was a season that addressed racism, Don't Ask Don't Tell and religion, as seven strangers who were picked to live in a house, work together and have their lives taped found out what happens when people stop being polite and start getting real.
And now, 22 years later, they're learning that lesson all over again thanks to Paramount+'s revival series, "The Real World Homecoming: New Orleans." While the crew's Belfort mansion is sadly MIA for the reunion episodes -- filmed over the span of two weeks in late 2021 -- the drama sure isn't, as it didn't take long at all for fireworks to blow up between the housemates the night of their arrival in the season premiere.
In the two+ decades since the original series ended, a lot has changed for this group. Melissa is a stay-at-home mom living in New York, both Tokyo and Jamie live in Chicago -- where the former writes manga -- while Kelley is married to actor Scott Wolf, with whom she shares three kids. Danny is a father living in Vermont, while Matt -- who remained a virgin until tying the knot -- is a married father of six. Julie, who was wide-eyed Mormon back in the day, didn't give much of an update in the premiere and clearly has not been in contact with anyone in the cast since they wrapped.
Melissa was the first to be reintroduced, as she opened up about having some regrets about not doing more with her platform as a female person of color after the show finished. She added she was excited to see "a lot" of her former roommates, but not necessarily all of them. As was the case back in the day, she's still the narrator a show like this needs -- funny, relatable and informative.
Before heading to the house, she met up with Danny, who said it was "really unfortunate that it's been 22 years since some of us have spoken."
Cut to a confessional from Julie, who -- along with Tokyo -- is probably the most out of the loop when it comes to her relationship with her costars.
"My roommates, I'm sure they've heard all kinds of things about me. It's been so long. I haven't been in touch with them in 20 years. Obviously, I wasn't an important part of their lives for the last 20 years, so why would they care now?" she began. "Our relationship didn't end well and I feel like I owe people apologies and I don't know how to apologize about things that happened 20 years ago. I feel like Im not going to be really well received in the house and I've been so f---ing scared about that."
Well, she was absolutely correct, as Danny explained the situation more clearly in his own confessional.
"Julie has a controversial story and history with many of us," he began. "After the show aired, Julie and I were hired by an organization to mentor high school seniors. But I got a call from our agent who said to me Julie sent a letter trashing my character to the organization, saying that I have essentially no morals, it's a mistake to hire me and the same stuff happened to Melissa. This happened multiple, multiple times and I never heard from her again."
"The last time that I've seen Julie Stoffer was in Jamaica," added Melissa, referring to their time together on "The Challenge: Battle of the Sexes" in 2002. "I had just cussed her ass out because I found out she was doing shady s--- to me. I was really hurt and then for the next 22 years, never spoke the woman's name again."
For anyone who remembers, Howard called her out about this same issue back then, but Julie didn't offer up much of a rebuttal at the time. Melissa claimed her agent told her Julie -- or someone in her team -- was telling colleges not to book her for speaking engagements because she didn't sign autographs and her fee was too high. Julie was then promptly eliminated from the show.
One by one they entered their new home and all seemed genuinely happy to see each other. They also marveled over how great they all looked -- with Melissa joking about Matt, "If it makes your skin look like that, I might believe in Jesus too." Julie was the last to arrive, assuming she'd get the cold shoulder once she entered. Again, she wasn't wrong.
She didn't even get a hug out of Melissa and, while hugging Danny, started breaking down while trying to apologize to him for her past actions. He wasn't having it though and said they could address it later and not in their very first moment seeing each other in nearly 20 years. "It felt maybe a bit performative," he added in a confessional, "she's gonna need to understand this is gonna take years for me to feel safe around again. Right now, I'm going to be very hesitant."
As the group grabbed some drinks and headed outside to catch up, the situation really started to explode when Tokyo whipped out an old TV Guide they covered. In it, Melissa said she planned to move to Los Angeles with Julie after the show ended. While they both moved there, they didn't do it together. "You didn't want to be roommates with me, so I had my own place," said Julie, before Melissa admitted she didn't even know Stoffer ever lived in Hollywood. "How did you not know that?!" she exclaimed, before walking out in a huff.
"Girl, I don't know why you're storming off, Lululemon leggings. I don't know what the hell you're doing," Melissa said in a confessional. "And if this woman would like to address the giant elephant in the room between us, she can. I feel like it's going to be a really long two weeks."
Well, said elephant was finally addressed after producers made them all watch a video in which Melissa said, "I'll definitely talk to Julie all the time" and Julie added, "I don't want anything coming between Melissa and I because she means the world to me." Yes, producers, stir that pot!
"We were really, really good friends and then you did a really bad thing to me, so I don't remember any of the good, fun stuff, that's the truth," said Melissa when Julie expressed more frustration over her former roomie forgetting about her L.A. move entirely. "I created a boundary and I moved on with my life and now you're here wanting to confront that. You had 22 years to confront that and apologize. And you didn't," she added in a confessional.
"I never shut you out, ever. I thought about you this whole time. I called you and you would not answer my calls. We could never address anything," Julie responded, before denying she ever called any school and told them not to hire Melissa. Beck, however, said her agent forwarded her an email in which she was told she lost gigs because she was made to look like "a less than savory character."
As Julie continued to deny, deny, deny, Danny interjected and told her, "Same stuff happened to me, so let's stop debating whether or not it happened." She immediately copped to writing a letter about Roberts, however, and explained she threw him under the bus with event organizers -- worrying they thought she and Danny were making fun of students, when they simply found it funny the kids didn't recognize them. "I was basically like, 'Danny was making fun of those kids. I wasn't."
But he didn't have the same POV, at all.
"That's not what happened. The letter painted me as a horrible homosexual. Everybody's parents were terrified of you being the gay in front of their teenagers and I was painted as a horrible homo who was there to be the bad guy and it just justified what they already thought before they got there," he said. "You were there to be the good Mormon girl. It devastated me. I never thought anybody who I had this meaningful experience with would ever, ever paint me in that way."
Saying it was "super hurtful," Danny also added he was "so stunned that someone I thought was my friend just turned around and stabbed me in the back." Julie denied ever saying anything along those lines, but he wasn't hearing it.
"I waited forever for you to say that you understood why it was wrong. I wanted to hear from you forever about why you understood that whoever did that was wrong. And I never heard from you and 22 years passed," he said. "It was so hurtful and it never stopped being hurtful. When you were gay at that time and you were allowed to have a voice, it was rare and it was special and when someone tainted that, it meant a lot."
As Julie broke down in tears, Melissa took issue with her "crying about it when we're the aggrieved party." She also called her out in a confessional for "obfuscating details" and making Melissa "look crazy" in the process.
"I run a very big risk here as the only female person of color in the room to seem bitter and petty and angry, when the reality is, I'm not holding a grudge, I'm setting a boundary," she told Julie. "I looked petty on national television for 20 years because they never told that story right. Those actions were done against marginalized people. You did it to a gay person and a person of color. That's what was f---ed up about it."
Julie was in shock as she asked, "Wow, so you're just calling me racist and homophobic right now?" -- before Matt jumped in to mediate the situation and asked whether there was a path to healing. Danny said they'd have to work on trust, while Melissa said Julie hadn't apologized to her yet. Julie, meanwhile, refused to admit she said anything about Melissa and wanted to see the letter in question.
"You are really gonna sit here and act like the common denominator isn't you or someone in your party writing disparaging things about us?" asked Melissa, before Julie started an "I'm sorry if" apology.
"Already your apology is flawed. 'I'm sorry if' is not an apology," Beck told her. "'I'm sorry those things happened to you,' that's what you need to say to me, that's what a real apology is."
As they all agreed they weren't going to solve the problem then and there, they broke for dinner ... and Julie made a bee line to her bedroom.
She then began venting to a friend on the phone, telling her she "just got attacked basically in front of the whole house, about these letters that I don't have in front of me." Thankfully, Tokyo -- Julie's roommate for the week -- followed her to their room and talked some sense into her.
Though she kept pointing the finger at her agents, Tokyo told her that regardless of who did what, it happened and she couldn't discount Melissa's feelings. His explanation boiled down to, "If it's someone in your camp and you don't know, you're still responsible for them."
He added, "You don't understand what it means to be a gay man, you don't understand what it means to be a Black and Filipino woman," before saying she had to accept responsibility.
"You're right. The buck stops with me," she said, taking his advice -- so much so that she wished she could just repeat everything he told her, verbatim -- and walking toward Melissa's door to apologize. The episode ended with her second-guessing the move and a "To be continued" slate.
New episodes of "Real World Homecoming: New Orleans" drop Wednesdays on Paramount+.