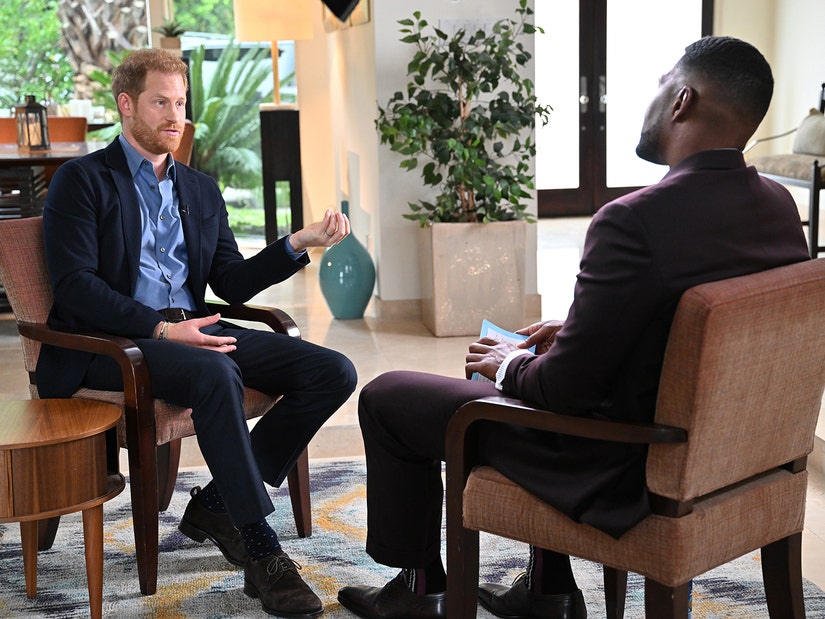 ABC
"I can forgive that, but it needs to stop," Harry said of Camilla, adding it's been "a long time" since they've spoken.
The Prince Harry interview train barrels full steam ahead and on Monday he appeared on "Good Morning America" to open up even more about the royal rift going on between him and the rest of his family.
In February 2021, both Harry and wife Meghan Markle announced they would no longer be working members of the royal family. Speaking with Michael Strahan, Harry said the decision certainly wasn't a surprise to the late Queen Elizabeth II, as he shared her reaction.
"I had many, many conversations with her both in the U.K. over the years and in the run-up to the point of this change, so it was never a surprise to anybody, least of all her," he claimed. "She knew what was going on. She knew how hard it was. I don't know whether she was in a position to be able to change it."
He added that he didn't believe she was angry about the choice, but instead "sad" about the situation.
"I have a huge amount of compassion for her, you know, being the third person within my parents' marriage. She had a reputation or an image to rehabilitate, and whatever conversations happened, whatever deals or trading was made right at the beginning, she was led to believe that that would be the best way of doing it," Harry said on GMA. "And I don't have a problem with any member of my family needing to rehabilitate their image, but if that rehabilitation or that relationship with, in this case, the British tabloids, comes at the cost of my girlfriend or my family -- my close family or my larger family -- then I draw a line at that."
"We haven't spoken for a long time," Harry said of where he stands with his stepmother now. "I love every member of my family, despite the differences or the difficulties that those relationships have put out, I guess. When I see her, we're perfectly pleasant with each other."
"She's my stepmother. I don't look at her as an evil stepmother. I see someone who married into this institution, or got involved with this institution, and has done everything that she can to improve her own reputation and her own image for her own sake, and I can understand why," he continued -- adding that, when it comes to her allegedly leaking information about his family, he "can forgive that, but it needs to stop."
Harry also explained why he doesn't think his new book, "Spare," will make things any worse for his family -- telling GMA that, "as far as I see it, the divide couldn't be greater before this book."
"If we can get to the point of reconciliation, that will have a ripple effect across the world," he continued. "I genuinely believe that, and that's kind of what is pushing me. And if that doesn't happen, then that's very sad."
And when it comes to Harry and his family returning to the fold as working royals in the UK, well, don't hold your breath.
"Even if there was an agreement or an arrangement between me and my family, there is that third party that is going to do everything they can to make sure that that isn't possible," Harry said, referring to the tabloids in the UK. "Not stopping us from necessarily going back, but making it unsurvivable, and that's really sad because that is essentially breaking the relationship between us."
"If there was something in the future where we can continue to support the Commonwealth, then that's of course on the table," he concluded, "but there's so much that needs to happen between now and then, and so much that can happen."
"Spare" releases Tuesday, January 10.