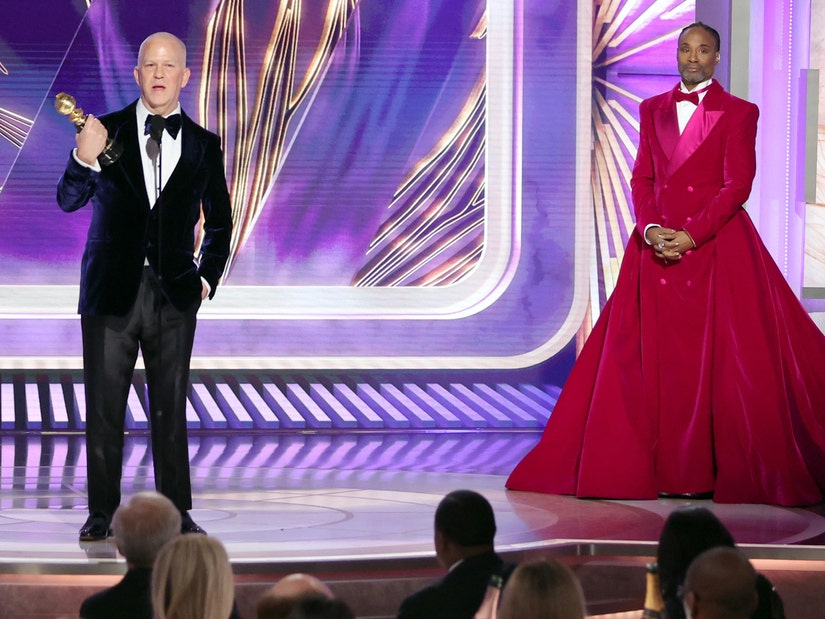 Getty
He cited Billy Porter, Michaela Jaé Rodriguez, Niecy Nash, Matt Bomer and Jeremy pope "as examples of possibility."
Ryan Murphy was honored with The Carol Burnett Award on Tuesday night's Golden Globe Awards -- but used most of his speech to celebrate some of the many queer actors who he has worked with throughout his years in television.
The award he was given celebrates the "outstanding contributions to television on or off the screen" and, almost immediately, Murphy turned attention away from himself to "Pose" star Michaela Jaé Rodriguez, who made history when she won a Globe in last year's un-televised ceremony.
He gave Rodriguez the recognition she missed out on in 2022, before going on to call out the accomplishments of collaborators Billy Porter, Niecy Nash Betts, Matt Bomer, and Jeremy Pope and the adversity they overcame to get where they are now.
"I've dedicating most of my lifetime achievement here tonight to these wonderful actors I've worked with to make a point of hope and progress," he said. "When I was a young person at home in the '70s, watching 'The Carol Burnett Show,' I never ever saw a person like me get an award or even be a character on a TV show."
"It's hard being an LGBTQ kid in America and all over the world, then and now," he said, before pointing to Florida as proof that some things simply haven't changed.
"You are often told you will never become anything, you have to hide your life to survive. But for those kids watching tonight, I offer up Mj, and Billy, Niecy and Matt and Jeremy as examples of possibility," he continued. "There is a way forward, use them as your North stars."
Before thanking his team and collaborators throughout the years, Murphy said his mission in Hollywood "was to take the invisible, the unloved and make them the heroes I longed to see but never did in pop culture."