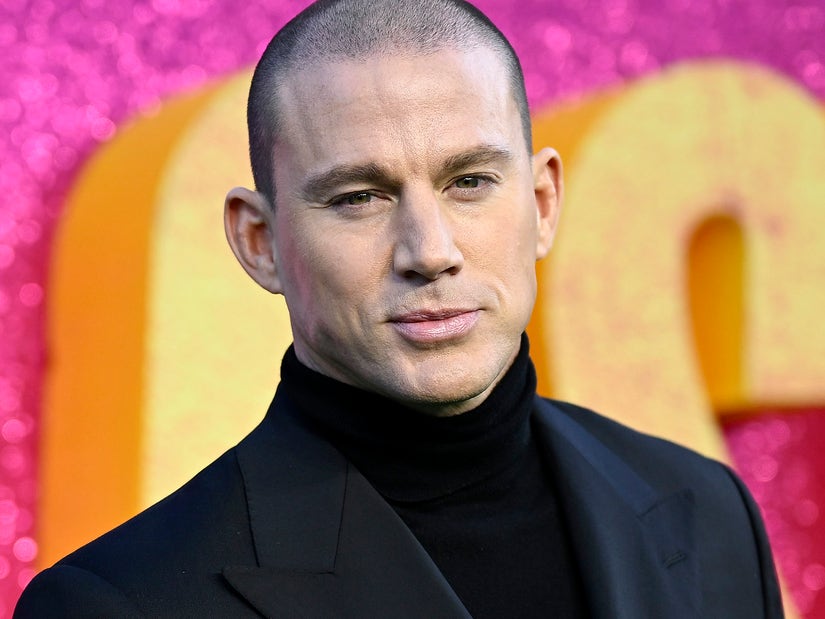 Getty
Tatum, whose production company has the rights to the film, admits it has a few problematic stereotypes, so there would have to be some changes.
If Channing Tatum has his way, he'll soon be wrapping his arm around some stunning Hollywood actress to help her form clay pottery as they film a remake of "Ghost."
The "Magic Mike" star surprised his Vanity Fair interviewer with the reveal, which may not have even happened had they not coincidentally been making clay pots during the interview.
From the misdirect of the opening paragraphs, it's clear that interviewer Jessica Pressler knows all too well the sexual tension of that scene, and apparently pottery altogether.
"Now I know why they put this in 'Ghost,'" he told her. "This whole process is very, very sexual." As she detailed her clay flying everywhere, it felt everything but.
Nevertheless, he then dropped on her lap that his production studio, Free Association, currently has the rights to the movie, with Tatum keen to step into Swayze's iconic role.
"But we're going to do something different," he said, acknowledging that the film -- like virtually anything from its era -- doesn't hold up to today's expectations and standards.
Referring to some of its problematic stereotypes, Tatum noted, "I think it needs to change a little bit and have our--"
Unfortunately, at this moment, the interviewer's flying clay distracted him and he never finished his thought. Maybe one of the changes for the new "Ghost" could be a scene where the pottery wheel isn't so much sexy as it's clay-flying comedy.
It's one of the most iconic scenes in the original film, when Swayze wraps his arms around his girlfriend's (Moore) arms while she makes pottery. It was enough to make The Righteous Brothers' "Unchained Melody" a hit all over again and is one of the most remembered film scenes of the decade -- if ever!
In the film, Swayze's character is murdered and sets out to save his girlfriend from suffering the same fate with the help of a reluctant psychic, played by Goldberg. Nominated for five Oscars, Goldberg won for her performance, as did the screenplay.
While he was distracted by flying clay talking "Ghost," Tatum was a little more focused when talking about the "Gambit" film that's been in development since before Disney bought Fox and reunited the entire X-Men franchise with the Marvel Cinematic Universe.
"It got swallowed up into Disney by way of Marvel when they bought Fox, and ultimately I just think that the tone of the movie we wanted to make was very far from what they wanted to do," Tatum told VF.
"Or, you know, maybe they're waiting to see how they do it with us or without us," he continued, acknowledging that he doesn't really know for sure what's going on with the project. "We call every once in a while, but we've got to spiritually, emotionally, kind of mentally let it go."
"Gambit" was very much in development as part of the "Deadpool" corner of Fox's X-Men universe. After the merger, it became a big deal that the expletive-filled Merc with a Mouth was so popular, as he didn't fit their family-friendly vibe at all.
After much delay and presumably a lot of meetings behind the scenes, Disney finally assured fans that a third Deadpool film was in the makings, with Jackman reprising his Wolverine role, and that it would retain its R rating.
It could be that the studio is waiting to see if the House of Mouse can survive his vulgarity before considering a similar approach with Gambit. Or perhaps the Cajun card-chucker is a part of their main X-Men plans, which are coming down the line in the next few years.
For now, Tatum's franchise fans can be satisfied to know he'll be returning once again to another adult series with what may or may not be the final chapter of his stripper saga, "Magic Mike's Last Dance." We say may or may not, because you never say never in this era of reboots, relaunches and sequel-itis.
Directed by Steven Soderbergh and also starring Salma Hayek Pinault, "Magic Mike's Last Dance" drops in theaters February 10.