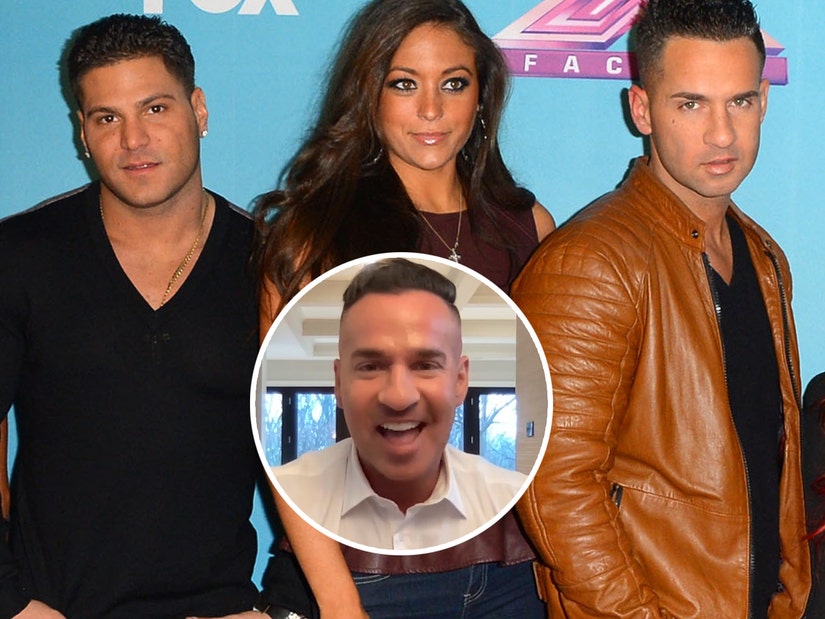 Getty/TooFab
"I don't know why Sammi blocked Snooki ... I think she recently blocked her again, to be honest with you."
Ron announced in May 2021 he was getting help for issues he'd "ignored for too long," before his last episode aired in January 2022. In August, after seeking treatment, he returned for one episode in which he filled in Mike on his sobriety and expressed his interest in making amends with the rest of the cast. At the time, Mike said he felt Ronnie had to give each of them their own individual apology for how his actions affected them all.
"He needs to, you know what I mean, and that would be up to him. He needs to have relationships with everyone," Sorrentino told TooFab when asked if he had any update on Ron's status with the group.
"It can't just be once every couple months. I keep telling him that he needs to keep relationships with the cast and that would remain to be seen and that would be up to him," he continued. "Seeing him in the future is definitely a TBD. I hope that he has taken this time off seriously ... and I'm sure if he is in better place, there might be an opportunity in the future to see him again."
He added: "But that wouldn't be up to me."
"I heard the thing about Nicole, that's wild! That's definitely juicy right there," exclaimed Sitch. "I don't know why Sammi blocked Snooki."
"I think she recently blocked her again, to be honest with you," he then revealed. "I think she blocked her and then unblocked her because maybe the press checked on it and then obviously, once it subsided, she blocked her again, which is crazy."
For what it's worth, Sammi only follows Jenni "JWoww" Farley and Deena Nicole Cortese from the cast on Instagram and follows everyone in the cast except Nicole, Ron and Angelina on Twitter. She also still follows Snooki's husband, Jionni.
"I guess she's happy with her significant other, but if I was here I would come back and I would tell my story. But I guess that's also a TBD as well," added Mike.
That echoes what Snooki said last year, calling the block "unfortunate" because "we would love for her to come back. She's a part of the show. I feel like it's not full unless all of us are there. It's sad."
The rest of the gang returns to MTV with a new season of "Jersey Shore Family Vacation" on January 26.