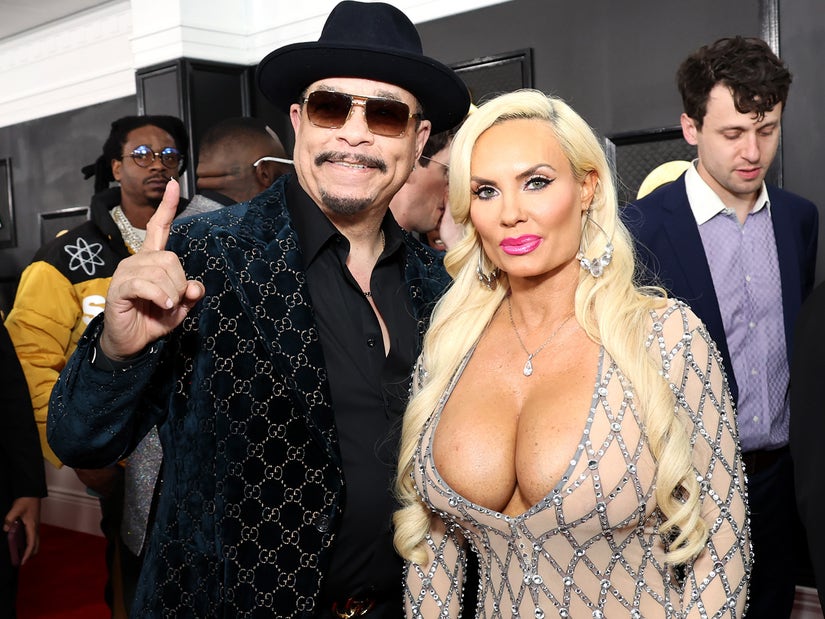 Getty
"He was making sure he could get a good look without you knowing he was"
Ice-T knows he's a lucky man!
When a fellow guest was caught on camera checking out Coco Austin dancing at the 2023 Grammy Awards, the 64-year-old rapper said he understood why people may be tempted to look at his beautiful wife.
The "Law & Order: SVU' star posted about the interaction to his Instagram, sharing footage alongside the caption, "Lol… I love how the white dude looked at me then took time to check Coco out… I TOTALLY understand."
The video from the audience of the ceremony showed a man seated near the couple first looking at Ice-T, before moving his gaze to Austin.
Waiting for your permission to load the Instagram Media.
Celebrity friends and followers flocked to the comments to react to the hilarious moment caught on camera.
"Well, do you blame him for looking at your beautiful wife? but respectfully so could've been a little more discreet 😂 you rocked it last night Ice!!" one user wrote.
Another commented, "He was making sure he could get a good look without you knowing he was 👀"
Rapper Busta Rhymes, meanwhile, simply left a series of crying laughing emojis -- while Queen Latifah also liked the post.
Ice-T was one of the many hip-hop legends who graced the Grammys stage to celebrate the genre's 50th anniversary at the awards show on Sunday. The tribute included performances from Grandmaster Flash, Missy Elliott, Latifah, Run-D.M.C., Salt-N-Pepa, LL Cool J Nelly, Public Enemy and Busta Rhymes.
While the medley was hailed as one of the best performances in Grammy history, Ice-T admitted he was initially hesitant about being a part of the showcase.
"Questlove calls me up and he says, 'All right, you gotta come to L.A. this weekend... It's a big performance, I got you in the lineup,'" he recalled to Entertainment Tonight. "And I was still hesitant 'cause it's a long travel, But then he says, 'You don't want to be sitting at home watching this show, saying you should've been there. I was invited but I didn't show up.' And [so] I got my Black a-- on a plane."
The actor gushed about how happy he felt "to see all these legends together and you're not here for a funeral."
"Real talk, unfortunately, that's usually the only time we all get together and see each other," Ice-T confessed. "So the Grammys brought us together and it's so crazy that for a while, rap wasn't even represented at the Grammys. I got one of the early grammys with Quincy Jones, you know, but I felt Quincy kinda snuck us in the backdoor."