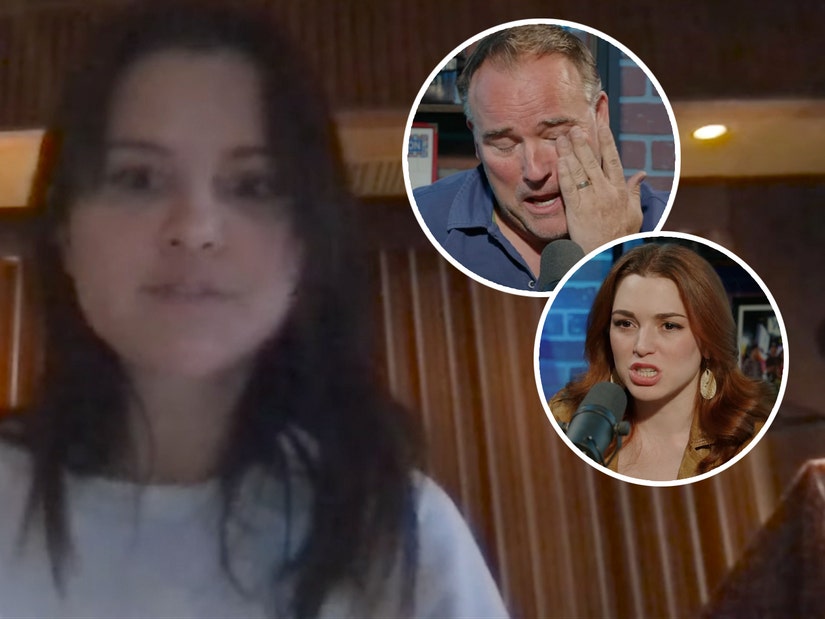 YouTube
Gomez brought David DeLuise to tears with her apology, which also gave some closure to Jennifer Stone -- who wondered why they stopped being friends.
Selena Gomez made amends for one of her biggest "mistakes" as she reunited with two of her former "Wizards of Waverly Place" costars in a new interview.
The 30-year-old actress/singer appeared on David DeLuise and Jennifer Stone's Wizards of Waverly Pod podcast this week, where she got real with the duo about why working together was one of the happiest times of her life ... and the real reason she didn't stay in touch with the cast after the Disney series wrapped.
"I miss you guys so much!" exclaimed Gomez as she joined the pair virtually on the new episode, looking back at their familial bond on set. "I think I felt safe and that's a really hard thing for me to feel. I know you guys love me for me. You guys genuinely loved me and that's all I could have asked for, the unconditional trust and bond we had, I missed so much."
As DeLuise reached for the tissues, Stone added that their bond is something the whole cast just doesn't have "with anyone else."
"I'm so lucky and grateful that I get to be a part of all these other projects, but I tell people all the time, I've never had that feeling that I had with the whole 'Wizards' crew. I felt like I was the happiest I've been my whole life," said Gomez. "I don't want that to be a sad thought because I'm really grateful and happy, but it was definitely the happiest times for me and I recognize that, obviously, it's because I have this different attention on me that I didn't have then and that was a really pure time."
Later in the episode Gomez was asked to reveal her "biggest mistake," with DeLuise adding that she couldn't say a "boy's name" as her answer.
"Probably not staying in touch with you guys," she said, as David said, "S---, you're gonna make me cry."
"I think I slowly became kind of shamed," Gomez added, as she explained what was behind her lack of communication. "I felt ashamed of the decisions that I made and I didn't want you guys to see me in the state that I was in. Because, A, you would have told me the truth which terrifies me and B, I didn't want to let you down."
Dabbing tears from his eyes, DeLuise said Gomez's apology was "Really sweet," before thanking her for her words. "Obviously, I miss you and I'm happy you're doing well now," he added.
"I appreciate you saying that too," said Stone. "To be perfectly blunt there has been times when I'm like, did she ... did we stop being friends because I didn't tell her what I wanted to hear?"
"I appreciate you guys dearly and I love you so much in a way that I've never loved anybody else," Gomez responded, as DeLuise said the feeling was mutual.
"The beautiful thing is we get older, we learn and we can be open and honest and blunt and that's the beautiful thing about it," added Stone. "We don't have to stay in that place. That's what I've learned from my therapy sessions."
Watch the full reunion above.