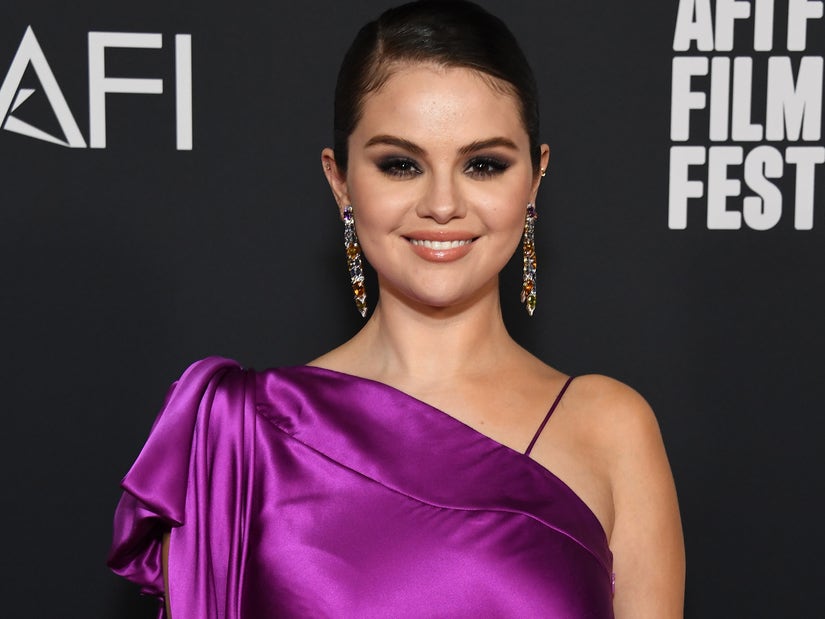 Getty
"I'm 30 and am too old for this," the Rare Beauty founder said of her recent drama with Bieber and Jenner after announcing her social media hiatus.
The 30-year-old singer and actress took to TikTok Live to announce she'll be "taking a second" to remove herself from the apps following her recent drama with Hailey Bieber and Kylie Jenner.
"I'm going to be taking a second from social media, because this is a little silly," Gomez explained on Thursday. "I'm 30 and am too old for this. But I love you so much and I'll see you guys sooner than later, I'm just gonna take a break from everything."
Selena Gomez reveals on a short TikTok Live that she'll be "taking a second from social media" after commenting on videos about Hailey Bieber and Kylie Jenner.

"I'm 30. I'm too old for this… I'm just going to take a break from everything." pic.twitter.com/Tv5d9QACJZ

— Tomás Mier (@Tomas_Mier) February 23, 2023 @Tomas_Mier
Earlier that same day fans brought attention to a comment from Selena on a TikTok video of Hailey pretending to gag over Method Man mentioning Taylor Swift in a resurfaced clip from "Drop the Mic".
The video accused Hailey of being a "mean girl," and featured Method Man describing a rap battle as having "some of the meanest lyrics about a celebrity since Taylor Swift's last album." Bieber then sticks a finger in her mouth and pretends to gag in response to Swift's reference before shrugging and laughing along with the audience.
"So sorry, my best friend is and continues to be one of the best in the game," Selena clapped back in response, according to multiple media outlets.
The Rare Beauty founder's comment came shortly after Bieber and Jenner were called out for allegedly making fun of the "Good For You" singer on Instagram.
The drama ensued after Selena took to TikTok to name Bella Hadid her new #girlcrush and gushed over the 26-year-old supermodel's beauty. The "Lose You to Love Me" artist jokingly took a jab at herself and commented on how she accidentally "over-laminated" her eyebrows in comparison to Hadid.
After her post, Jenner shared a video of herself highlighting her lush-looking eyebrows with the caption, "this was an accident ?????"
In another slide, Kylie shared a screenshot of a FaceTime call she had with Hailey, zooming in on both of their brows -- which made fans believe the Kylie Cosmetics guru was throwing shade at Gomez.
"The Kardashians" star eventually addressed accusations by commenting on a TikTok explaining the drama. Jenner wrote, "this is reaching. no shade towards selena ever and i didn't see her eyebrow posts! u guys are making something out of nothing. this is silly."
Selena then responded to Kylie's comment directly, sharing the same sentiments, "Agreed @kyliejenner," she said. "It's all unnecessary. I'm a fan of Kylie!"
In an interview with Vanity Fair, the "Only Murder in the Building" star recently revealed she handed off her social media accounts to her assistant after going through a rough breakup and she was "inundated" with mean comments.
She continued, "People can call me ugly or stupid and I'm like, Whatever. But these people get detailed. They write paragraphs that are so specific and mean. I would constantly be crying. I constantly had anxiety…I couldn't do it anymore. It was a waste of my time."
The "Good For You" singer revealed the only social media app she has on her phone is TikTok as she finds it to be "a little less hostile."
"There are wonderful things about social media—connecting with fans, seeing how happy and excited they are and their stories," Gomez said.
Previously, Hailey and Selena dismissed any beef between the two when they posed together for a photo in October after years of fans on either side pitting them against one another over their relationships with Justin Bieber. See the photo below!
Waiting for your permission to load the Instagram Media.