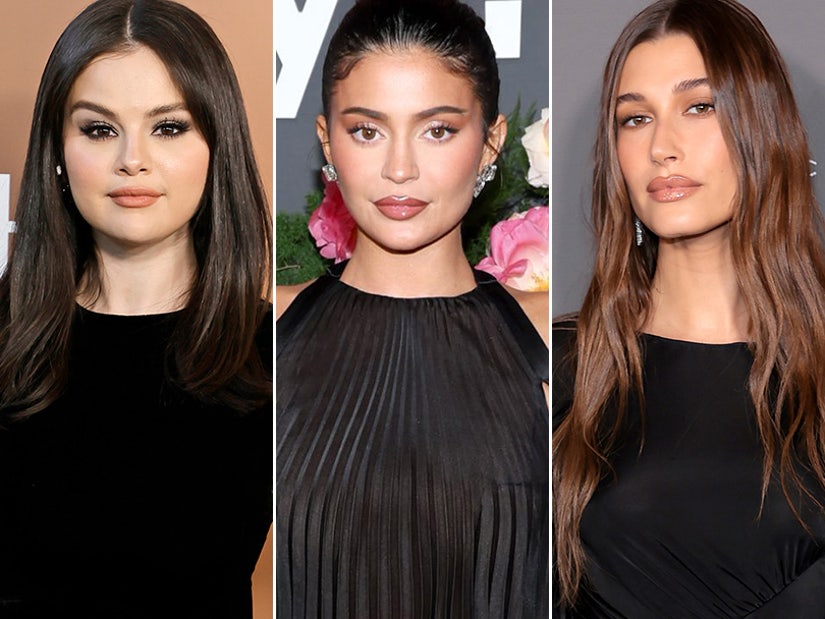 Getty
Kylie Jenner responds to a fan video on TikTok analyzing her Instagram Stories about eyebrows posted just hours after Selena Gomez posted a video about hers.
"This is reaching," Kylie replied to a viral TikTok accusing her just that. The video examines Kylie's Instagram Story picture of her eyebrows looking lush and captioning it, "this was an accident ?????"
In another slide, Kylie shared a screenshot of a Facetime call she had with Hailey, zooming in on both of their brows. The TikTok user, who goes by the name Nuha, explained in a reaction video that she believes Kylie posted both IG Stories "about Selena Gomez."
The IG Stories came hot on the heels of Selena sharing a video of her own eyebrows, looking decidedly less lush, in which she said she'd "accidentally laminated" them.
"One thousand percent I am not reaching, in my opinion," Nuha said in her video, after showing Selena's video and both of Kylie's slides. "They are shading Selena Gomez and this is very, very, very childish."
Her video was captioned, "Selena Gomez is such a kind soul and I love that she will never get involved in the petty drama."
Eventually, Kylie got wind of the viral video and jumped onto TikTok to defend herself by commenting directly on Nuha's post. "this is reaching," she wrote. "no shade towards selena ever and i didn't see her eyebrow posts! u guys are making something out of nothing. this is silly."
Among the more than 4,000 replies to Kylie's comment was one from Selena Gomez herself, who agreed with the reality star. "Agreed @kyliejenner," she wrote. "It's all unnecessary. I'm a fan of Kylie!"
Among fans agreeing with Nuha's assessment were some pointing out that Selena had just passed Kylie to once again claim the throne as most followed person on Instagram. They speculated this could be why Kylie was shading Selena.
As part of her "evidence" against Kylie, Nuha made mention of a video allegedly posted and deleted by Hailey Bieber with the words, "I'm not saying she deserved it, but God's timing is always right." Before it was deleted, fans captured and began circulating it on social media.
This post came along the same time Selena was commenting about body shaming she was enduring, explaining that her medication for lupus causes her to gain weight. Fans quickly assumed Hailey's post was in reference to Selena getting attacked by trolls.
Selena also weighed in on that specific situation, commenting on one fan video speculating Hailey's post was about her, writing, "It's ok! I don't let these things get me down! Be nice to everyone! x"
Fans have been pitting Hailey and Selena against one another ever since Hailey started her relationship with Justin Bieber. Selena and Justin had a long and tumultuous relationship before breaking things off and moving on. Justin and Hailey started dating shortly thereafter before getting married.
Even after both Kylie and Selena seemed to debunk this latest shade theory, many fans are just not ready to let it go ... including Nuha.
Yall I'm sorry but selena is f**king clueless. Kylie posted these 3 hours after selena's eyebrow post showing her eyebrows with Hailey which was recently involved on shading Selena with Kendall Jenner, and all on the same day Selena surpassed her on instagram?? Selena wake tf up pic.twitter.com/xkOANWrjLM

— BSEL 👾 (@selfffsel) February 23, 2023 @selfffsel
Kylie and Hailey needs to get a life asap..
And later on Kylie posting that it wasn't dedicated to Selena after eventually people started to unfollow her and Selena passed her...😂
Get well soon Kylie 😂 https://t.co/CEOEgcmBrh

— S. 🌫️ (@ceyhan_hs) February 23, 2023 @ceyhan_hs
Ok I find this one suspicious

I think Kylie couldn't handle , Selena dethroning her as IG most followed female artist , jealous bit*h
and Justin should really ask Hailey to stop these dirty work

(Although i m big belieber ,m conscious enough whats wrong and right) https://t.co/VKZNrIWQSA

— Niraj !! (@niiraj_m) February 23, 2023 @niiraj_m