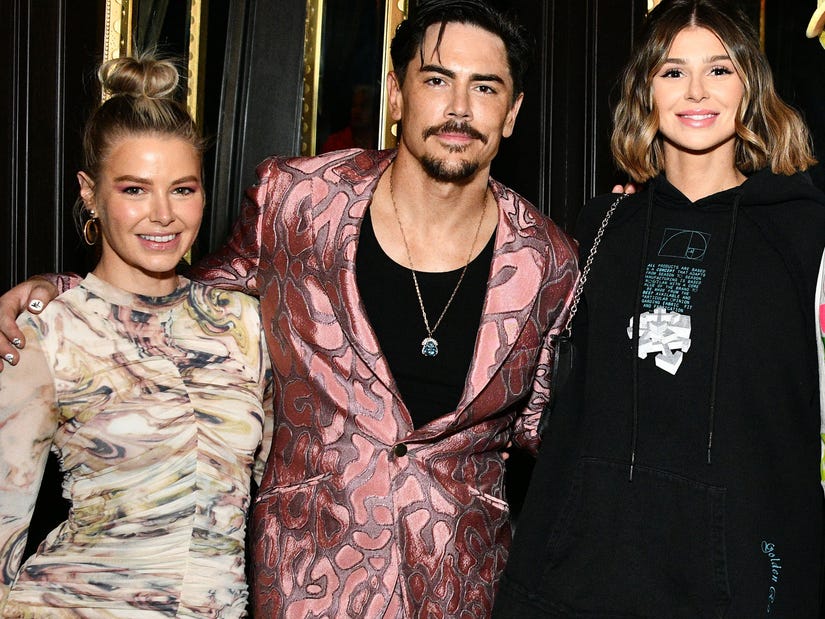 Getty
Ariana comes to Raquel's defense too, before also snapping at Sandoval for battling "the girls."
Following a trip to Las Vegas and Lake Havasu during which Leviss really alienated herself from both Lala Kent and Katie Maloney for -- as they put it -- being "only interested in men that her friends are either married to or interested in," tonight's episode kicked off with Raquel leaving the other girls behind to join a boys' night out with both Toms and her ex James Kennedy.
Speaking to Sandoval (of all people!) she said the other women -- i.e. Katie and Lala -- "set me up to make me seem like I'm only chasing after guys that they're interested in." She then detailed how she stood up to Lala, which seemed to impress both Toms ... though James wasn't too thrilled his ex crashed the party.
Kennedy later vented in a confessional about Raquel, saying she wasn't "only f---ing up what I've got going on [with new girlfriend Ally Lewber], she's f---ing up everyone's relationships." He added, "She's trying to make out with Schwartz left and right, Katie's not happy about that. Her and Lala in Vegas, toxic as f---k. Everyone wants to point the finger at me? Let's point the finger at Raquel for a sec!"
James also said he felt like he'd been "kicked out" of the group by the other guys in favor of Leviss, after Raquel was the one who invited Kennedy to a pool party Sandoval was throwing. "Well, you're invited, Tom Sandoval told me," she proclaimed.
The anti-Raquel train continued as Katie said the girls trip solidified her belief "that Raquel sucks and she's not someone I want to be friends with." The getaway also left Lala adamant in her belief "that bitch is insane," "f---ing weird" and just plain stupid -- with Kent adding she will not be forgiving Leviss for calling her a mistress.
When the entire cast reconvened at Tom and Ariana's for a pool party, Ariana really wanted the other women to squash their beef. Madix even defended Raquel, saying in a confessional that it was "very difficult for me to wrap my mind around the idea that Raquel is fighting people and being crazy." She then added, "I would think that Katie, Lala and Kristina gave the mean girl treatment to Raquel, like they've given to other people in the past."
As Ariana, Katie, Lala and Sandoval continued to talk about Raquel, Katie exclaimed that Leviss needed "to have her head checked" -- a comment which Ariana called "mean," before Tom pounced.
"Katie, here's the thing with you, if somebody doesn't have your exact perspective they're somehow wrong," Sandoval said to Maloney. Madix seemed just as frustrated with Tom's defense of Raquel as she was with Katie's original comment -- and then snapped at him by saying, "Tom, I'm walking away because I'm not doing Tom against the girls thing."
At that point, Raquel then came over to the group ... and Lala immediately went in. "Raquel, put a thought together. I know you can do it," she said, taunting Leviss, before Sandoval once again came to her defense.
"Jesus, dude, can you stop? I can't unsee the f---ing bully you were to her, for no reason, for no reason," he exclaimed. "To literally flex your f---ing power."
Feeling energized, Raquel then told off Lala: "You're a bully, you're f---ing pathetic. I don't need this energy in my life. I've learned my lesson with James and I'm finally learning my lesson with you. If you guys are gonna be little chihuahua followers, literally, I'm done."
"We will never be friends. We will never see eye to eye. You give off mistress bimbo vibes and I cannot stand it," she concluded, before walking away from the group. She went on to say in a confessional that she loved this new version of herself, one who stands up for herself when cornered.
"Vanderpump Rules" airs Wednesdays on Bravo.