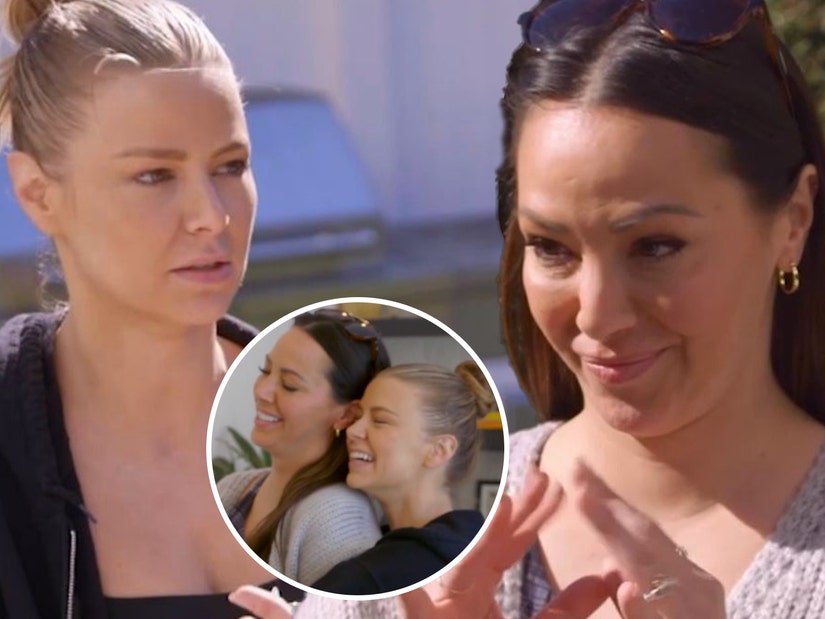 Bravo
"It's really s----y that it took nine years ... nine years I could have spent not defending him at your sake," an emotional Ariana told Kristen.
During the finale, Kristen -- who also previously dated Sandoval -- visited Ariana at her and her now-ex's home. The two friends sat down and discussed the scandal, and somewhat bonded over their mutual ex-boyfriend and his now-known pattern of infidelity.
As fans can recall, Kristen and Tom dated from 2008 to 2013. Two's split after the latter confessed that he kissed Ariana. Madix and Sandoval then began dating in 2014.
Wednesday's episode showed a clip from 2013, during which Kristen confronted Ariana over her suspicions that she had hooked up with her then-boyfriend Sandoval.
"You win wondering where the f--- Tom is when you text him," Doute said in a confessional at the time. "You win not ever being sure if he's telling you the truth, and you win sharing a bed with the best liar that I have ever known."
During Ariana and Kristen's convo, the former claimed Sandoval's team told an outlet their relationship "was one of companionship and convenience and not love and romance."
"He's literally saying that your 10-year life partnership -- he's essentially comparing it to the joke of the relationship I had with him," Doute told Madix. "That was convenience."
Ariana then brought up how she and Tom kissed back when Sandoval and Doute were together, and expressed her regret that she didn't see Tom's true colors at the time.
"It's like, yes, me and Tom kissed. You think this is an isolated thing ... but now it's like, this is who this person is," she said, getting choked up. "It's really s----y that it took nine years ... nine years I could have spent not defending him at your sake."
"Pish posh on me," Kristen replied, jokingly adding, "If anything, I'm sorry to you that you had to do me the favor [of] taking him away."
The ladies then went into Madix's backyard, and Kristen led them through a spiritual healing practice. The two set intentions to find "true self-love" and leave behind "unrequited loyalty." After writing the phrases on pieces of paper, Kristen instructed Ariana to burn the papers.
"Ashes to ashes, dust to dust, life is beautiful, so slay we must," Doute said to Madix, who smiled and laughed in response. The two then embraced.
The "Vanderpump Rules" drama will continue when the show's reunion kicks off next week on Bravo.