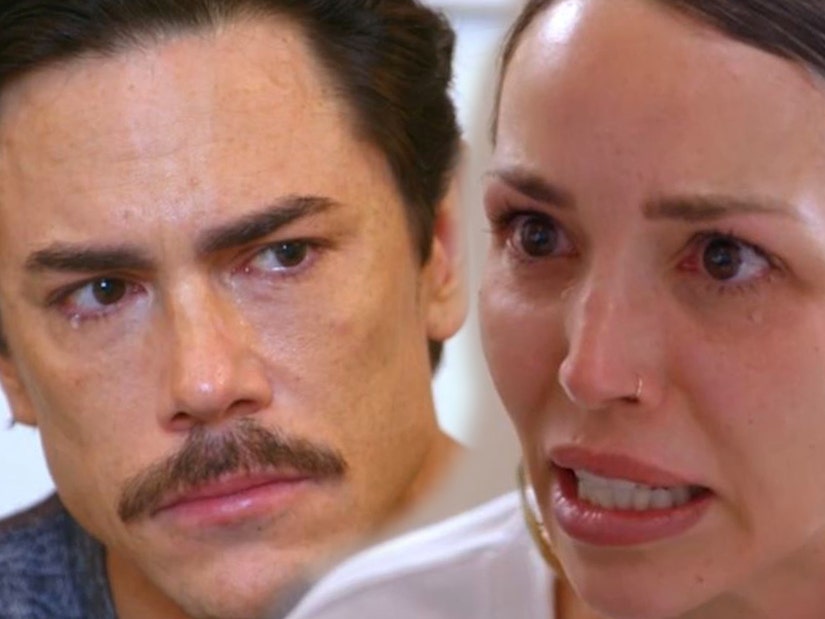 Bravo
"You're sick," Scheana tells him. Tom, meanwhile, claims Ariana "threatened to f---ing kill herself" when he tried to break things off -- while previously-unseen footage shows him dodging hookup rumors involving another costar.
The confession came during an emotional confrontation between Tom and Scheana Shay, which closed out a heartbreaking episode highlighting all the fallout from Sandoval's affair with his costar.
Showing up to Scheana's home, he first said he wanted to apologize for what he did to Madix, before extending his apologies to Shay for how he spoke with her the night everything came to light. In a confessional, Scheana explained that they all hopped on a phone call together after Ariana found out about the affair -- and Sandoval allegedly "acted like our friendship was never anything, made comments like, 'I'm not one of your best friends, and was like basically no one to you.'"
He then began to explain himself, saying -- like he told Madix -- that he had a "spiritual awakening" about his relationship after he turned 40 and decided he was going to break up with Ariana.
"But you didn't, you f---ed her best friend instead. The person I knew wouldn't do this," Shay shot back at him, before saying she always believed he cheated on Ariana with "Miami Girl," a call back to rumors from Season 3. "Ariana has always known the truth about that," he said, while not necessarily confirming or again denying anything happened there.
"So other than Miami Girl, this was the first time you ever cheated on Ariana?" she then asked. "There was one other time," he said, as Shay reacted in shock.
"You're sick. Just a random person?" she then asked. While he first said that it was someone random, he backtracked. "Well, no. It's not fair, I'm not going into it," he then told her.
When Sandoval then claimed things between him and Ariana had "not been good for a very long time, 4-5 years maybe," Shay wondered why he agreed to buy a house with her if that was the case. "It felt like a Band-Aid," he said, as he said he didn't know how to "end a relationship."
"You be a f---ing adult and have a conversation with her," Shay said, before Sandoval claimed Ariana "threatened to f---ing kill herself."
If Tom was worried about her mental state, said Scheana, she could have flown in her mother and called over all her friends to "rally around her like we're doing right now." She told him, "You literally say, 'I'm leaving, I'm not happy,' and then we pick up the pieces that you f---ing left. You don't f--- her friend!"
She then told him that they "obviously" couldn't be friends anymore, because she "can't support anything you've done anymore." She added, in tears, "I'm really gonna miss you. Right now, you don't deserve any friends ... I don't even know what else to say."
Earlier in the episode, Lala Kent reiterated her belief that Tom was possibly hooking up with Raquel -- before explaining why she didn't think it was his first time cheating on Ariana.
"He did this to [Kristen Doute], he did it with Ariana, he got bored with Ariana, he wants to go be with this sloppy drunk ... you think this is the first time he's been creeping around?" she said. "No one chooses right off the bat, 'I'm going to cheat on this girl with a best friend of hers.'"
She then mentioned she believed Tom "has been hooking up with a lot of people," before bringing up rumors she heard about Sandoval and former costar Billie Lee possibly having a thing between them. Bravo even pulled out some previously-unseen footage from the show's Season 7 reunion where Doute asked both Sandoval and Lee about the gossip directly, though they both denied it at the time.
The "Vanderpump Rules" drama will continue next week when the reunion airs on Bravo.