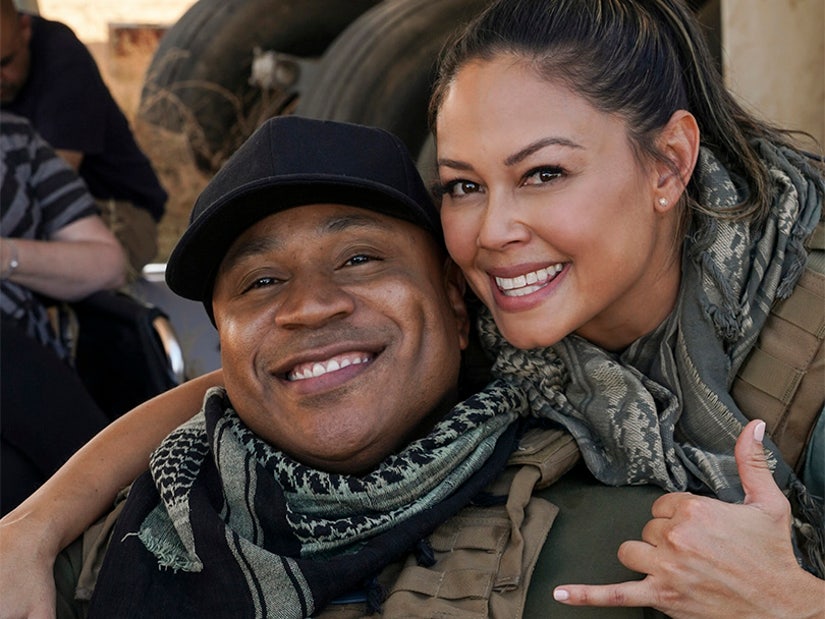 CBS
Just one day after the series finale of his own series, "NCIS: Los Angeles," LL Cool J brings his character Sam Hanna for a surprise visit to the "NCIS: Hawai'i" finale, and he'll be back for more when Season 3 kicks off.
You can't keep a good agent down, and in the case of LL Cool J's Special Agent Sam Hanna, even the cancellation of his show isn't enough to knock him out!
Just one night after Hanna's seeming farewell in the series finale of "NCIS: Los Angeles" after 14 seasons, the character made a surprise cameo appearance on the season finale of sister show "NCIS: Hawai'i," with the promise of more to come.
His appearance came just in the nick of time for Special Agent-in-Charge Jane Tennant (Vanessa Lachey) and NCIS-FBI liaison Kate Whistler (Tori Anderson). Under fire in Venezuela, a sniper shot takes out one of their would-be killers, with none other than Sam Hanna behind the scope.
Hanna then called Tennant to let her know he was available to assist should she ever need him. In a humorous nod to the fact he was in Morocco at the end of "LA," Hanna had told Tennant he was "in the neighborhood."
When she questioned him just happening to be in Venezuela, he quipped, "Morocco, actually, but hey -- what's a few borders and an ocean, anyway?"
Later, it looks like Supervisory Agent John Swift (Henry Ian Cusick) is going to take him up on that offer. He was overheard saying, "It couldn't hurt to plus-up the team," suggesting he has just the idea who would best fit the bill.
The addition of LL Cool J to the cast was confirmed after the episode aired, with executive producers Matt Bosack, Jan Nash and Christopher Silber saying, per Variety, "All of us at 'NCIS: Hawai'i' have been huge fans of LL Cool J for years and couldn't be more thrilled or honored to be adding his spectacular talent to our ohana for season three."
Lachey was excited, too, talking about how "beautiful" it is already that the "NCIS" world is able to interconnect, as seen in the recent triple crossover between the two spinoffs and parent series.
"Now, we have the amazing opportunity to bring Sam Hanna to Hawai'i to help the island solve some cases and maybe have a few laughs in the process," she added. "Welcome to the ohana, Todd! It's going to be a fun ride!"
The cameo marks his second appearance on the spinoff after the aforementioned triple crossover. At that time, Lachey had extended a standing inviation to LL Cool J to come play on the island, with him joking with ET about it on the Grammys carpet in February.
"I'll definitely keep that invitation in mind, Vanessa, and you never know. We'll see what happens. Maybe I'll come play a little bit, we'll see," he said then. "Anything is possible." As it turns out, "anything" is now.
According to The Hollywood Reporter, LL Cool J is joining the cast of "NCIS: Hawai'i" as a recurring guest star for the third season, with no word on how many episodes he'll appear in or when he might show up.