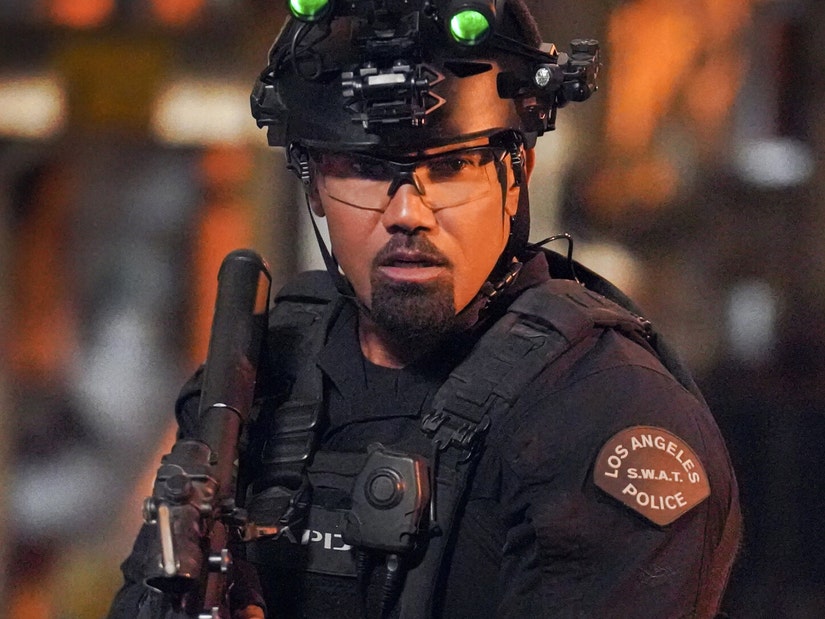 CBS
Moore acknowledged he'd probably "get in a lot of trouble with CBS" over his post ... but it might have just saved the day.
update at 4:40pm PT 5/8/23
On Monday afternoon, 3 days after the show was canceled by CBS, the network has reversed course and given "S.W.A.T" a 13-episode seventh and final season. This comes after outcry from both viewers and star Shemar Moore.
"We have listened to our viewers and their outpouring of passion for S.W.A.T. and we have reached an agreement to renew it for a final season of 13 episodes to air during the 2023-2024 broadcast year."Amy Reisenbach, President of CBS Entertainment, and Katherine Pope, President of Sony Pictures Television Studios, said in a joint statement (via TV Line). "S.W.A.T. has aired for six seasons on CBS and garnered a devoted following. We are pleased that we found a way to bring it back and give closure to the show's storylines and characters, which audiences deserve. Once again, we appreciate the talents and efforts of the cast, writers, producers and crew and everyone who has contributed to the success of S.W.A.T. We look forward to its return next season."
Shemar Moore made it very clear he was upset with CBS for canceling his series, "S.W.A.T." after six seasons on Friday -- taking to Instagram to express both his shock and disappointment with the decision in a very candid video.
The actor, 53, has starred as Hondo on the series since its debut in 2017. The series finale will now air on May 19th and, at least according to Moore, nobody knew they were filming the show's last episode when they were working on it. While the show had seen an uptick in ratings, the show's executive producer Shawn Ryan said back in March that the "economics of the business are changing" and if the show wasn't renewed it would be for financial reasons.
Waiting for your permission to load the Instagram Media.
"SWAT got canceled. It makes no sense. Look up the articles, read the articles. We're the best show on Friday nights at 8:00 for CBS. The last two years, we have been killing it," Moore said in his video. "Us and the fire show, the fire show that comes on right after us ['Fire Country'], and respect to those brothers and sisters. Respect to them. We've done nothing wrong. We did everything that was asked for."
"And let me tell the truth: We're diverse. Did you know I am the only African American male lead on network television? Not streaming, not cable, network television. I am the only African American male lead on television," he continued, before bringing up "NCIS:LA" and claiming LL Cool J "wasn't #1" on the show, Chris O'Donnell is.
Moore went on to call "SWAT" the "most diverse show on CBS," saying the network was "getting a lot of flack for lack of diversity" when he was hired to front the series.
"If I post this, and I think I might, I will get in a lot of trouble with CBS because I'm calling them out, 'cause they've been wonderful to me for 26 out of my 29-year career," he continued. "But to abruptly get told you're canceled, when you led us to believe last week and the week before that that we would have some semblance of a season 7 to at least say goodbye, if not continue and to abruptly be told, 'You're done.' There's a lot of politics [licensing, etc] ... it's all about money, y'all."
"They said we're canceled, but I don't think we're done," Moore then claimed, believing with CBS or Sony will come to their senses and "realize this is not the right move" going forward. "I hope we can have a kumbaya and come back together and continue this show because it's a good time for families across the world," he said.
"If it is the end, life will go on, I'm not worried about me. I care about my family, my crew, the writers, the producers, the caterers, the wardrobe, the sound mixers, the teamsters, the construction crew, that's a whole lot of people that are abruptly being told that, 'You don't matter, sorry, thank you for your services. Good luck in finding a new job,'" Moore added. "And to me, that's not okay."
Reiterating he'll be "fine" no matter what happens, he said he wasn't bitter, but is "a little bit sad."
"I understand it's not personal, it's business, but I still have faith that SWAT will live to see another day. I don't know where, I don't know how," said Moore, before asking fans to "make some f---ing noise and let them know canceling SWAT is a f---ing mistake."
"Now, this could get me in a lot of trouble, but guess what, I'm Gucci, I'm straight. I'm making this video because a lot of lives are at stake and I don't think this is okay," he concluded. "This ain't the way to go out. If we're gonna go out, cool, but let us go out right. And I'm done."
When the show was canceled, Amy Reisenbach, president of CBS Entertainment, praised the "amazing talents of the SWAT cast led by Shemar Moore," as well as the writers and producers, for delivering "compelling, action-packed episodes that also addressed important social issues and contributed to the success of our prime-time lineup."
The statement concluded, "We sincerely thank them for their incredible work and passion, and also thank our dedicated fans who tuned in every week."