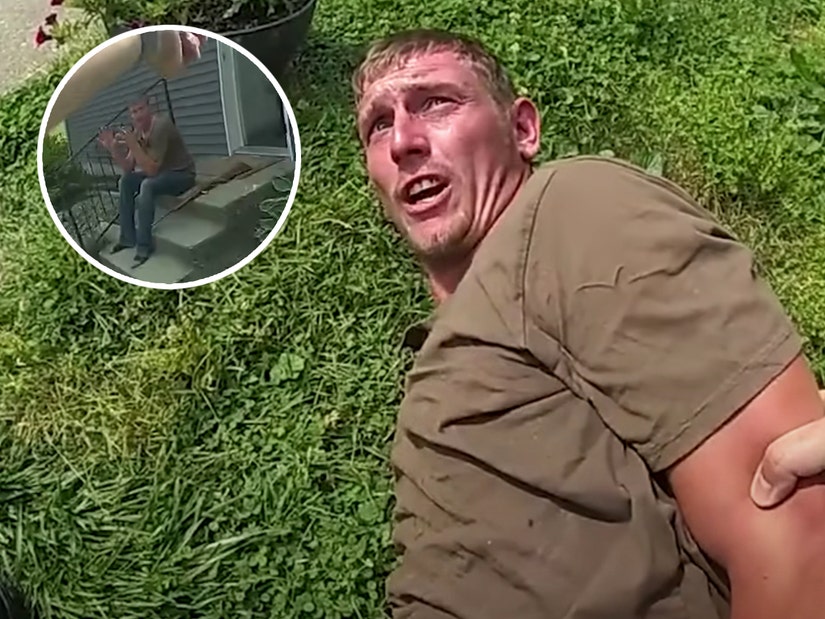 Clermont County Sheriff's Office
The children's mother can be heard shouting, "He took my life from me!"; when asked what was going on, the suspect calmly replied "nothing."
WARNING: The video in this post contains graphic language and images.
The arrest footage of Chad Doerman has been released -- showing his behavior moments after allegedly murdering his three young sons with a rifle.
The Monroe Township, Ohio resident was arrested on Thursday, June 15 after police responded to a pair of 911 calls to his home. One of them, according to the Clermont County Sheriff's Office, was from a woman screaming that "her babies had been shot"; the second came from a driver who said a girl was running down the street saying "her father was killing everyone."
Three boys, Doerman's sons aged 3, 4 and 7, were unresponsive when deputies and EMS arrived. They died on the scene.
Over the weekend, bodycam footage from the Clermont County Sheriff's Office shows authorities arriving at the home -- proceeding with caution knowing the suspect had a rifle on him. Doerman can be seen sitting on the front stoop of the home with the gun beside him, before being thrown to the ground and handcuffed.
"Man, I ain't trying to hurt nobody. I'm completely sober. Never done drugs in my life," he said to authorities, before admitting that he had done drugs when he was younger but was "sober" now.
"I'm not trying to hurt you," he told the deputies, before yelling at the family dog to go inside.
In the background, the children's mother can be heard screaming, "They're dead, aren't they? What do I do?" She then wails, "He took my life from me, my life! They're so little!"
At one point, he asked authorities whether he could roll over to answer some of their questions.
"I ain't gonna hurt you. I ain't mad. I ain't nothing," he said, before warning them about the dog. When asked by one of the deputies what was going on, he calmly responded, "Nothing," before asking whether he could stand up because he was "kind of uncomfortable."
As he was being led into the back of a Sheriff's vehicle, he acknowledged his stepdaughter ran for the fire department. He also asked whether one of the officers could remove his wallet from his back pocket. Their response: "Shut up. You have the right to remain silent, f---ing use it."
Doerman was charged with three counts of aggravated murder; the boys' mother was also shot in the hand, according to prosecutors, "in her attempt to protect her children."
The aunt of the three boys, Rachel Brown, has started a GoFundMe for the family.
"My sister lost her three amazing babies yesterday. Nothing will make this better, it will never be okay," she wrote. "But please if you can find it in your heart to help relieve the financial burden of this tragedy, please donate. No one should have to go through this."
While she initially set a $20,000 goal, it has since raised nearly $185,000 at the time of publishing.