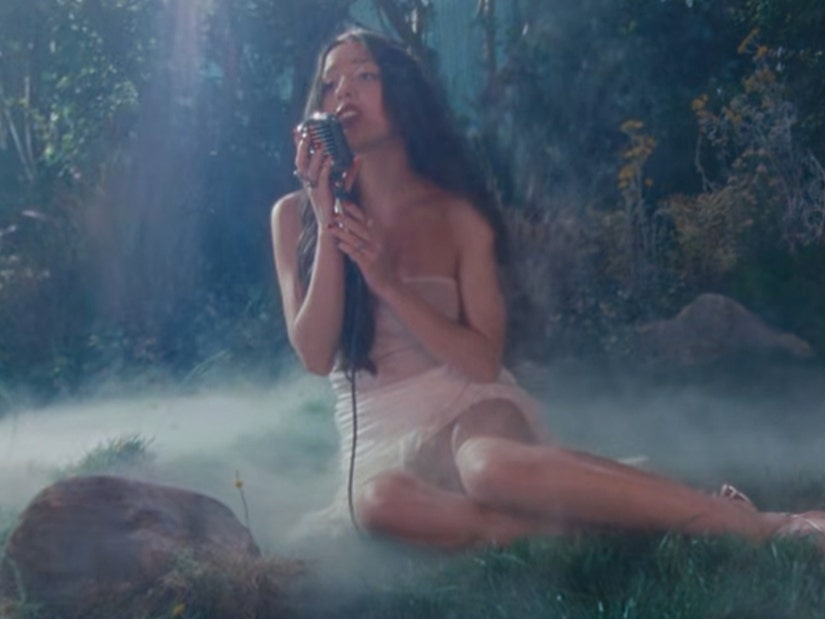 YouTube
"bloodsucker, famef--ker, bleeding me dry like a goddamn vampire," sings Rodrigo in her new single, which she says is about "feeling used."
Olivia Rodrigo just released the first single, "Vampire," from her highly-anticipated new album GUTS.
The 20-year-old singer dropped the scathing breakup track overnight -- and while she hasn't yet revealed who it's about, the lyrics are pretty brutal about the person in question.
"bloodsucker, fame f--ker, bleeding me dry like a goddamn vampire," sings Rodrigo in her new single. "How do you lie without flinching? Oh, what a mesmerizing, paralyzing, f---ed up little thrill, can't figure out just how you do it and God knows I never will. Went for me and not her, 'cause girls your age know better," add the lyrics.
The song's accompanying music video (below), shows her covered in blood after a mishap during an on-stage performance ... before running away from the theater with security on her trail.
The song was created with her Sour collaborator Daniel Nigro, while the music video was directed by Petra Collins.
The Grammy winning artist opened up about the single to Billboard, where she spoke about the pressure of releasing new music and the process behind writing it.
"Putting out a new song is a little bit daunting, but ultimately really exciting," said Rodrigo. "I just feel really lucky to have so much support coming from all angles."
When she first wrote "Vampire," she said she "felt like something special was there." Saying the song is about "feeling used," she said she's "really happy with the way it came out."
vampire song and video out now🧛🏼. I made it with my very talented wonderful friend @TheDanielNigro last winter and created the video with the incredible Petra Collins. writing this song helped me sort through lots of feelings of regret, anger, and heartache. it's one of my… pic.twitter.com/uQx80fjbMJ

— Olivia Rodrigo (@oliviarodrigo) June 30, 2023 @oliviarodrigo
"I think it's just a song about feeling used, and all of the anger and regret and heartbreak that comes with it," she revealed. "I think that's a common feeling, whether or not someone's famous."
"That was something that was just really bubbling inside of me," continued Rodrigo. "It's kind of an angry song, and I think I have a lot of trouble expressing feelings like anger and regret, those are particularly tough ones for me to express."
"I go to songwriting to get those feelings out that aren't super comfortable to express in everyday life," concluded the "Drivers License" singer. "So it was a very therapeutic experience, writing this song."
Fans have already begun speculating who the song's about on Twitter, however a source close to Rodrigo told People it's not about ex Adam Faze.
The full album, GUTS, releases later this year on September 8th.