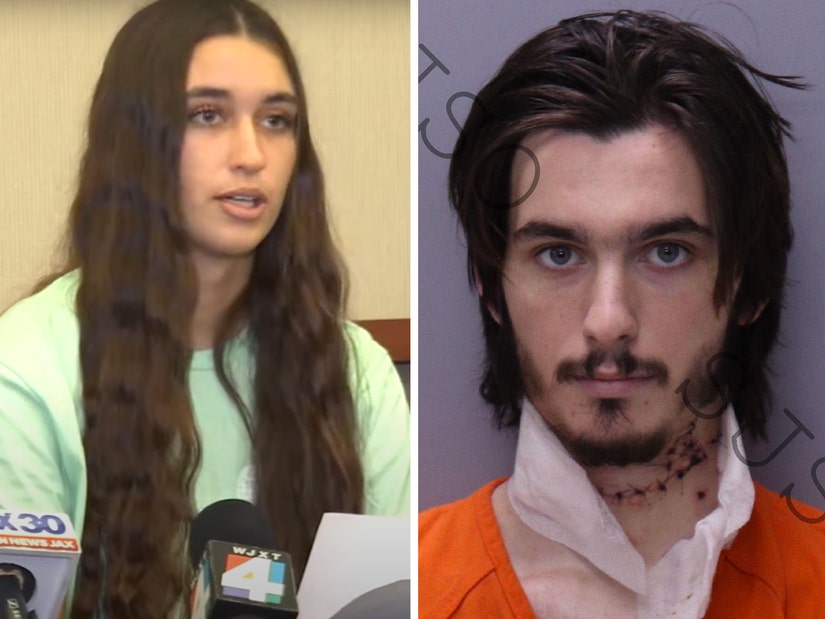 News4JAX/St. Johns County Sheriff's Office
Madison Schemitz, 17, thanked her "hero" mom and "the man who saved my life" for intervening as her ex-boyfriend Spencer Pearson allegedly attacked her with a knife, before slicing his own throat.
The Florida teenager who survived an attack allegedly from her ex-boyfriend is speaking out about her recovery, a little over a month after she was reportedly stabbed 15 times in a restaurant parking lot.
During a press conference on Friday at ​Brooks Rehabilitation, 17-year-old Madison Schemitz gave her first public statements since the June 3 incident. Her ex-boyfriend Spencer Pearson, 18, stands accused of attacking Madison, her mother and a Good Samaritan, before turning the knife on himself and slicing his throat. Pearson survived and was charged with two counts of attempted murder and aggravated battery.
Speaking with reporters, Schemitz started by thanking all the first responders, nurses, therapists and medical professionals "who kept me alive" after the attack. The teen -- who was stabbed in both the neck and back -- also showed gratitude for the community for their "outpouring of support."
"I also thank my friends and family for showing up day after day. More specifically, I thank my mom, my mom was one of my heroes that day. My love for her is endless and I'm so lucky to be her daughter," said Schemitz.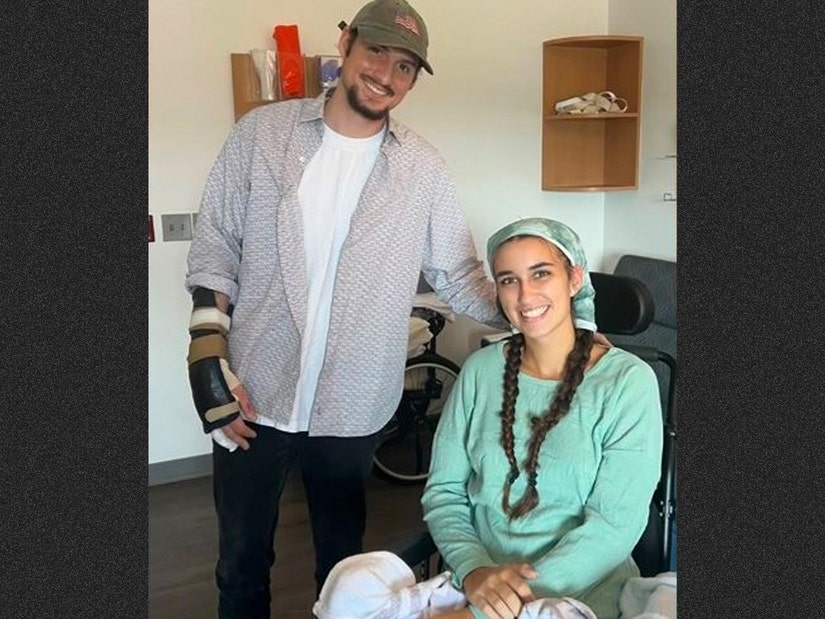 GoFundMe
Schemitz also thanked Kennedy Armstrong, who she credited as "the man who saved my life that day," for also intervening when he saw the attack happen.
"I am forever endlessly grateful for the brave acts you showed," she continued, "Kennedy is and forever will be my hero and is now family for life."
Armstrong was also stabbed during the encounter. He and Schemitz later reconnected at the hospital (above photo), according to a Go Fund Me update from Madison's family. On June 26, Jacki wrote:
"We got to meet our HERO Kennedy Armstrong! What an incredible young man, so blessed to now call him family. There are no words to really express our gratitude. Kennedy acted without hesitation or fear, and that is so beyond admirable. The smile on Madison's face remains priceless, no one can break my girl. Thanks to everyone for the continued support!"#madisonstrong
He was also in the audience at the press conference, where Schemitz was surrounded by her family and friends, as well as her mom, who declined to speak.
"I believe there is no looking back now. Everything happens for a reason," Madison continued. "I'm incredibly lucky to be alive today and will take each day as its own opportunity to live and make a difference in the world."
"Regarding my recovery, I am currently paralyzed from the chest down," she then shared. "It will be a long and hard road, but I am determined and confident in myself that I will reach my goals to one day walk again. Thank you all for the support thus far, my story's just getting started."
She added that she's also starting a chapter for the One Love Foundation at her high school, explaining the organization is "about creating a culture where relationship violence no longer exists."
According to Pearson's arrest warrant, he "began to follow and harass" Schemitz starting in April -- with Madison's sister telling First Coast News that their mother was "looking to get a restraining order against him."
The warrant also said Pearson "sliced his own throat several times telling witnesses he was attempting to kill himself." He survived, with stitches on his neck clearly visible in his booking photo.
Pearson, who graduated from the same high school as Schemitz back in May, remains in jail without bond.
"It's gonna be okay," Schemitz said when asked for her message for other survivors out there. "Every day is it's own day and you have to take it one day at a time."