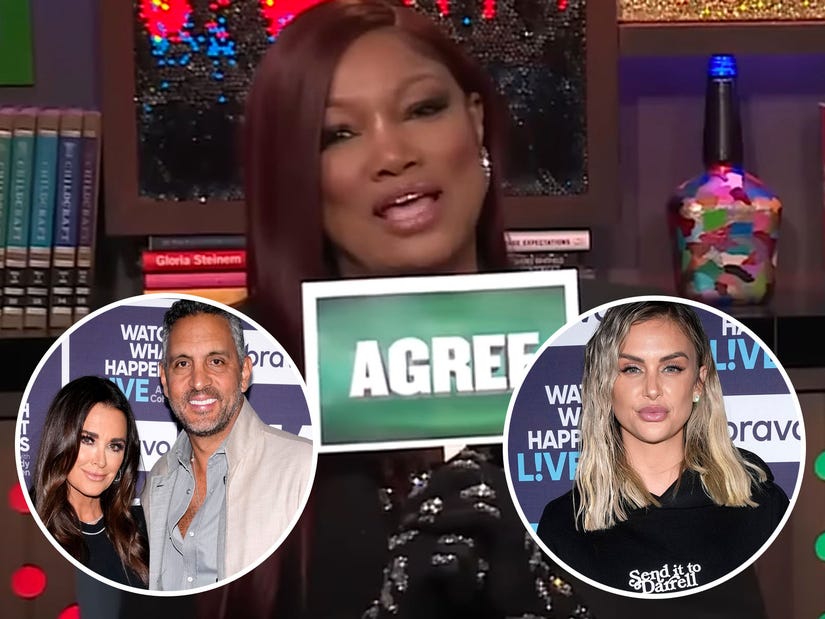 Bravo / Getty
Appearing on Watch What Happens Live, Beauvais reacted to rumors of a split between costar Kyle Richards and Mauricio Umansky -- and reveals why she blocked Vanderpump Rules star Lala Kent.
The actress appeared on Watch What Happens Live on Thursday night, where she was asked whether Kyle's marriage was a major topic of discussion for the new episodes.
"Yes, for sure," Beauvais told Andy Cohen, before adding that both she and Sutton Stracke "were suspicious." Though she didn't elaborate on her suspicions, she said she did check in on Richards after speculation about a split started making headlines.
"I sent her a text asking her if she was okay and she said, 'I'm hanging in there,'" shared Garcelle.
Though both Richards and Umansky denied they were divorcing, the pair confirmed they had a "rough year" in their marriage. In a joint statement they said that "in regards to the news that came out about us today ... Any claims regarding us divorcing are untrue."
"However, yes, we have had a rough year. The most challenging one of our marriage. But we both love and respect each other tremendously," they added. "There has been no wrongdoing on anyone's part. Although we are in the public eye, we ask to be able to work through our issues privately. While it may be entertaining to speculate, please do not create false stories to fit a further salacious narrative."
During her WWHL appearance, Garcelle revealed that Sutton stirs the post the most next season -- and claimed Stracke also cried the most and had the most relationship issues -- before addressing some beef with Vanderpump Rules star Lala Kent.
A caller asked if she unfollowed the fellow Bravo star, wondering if it had to do with comments Kent made about Garcelle's son Oliver.
"Yes and yes! I didn't like her comments with Oliver and I've liked Lala up until that point," said Beauvais. "So I unfollowed her and when we went to Lisa Vanderpump's gala for her dogs, we were sitting at the same table as Lala. We got out. We left. I was with Oliver. So ... yeah."
Waiting for your permission to load the Instagram Media.
When asked whether she felt LVP purposefully sat her, Oliver and Lala at the same table, despite their beef, Garcelle added "I don't know." She also said she "would love" to see Vanderpump return to RHOBH in the future.
It's unclear exactly which comments Beauvais was referring to, but both Lala and Raquel Leviss showed interest in Oliver on the last season of Vanderpump Rules. When it came out in the press he was possibly married while he made out with Raquel, Lala compared him to her ex Randall Emmett, who allegedly cheated on her.
"These dudes get away with f---ing murder," she told Leviss.