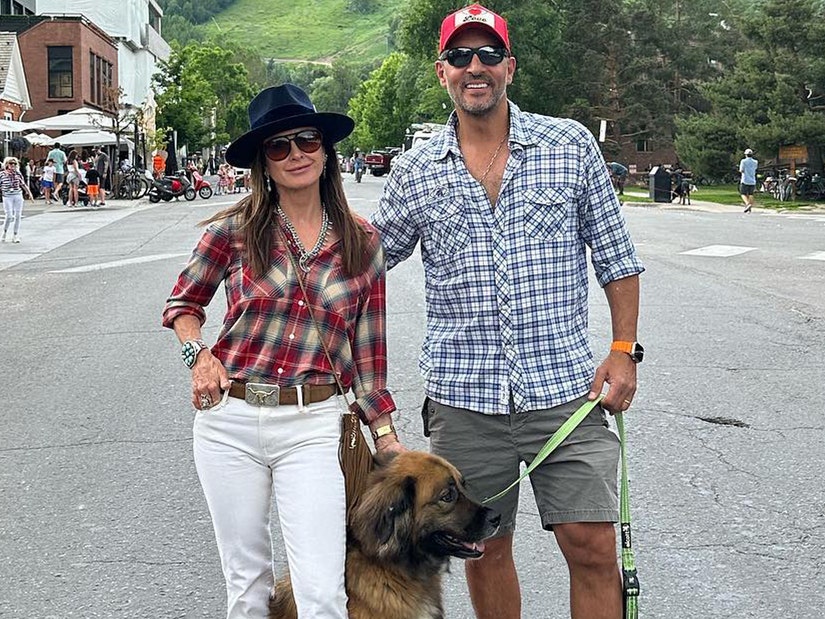 Instagram
Here's everything Kyle Richards and her husband Mauricio Umansky have said about split rumors this year
It's been a difficult year for Real Housewives star Kyle Richards and her husband Mauricio Umansky. After over 27 years of marriage, the couple have been plagued with split rumors, all starting in early 2023 when Kyle was spotted without her wedding ring. Over the course of the next few months, rumors about their relationship persisted -- and it's even said to be a major storyline on the upcoming season of RHOBH.
While it's not clear what's actually been going on between Kyle and Mauricio, the couple have had to shut down divorce rumors on numerous occasions. And while the couple aren't going their separate ways right now, they do admit they've "had a rough year" -- and are working to improve their relationship.
Here's what has gone down between Kyle and Mauricio…
February 2023: Kyle is photographed without her wedding ring
In February, Kyle was spotted without her wedding ring while leaving a training session at her gym. When paparazzi pictures surfaced, the photos allegedly caused some drama while filming Real Housewives, with some cast members questioning Kyle's marriage to Mauricio. While the season has not yet aired, it will reportedly include a storyline revolving around the couple.
March 2023: Kyle says she doesn't care about relationship rumors
Several weeks after Kyle was photographed without her wedding ring, she opened up about the rumors swirling around her marriage. While attending the Elton John AIDS Foundation Oscars viewing party alongside Mauricio, Kyle confessed that she was completely over the drama and wasn't letting it bother her any longer.
"The analyzing of everything is so -- we were just talking about that in the car. I'm seen out at the gym without a ring on, or the rumors about weight loss. I just -- I can't keep up anymore, and I was just telling Dorit [Kemsley] in the car ride over, that I don't even care anymore," Kyle told Entertainment Tonight.
She continued, "I used to get so upset about these things. I don't even care. I'm not losing any sleep over it…I don't know if it's getting used to it, or just I've been through so much I've thrown in the towel. I don't really know. All I know is my anxiety is better than it's ever been, and I just -- I just can't stress about it anymore."
However, yes, we have had a rough year. The most challenging one of our marriage. But we both love and respect each other tremendously.
April 2023: Kyle explains why she wasn't wearing her wedding ring
In April, Kyle explained why she wasn't wearing her wedding ring at the gym, admitting that she'd been nervous to wear such a big diamond amid a wave of crime in Los Angeles.
"A, I haven't been wearing my big diamond ring, because there's a lot of crime these days and I'm like, 'I'm not comfortable.' And B, I had just come from the gym lifting weights, so I was like, 'That thing sparked that?'" Kyle told Page Six.
Kyle went on to say that she was "unbothered" when it came to rumors about her relationship with Mauricio.
"When this stuff would come up before, I would, like, cry and I was devastated," she shared. "But now, I'm more like, 'OK, I've done this before. Let's do this. Bring it on. Come on. Let's see what you got for me here.'"
April 2023: Mauricio calls divorce rumors "dumb"
During an appearance on Teddi Mellencamp and Tamra Judge's Two T's In a Pod podcast, Mauricio shut down rumors that he and Kyle were splitting up. He also opened up about the fact that the rumors will be discussed on Real Housewives, admitting it "kinda sucked" that their castmates brought it up even though they know "what's actually going on."
"We're not getting divorced. I mean, it's so dumb," Mauricio said. "That one stupid story that came out there, and then the girls all, you know, decided to talk about it on the 'Housewives,' and so now it's a storyline. So there's definitely some stories out there, and Kyle and I address it, and we'll take it from there. It is what it is."
He added, "In order to be on these shows, you got to grow some thick skin."
July 2023: Rumors surface that Kyle and Mauricio have separated
On July 3, several sources seemed to confirm that Kyle and Mauricio had officially called it quits. While they had reportedly been separated for some time, they were still living in the same home.
"Kyle and Mauricio have been separated for a while now but are still living under the same roof. They remain amicable as they figure out what's next for them and their family," a source told People.
July 2023: Kyle and Mauricio deny claims that they've separated
Just hours after the media began publishing that Kyle and Mauricio had separated, the couple put on a united front. In a joint statement on Instagram, the couple said they were not divorcing but had recently been through the "most challenging" year of their 27-year marriage.
"In regards to the news that came out about us today... Any claims regarding divorcing are untrue. However, yes, we have had a rough year. The most challenging one of our marriage. But we both love and respect each other tremendously," they wrote.
The couple continued, "There has been no wrongdoing on anyone's part. Although we are in the public eye, we ask to be able to work through our issues privately. While it may be entertaining to speculate, please do not create false stories to fit a further salacious narrative."