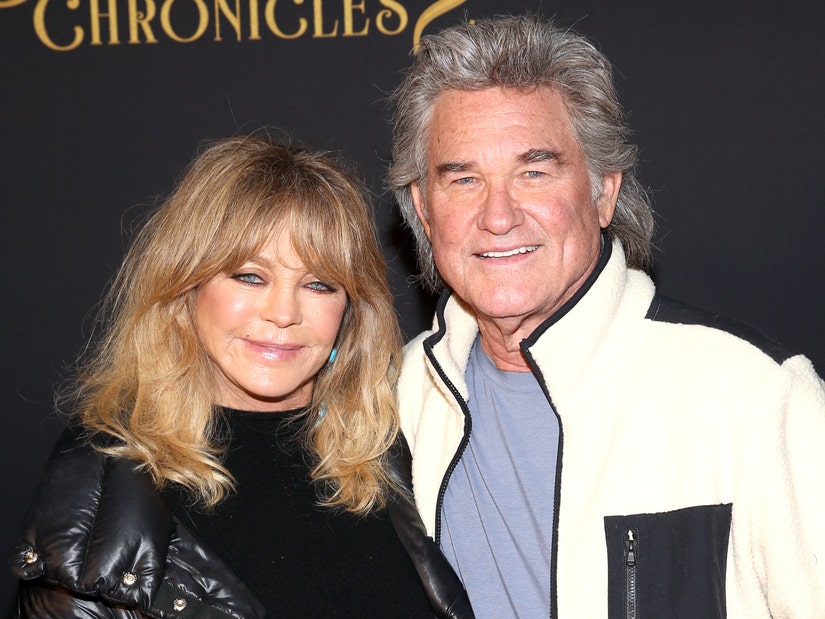 Getty
"Why should we get married? Isn't that a better question?" the Oscar winner -- who has been in a relationship with Russell since 1983 -- asked CNN's Chris Wallace.
In a sit-down interview with CNN's Chris Wallace, which aired on Friday night, the 77-year-old actress explained why she and Russell, 72, never tied the knot after four decades together.
"The question I have, which people have been asking, ... why aren't the two of you married?" Wallace asked Hawn, who paused, before then proposing a question in reply, "Why should we get married? Isn't that a better question?"
After Wallace asked again why she and Russell aren't married, Hawn pointed out that she and her longtime partner have each been married -- and divorced -- prior to their relationship, which began in 1983.
"Because we had [both] been married, and because when it doesn't work out, it ends up to be big business," Hawn said. "Somebody has to own something. It's always ugly. Somebody has to actually take a look and say, 'How many divorces actually are fun? How many divorces actually don't cost money? How many divorces make you even hate the person more than you did before? How many divorces have hurt children?'"
Waiting for your permission to load the Instagram Media.
The Oscar winner had been married twice before her romance with Russell began. She was married to Gus Trikonis from 1969 to 1976, and Bill Hudson from 1976 to 1982. Meanwhile, Russell was previously married to Season Hubley from 1979 to 1983.
While Wallace pointed out that since Hawn and Russell have been together for 40 years, they're "not going to get divorced," the Overboard star stressed that no one could know for certain.
"How did you know that then?" she said, adding, "I like the idea that I can wake up in the morning and make decisions every day if I want to be here."
"I mean relationships are hard," Hawn continued. "They're not always easy. There's all kinds of hurdles that we go through. There's things that we believe in, things that we don't believe in, we agree on."
She concluded, "So I think ultimately staying independent with independent thinking is important, so you can hold on to yourself, and you can actually have that feeling."
Hawn and Russell have one child together -- actor Wyatt Russell -- in addition to children from previous relationships. Hawn welcomed Kate Hudson and Oliver Hudson during her marriage to Bill Hudson. Russell, meanwhile, has a son, Boston, from his marriage to Season Hubley.