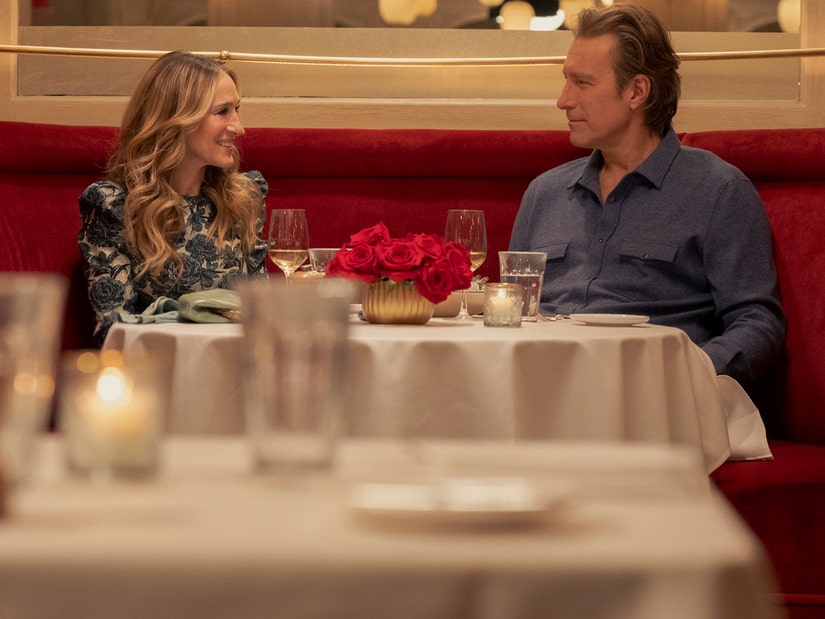 Max
The date started with a miscommunication and Big's name even came up, before one major obstacle almost brought the night to a halt.
Aidan Shaw was always a -- if not the -- fan favorite of Carrie Bradshaw's many loves throughout Sex and the City ... -- and on this week's new episode of Max's sequel series And Just Like That ..., he found his way back to her.
John Corbett's return was known before the new season even premiered, after he and Sarah Jessica Parker were spotted on set together during filming. Aidan's name also came up on last week's episode, as Carrie reflected on her past love and filled in her friends -- and viewers -- on what he's been up to since he last appeared on screen in Sex and the City 2 back in 2010.
While the two hadn't had any contact with one another for years, Carrie knew from social media that he was living in Virginia, made "quite a pretty penny" selling his furniture company to West Elm and has been divorced for about five years. She also emailed him to see how he was doing.
Waiting for your permission to load the Instagram Media.
This week's new hour began with Carrie seeing a response from Aidan in her inbox, saying he was coming into town for a meeting and asking whether she wanted to meet for dinner that Thursday ... which just so happened to be Valentine's Day. There was some debate between the other women over whether he knew it was the romantic holiday or if that night just happened to be the only one he was free.
As she later met up with Seema (Sarita Choudhury), Carrie admitted she was "very nervous" about her dinner date with him later that evening.
"What if he's different, what if I'm different?" she asked. "I've had like a whole life, what if it's too much time? We haven't laid eyes on each other for 13 years. 13 years."
While Seema said Carrie still looked incredible, she hoped the same for her ex.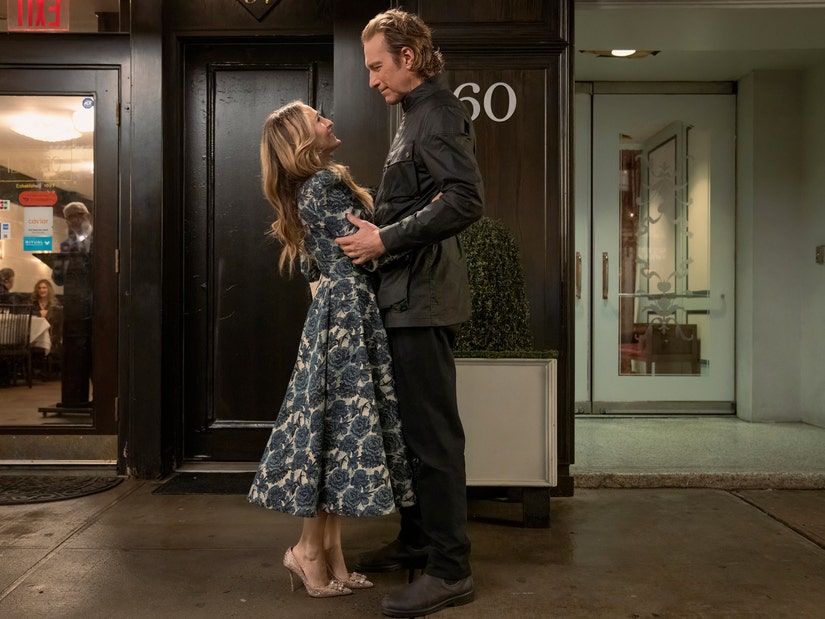 Max
When it came time for dinner, however, Carrie began to wonder if she'd see him at all.
Throughout the episode, viewers saw her checking the time on her phone as he still hadn't shown up for the 8pm date by 8:30. Since they had reconnected via email, she also didn't have his new phone number, so she couldn't contact him via a call or text. Eventually, she got a message from an unknown number saying, "I'm here, where are you?"
Turns out Carrie walked into the wrong restaurant, thanks to the address for the correct spot -- which was right next door -- being awkwardly located in a pillar between the two buildings. As she rushed outside, he emerged from the restaurant looking handsome as ever; a giant smile then took over Carrie's face, before he pulled her into a sweet embrace.
Once seated, she wondered how he looked "exactly the same" 13 years later.
"I lost 40 pounds since I emailed you last week," he said, before sharing his condolences for Carrie's loss, after her husband -- and his former rival -- Mr. Big died the previous season.
"I was sorry to hear about John," he told her. "I wanted to write you, but I didn't know if I should. But I was thinking about you. I read your book about it and it was sad and beautiful."
She assured him she was "better" now, as they both shared they thought they had been stood up and revealed they were also both single. "We're on the same page," he noted, something they never really seemed to be in the past.
After their dinner date, he agreed to go back to her place -- but was shocked to find out she was still living in the brownstone they once shared. "I thought you had a different place," he said, seeming very uncomfortable with the idea of stepping foot inside their former home.
"At the restaurant I thought, how great, this feels really great, we're back where we started," he told her, "but this is where we ended with the f---ing wall I couldn't break through and the floors I redid. It's all bad, it's all in there."
Carrie tried to assure him that while it was the same location, they weren't in the same place as people. She also told him that the inside "doesn't even look the same" -- thanks to wallpaper and paint -- before adding, "And it wasn't all bad, Aidan, was it?"
"I just can't do it. No matter how much I want to," he told her, standing strong. "I can't go in there again with all that. I'm never going in there again." She understood, quipping that "it felt too easy" as they reconnected during dinner. "I guess time doesn't heal everything," she said, "No matter how much you want it to."
With that, he began to retreat from her stoop ... before turning back, exclaiming, "F--- it!" and suggesting they find a hotel. The episode ended with the former lovers sharing a big, long kiss, as Carrie added in a voiceover, "And just like that, Aidan and I were back on the same page."
But will they be able to make it last this time? With Aidan living in another state and refusing to ever step inside her apartment, there are certainly a few hurdles to clear before this romance is fully rekindled.
New episodes of And Just Like That ... drop Thursdays on Max.