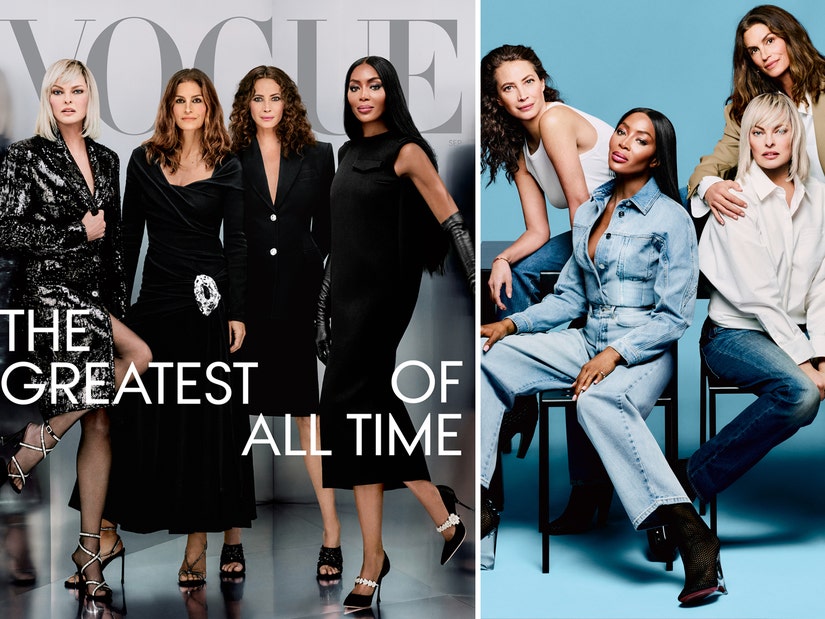 Rafael Pavarotti/Vogue
The Supers open up about their sisterhood and mistreatment in the industry -- before Evangelista details coparenting with Salma Hayek and aging.
The four women stun in the accompanying shoot from Rafael Pavarotti, posing together for the first time in ages, while also going glam for solo shots and pairs in the photo spread. The profile was done in conjunction with Apple TV+'s upcoming four-part documentary, The Super Models, debuting in September.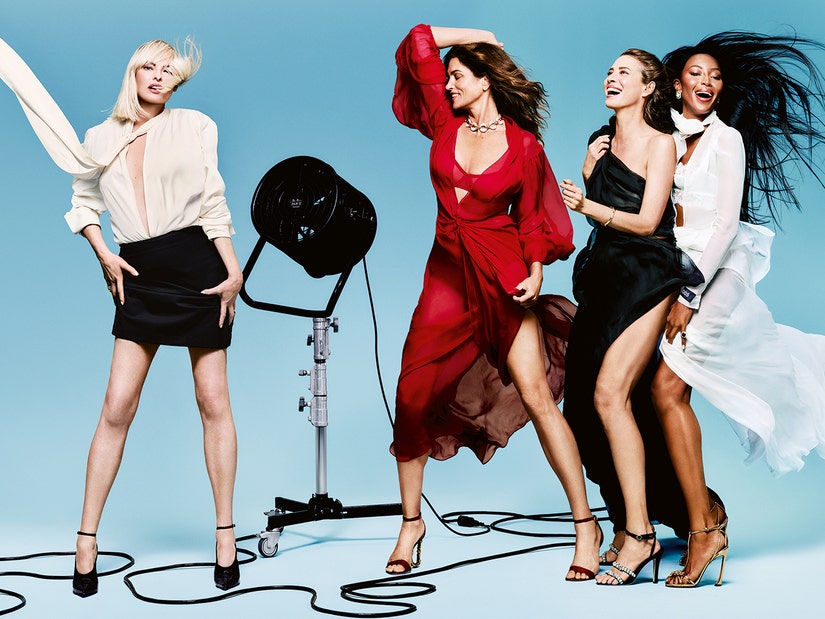 Rafael Pavarotti/Vogue
"There was a sisterhood there, defined by caring and loyalty: When one is down you pick the other one up," Campbell, 53, shared with the publication of the group's longtime bond.
One subject Vogue devoted a good portion of the profile to was what it was like for the four models to navigate the modeling world before the #MeToo movement began shining a light on some of the mistreatment women in the industry face. All four of them, it seems, were able to avoid it.
"It's just luck and grace, honestly. I felt like my career took off pretty quickly, so maybe there were more eyes on me and they couldn't get away with stuff," said Turlington. "But I don't even think it was that: Predatory people are predatory people."
"You'd get invited to a party on someone's yacht and I'd think, What do you even wear on a yacht? What fork do you use? So I would just not go," added Cindy. "Yes, I probably missed out on some fabulous opportunities but probably avoided some less than fabulous opportunities as well."
Naomi, meanwhile, credited designer Azzedine Alaïa -- with whom she lived starting at age 16 -- for protecting her "from so much." She added that when something did happen once, Alaïa made a call and it never happened again -- adding, "I come from a strong line of Black women, Jamaican women. If something felt wrong, I told it. I spoke up."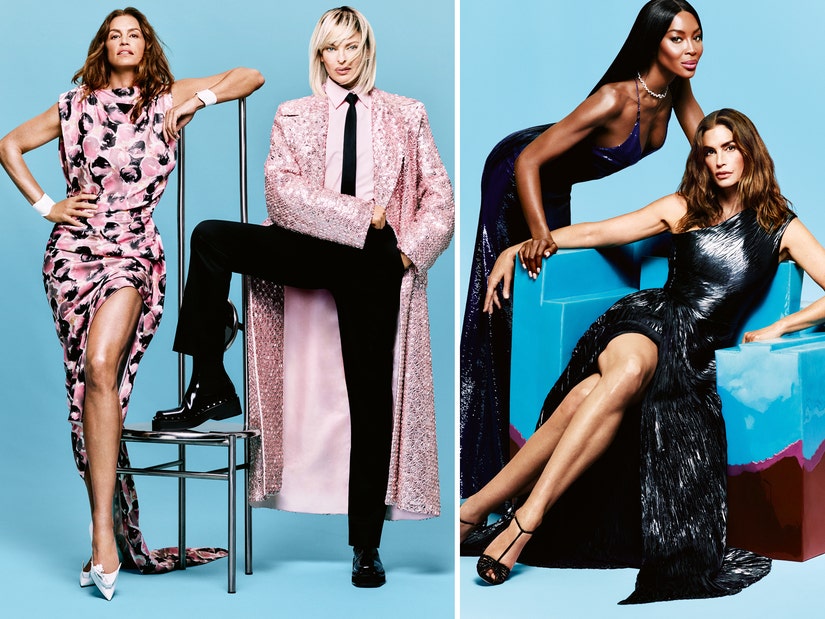 Rafael Pavarotti/Vogue
While Naomi and Cindy have continued to embrace the spotlight and Turlington hasn't exactly shied away from it either, Evangelista has lived a more low-key life since the '90s. She told the outlet that once she still stopped popping up in campaigns, the free courtside seats at Madison Square Garden stopped as well.
"Out of sight, out of mind. Now we buy our tickets and we sit with the fans in nosebleed—we're fine with that. I wanted to have a very normal upbringing for my child," she said of attending games with her son Augie, who she shares with ex François-Henri Pinault, Salma Hayek's current husband.
"We went to Chanel a couple of weeks ago to get a present and we waited half an hour to get in," she added. "[Augie] said, 'Isn't there someone you could call?' I do not want an entitled child."
Waiting for your permission to load the Instagram Media.
Evangelista also opened up about her son having Hayek as a stepmother, sharing a sweet story about how the actress came to her side after she fell ill on Thanksgiving.
"Salma got on the plane with her daughter, came here, and made Thanksgiving dinner. She asked what I wanted -- it was a very eclectic wish list. I wanted her Mexican chicken with truffled potatoes. And she spent the day in the kitchen and cooked it herself. No help," said Linda. "The kids helped her at the end. She made a feast -- a beautiful, beautiful meal. I had told her that I wasn't going to have Thanksgiving; I wasn't feeling well. And she said, 'Oh yes you are: I am coming.' And poof, she was here."
Linda, 58, closed out her interview with the publication saying she doesn't mind aging -- but added that while she "[wants] wrinkles," she also uses Botox on her forehead. "So I am a hypocrite," she admitted, "but I want to grow old. I want to watch my son grow into a fine young man. I just want to stick around."