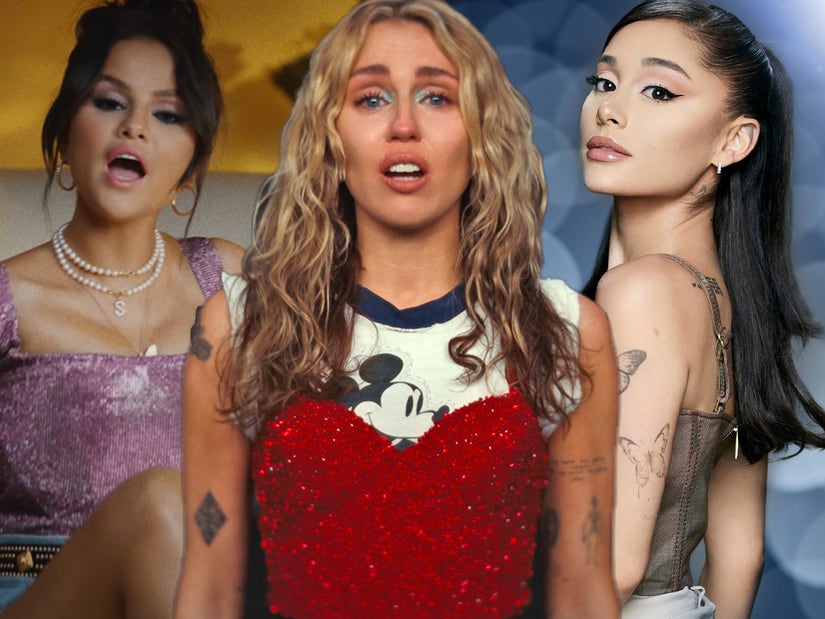 YouTube / Getty
Selena sizzles with Single Soon, Miley reflects on her past and Ariana's voice soars.
The three stars all shared their new music videos on Thursday night, with fans are already raving about the tracks, visuals and vocals.
Gomez, 31, just dropped "Single Soon," a confident, sexy new song that celebrates the single life. According to a press release, while she continues to "work on the follow up to her critically praised album 'Rare,'" Gomez "wanted to give her fans a fun end of the summer song to enjoy" in the meantime.
In the video, Gomez hits the town with a group of friends, where the stunning singer dines, clubs, and swims with her girlfriends.
Cyrus struck fans with a more emotional track, called "Used To Be Young."
The video is an emotional ballad that has Miley reflecting on her "wild" and "crazy," getting emotional while wearing a Mickey Mouse t-shirt underneath a glittering red corset as she sings to the camera.
The tee, of course, is a nod to the Hannah Montana star's Disney beginnings.
Ariana, meanwhile, released two live performance videos for the anniversary of her album Yours Truly -- one for "Daydreamin'" and another for "Honeymoon Avenue" (below). The videos were recorded from a studio in London, where she had been working on Wicked before the strike shut down production.
She's also seen rocking Glinda's blonde mane in the footage.
"happy ten year anniversary to a project that changed my life," Grande wrote on Instagram. "thank you from the bottom of my heart for listening and for growing with me every step of the way. love you always. :)"