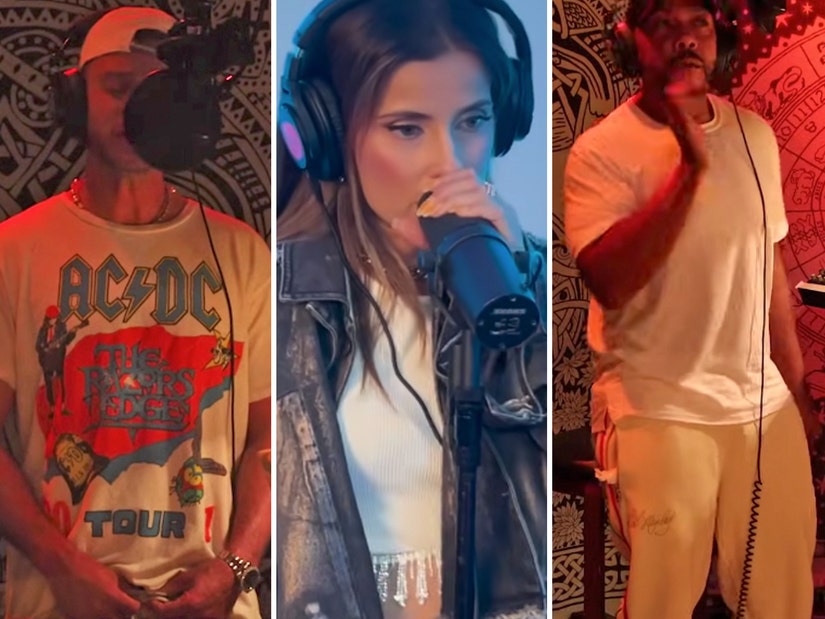 Justin Timberlake, Nelly Furtado and Timbaland
The three last worked together on the smash hit Give It to Me back in 2007.
On Friday, the trio released the music video for their new collaboration, "Keep Going Up," showing how they recorded the track separately.
While Timberlake and Furtado both worked with Timbaland, the two singers were never in the studio together; they did, however, all connect over FaceTime while recording.
At the end of the video, fans get a quick glimpse into their call -- as Furtado gasps while seeing Justin, exclaiming, "What?! No way! How are you? This is crazy."
The three last worked together on the 2007 single "Give It To Me," which hit #1 on the Billboard Hot 100 at the time.
Timbaland also produced a number of songs on Timberlake's debut solo album Justified, including "Cry Me a River," as well as the bulk of FutureSex/LoveSounds and all of The 20/20 Experience.
The producer also worked on Furtado's third album, Loose, and produced hits including "Promiscuous," "Maneater," "Say It Right" and "Do It." Timberlake, meanwhile, appeared in the video for "Promiscuous" -- a song which is also referenced on the new track.
At the top of Keep Going Up, Timbaland asks "How you been young lady? Does the feeling still drive you crazy?" -- a callback to him singing, "How you doing, young lady? That feeling that you giving really drives me crazy" on the 2006 song.
After the three of them all shared a teaser for the new video to Instagram, some of their celebrity friends celebrated -- including Chelsea Handler, who wrote, "Love this. Let's go!" and Natasha Bedingfield, who added, "Holy Trinity."
Waiting for your permission to load the Instagram Media.