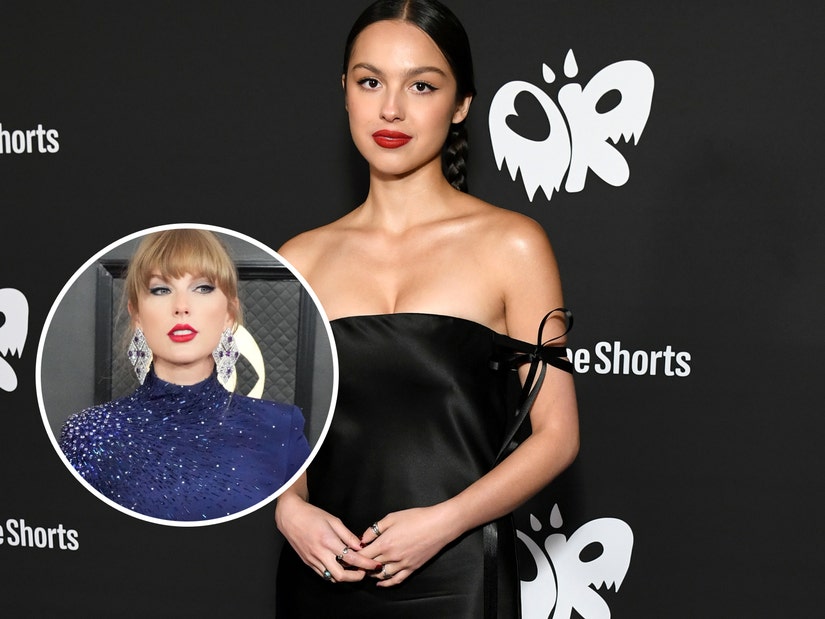 Getty
"I was so green as to how the music industry worked, the litigious side," the 20-year-old says of her first album -- which saw her retroactively give credits to various artists, including Swift, on a number of her tracks
The 20-year-old seemed to be taking a page out of Swift's own cryptic songbook as she began by noting, in an interview with The Guardian, "I mean, I never want to say who any of my songs are about. I've never done that before in my career and probably won't. I think it's better to not pigeonhole a song to being about this one thing."
The former Disney Channel star then added, "I was very surprised when people thought that."
The particular lyrics in the song "Livies" believe are about Swift include the phrases: "bloodsucker, fame f--ker, bleedin' me dry like a goddamn vampire!"
The fan theories were born out of Rodrigo quietly adding Swift, Jack Antonoff, and St. Vincent as co-writers on her single "Deja Vu." She also added Antonoff and Swift to another track from the same album, Sour, titled "1 Step Forward, 3 Steps Back." Rodrigo has apparently never collaborated with Taylor in person, and she appeared to only acknowledge Swift and crew for both songs retroactively. The Guardian notes that she ended up giving Swift 50 percent of the royalties to those tracks -- as well as to Paramore for her hit "Good 4 U."
Of the experience, she told The Guardian it was "disappointing to see people take things out of context and discredit any young woman's work." And added of her first album versus writing her second, "I was so green as to how the music industry worked, the litigious side … I feel like now I know so much more about the industry and I just feel … better equipped in that regard. It wasn't something I thought about too much."
Rodrigo has previously expressed how much of an influence Swift was on her creatively. Since the apparent issue with credits, Rodrigo's effusive praise of the "Cruel Summer" singer has seemingly come to an end.
Taylor, meanwhile, tapped Sabrina Carpenter for her Eras Tour -- who fans believe "Drivers License" was partially about.
Last month, Rodrigo said that the lyrics for "Vampire" are not necessarily about someone using her as a stepping stone to get ahead.
"I think the song isn't about fame f---ing or whatever, I think it's more about someone being manipulative and sucking you dry, using you for all your worth," she said while on Audacy's The Julia Show. "I think that that's a universal theme, and I also think fame is more easily accessible now than it has ever been. It's not just people in L.A. and Hollywood that have to deal with that."
Meanwhile, the song also makes reference to an age gap as well as a short-lived relationship -- further complicating any easy interpretation of the lyrics.
Earlier this summer, Rodrigo posted to Instagram about the song, sharing, "writing this song helped me sort through lots of feelings of regret, anger, and heartache. it's one of my favorite songs on the album and it felt very cathartic to finish. im so happy it's in your hands now and I hope it helps u deal with any bloodsuckers in your life. all my thanks 4ever".