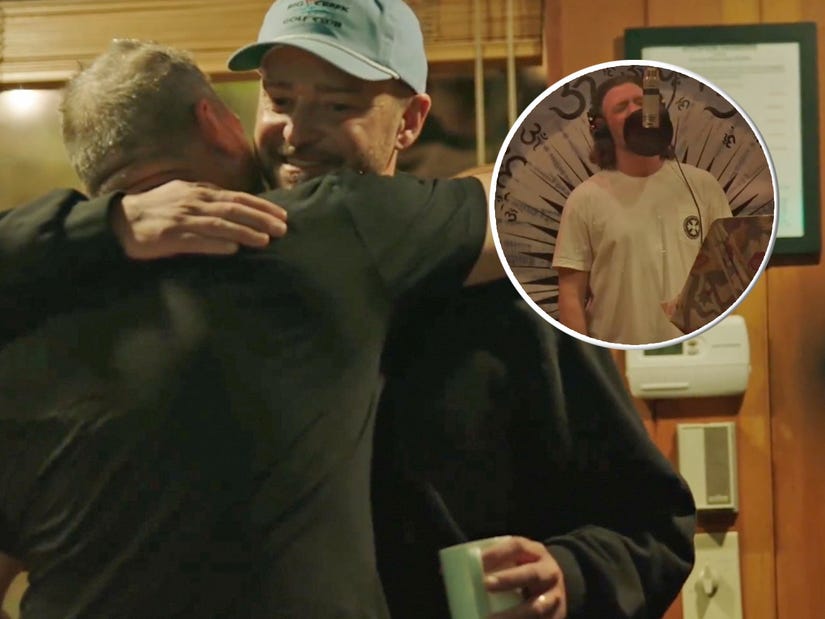 Instagram
Iconic boy band *NSYNC left Taylor Swift and all of America flabbergasted with their epic reunion at the MTV Video Music Awards and now we all know it was leading up to something huge.
update at 2:35pm PT 9/14/23
On Thursday afternoon, Justin Timberlake took to Instagram to share an emotional video of the boys all back in the studio together for their first song in over 20 years.
"So many stars aligned, that's why I hit you all up," Justin is seen saying to Lance, JC, Joey and Chris. "If we do this song, it's a love letter to our fans. I would be honored to have the group on this song."
Waiting for your permission to load the Instagram Media.
The guys are all seen recording new lyrics for the track, "Better Place," as well -- giving fans a much better listen to the upcoming release than revealed in the Trolls trailer overnight.
"That sounds great," says Justin, as they all bop to the music. "That's the first *NSYNC song finished in 23 years?" adds Lance, before Timberlake says, "Listen man, I love you guys, that s--t is epic man.
The clip ends with him and Fatone in a sweet embrace.
"Got my brothers back together in the studio to work on something fun and the energy was special," Timberlake captioned the post. "Better Place is coming 9/29 🙏🏻 LOVE Y'ALL"
Fans have been clamoring for it for years, and Taylor Swift gave voice to all those wishes that iconic boy band *NSYNC would reunite for an actual project when they came together at the 2023 MTV Video Music Awards. Now, it looks like it's happening!
Swift was right there with the rest of America when the boy band came up on stage to introduce the first award of the night, which she won. Taking to the stage, she immediately asked them what this reunion means, whether it meant they had something in the works.
One day later, they revealed that they were definitely moving toward a "Better Place." And what better place to debut your first new single in two decades? Why, a Trolls movie, of course. Right?
On Wednesday night, DreamWorks Animation dropped their trailer for the upcoming Trolls Band Together movie, and it just happened to feature a snippet from the group. There is some method to the seeming madness, though, as Timberlake stars in the film.
The trailer also features some audio from their classic hit, "I Want You Back." Does that mean the film will feature even more *NSYNC music? There is a plot connection, as well as a missed opportunity, in the film.
Prior to the announcement of the new single, the boys were getting their fans all worked up on social media, reuniting for a few TikTok videos where they dance and lip-sync over classic sitcom scenes, like one from Friends that keeps making the rounds.
The comments sections on each of these videos echoed Swift's sentiments from Tuesday night. Why are they so in our face with this reunion? Surely it means something? Surely they're going to do something?
And now that a new single is on the horizon -- it drops officially September 29 -- fans can shift their line of questioning to start asking about a new album or tour. After all, what is it that they say? Ask and you shall receive!
It's working so far, and it's definitely nice to see the guys hanging out and clearly having fun together again, even if TMZ has sources confirming that this is a one-off. Let dreamers dream!
Trolls Band Together is in theaters November 17.