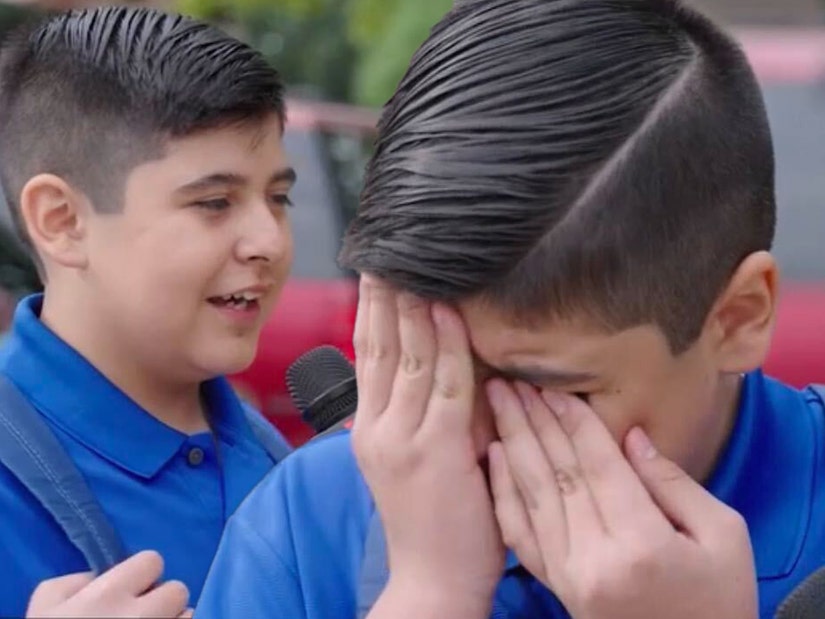 Instagram / Netflix
"What would you do if you found out your parents were spies?" asks the reporter in the new video
In a new promotion for their film Spy Kids: Armageddon, Netflix brought back "the iconic crying kid meme".
The meme -- which featured an adorable kid swiftly going from optimism to tears -- was recreated with the same child for the new social media ad.
"Andrew, are you excited for a new Spy Kids movie?" asks the reporter.
"Yes," responds Andrew, who is clad in his original blue polo and backpack, looking just like his Pre-K self.
Waiting for your permission to load the Instagram Media.
When the reporter asks why, he gives a shrug and says "I don't know."
"What would you do if you found out your parents were spies?" asks the reporter.
Andrew appears to break down into tears at the question, just as he did in the original meme, before suavely recovering and putting on a pair of sunglasses.
"I'll be a Spy Kid too," he responded confidently.
In case you forgot, this is replicating Andrew's previous viral news interview in which he breaks down in tears when asked if he's excited for school.
This isn't the first time during the actors strike that studios resorted to memes for movie promotions.
Earlier this summer, Paramount released a 30-second teaser for the film Teenage Mutant Ninja Turtles: Mutant Mayhem -- featuring a very special and totally unexpected cameo from the Zombie Kid -- AKA the kid who "like[s] turtles," Jonathon Ware -- from the 2007 famous viral video.
The new TMNT promo put a modern spin on the viral video, with a now-adult Ware -- again rocking zombie face paint -- being interviewed by a news reporter outside of a movie theater. The reporter, like the original video, pointed out Ware's face paint, but instead of asking him what he thought about the face paint job, she asked him for his reaction to seeing Teenage Mutant Ninja Turtles: Mutant Mayhem.
And, of course, Ware replied, "I like turtles."
This new movie in the Spy Kids franchise is a reboot of the original concept, directed by Robert Rodriguez. The film releases Friday, September 22nd on Netflix.