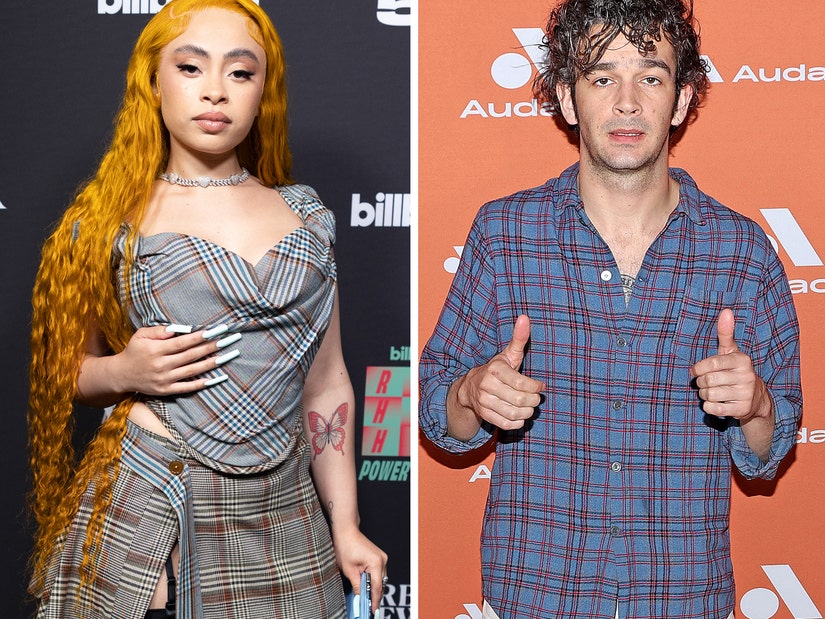 Getty
The rapper says the two ran into each other recently, after he referred to her as "Inuit Spice Girl" and "chubby Chinese lady."
Ice Spice says that things between her and Matty Healy are "good," after he made controversial statements about the rapper earlier this year.
While Healy was on a podcast with Adam Friedland and Nick Mullen, the trio discussed Ice Spice's ethnicity, mocked other culture's accents, and called the rapper "Inuit Spice Girl" and "chubby Chinese lady."
"When I had heard that little podcast or whatever, I was so confused," said Spice. "Because I heard 'chubby Chinese lady' or some shit like that, and I'm like, 'Huh? What does that even mean?' First of all, I'm thick. What do you mean Chinese? What? But then they apologized."
She shared that "the whole time, I didn't really care," but she recently saw Healy at a party and he apologized, in person.
"But that's funny because I saw him at the Jean Paul Gaultier party a couple days ago, and he was like, 'Hey, you okay?' and I'm like, 'Of course.' He apologized to me a bunch of times. We're good," she shared.
"Nobody is sitting there at night slumped at their computer, and their boyfriend comes over and goes, 'What's wrong, darling?' and they go, 'It's just this thing with Matty Healy.' That doesn't happen."
"If it does, you're either deluded or you are, sorry, a liar," continued the 1975 frontman. "You're either lying that you are hurt, or you're a bit mental for being hurt."
"It's just people going, 'Oh, there's a bad thing over there, let me get as close to it as possible so you can see how good I am.' And I kind of want them to do that, because they're demonstrating something so base level."
Healy did end up apologizing during a concert, where he said that he "never meant to hurt anybody."
"Sorry if I've offended you," said Healy in New Zealand. "Ice Spice, I'm sorry. It's not because I'm annoyed that me joking got misconstrued, it's 'cause I don't want Ice Spice to think that I'm a dick. I love you Ice Spice ... It's OK for me to be like, a trickster or whatever, but I don't want to be perceived as mean-hearted."