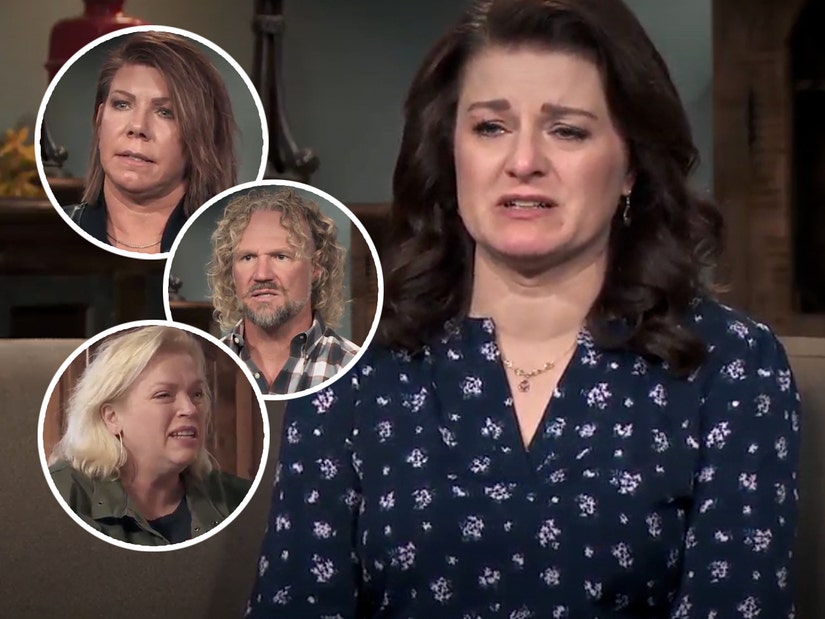 TLC
Robyn's revelation came after Meri revealed her plans to move five hours away on Sister Wives, while Janelle told Christine she doesn't "want to be married anymore."
As the distance and tension between Kody Brown and his Sister Wives continues to grow, third wife Robyn is starting to feel duped.
Sunday's new episode of the family's TLC show revolved almost totally around two separate conversations -- one between Robyn and Meri as the latter revealed her plans to move five hours away amid issues with their shared husband, and the other between Janelle and Christine, as the former opened up about her separation from Kody. Kody also popped up sporadically, via confessionals, to react to some of the things being said about him.
Toward the end of the hour, with the knowledge of Meri's decision to move from Flagstaff, Arizona to the B&B she also owns in Utah and the drama between Janelle and Kody, Robyn was left feeling upset.
"I love Kody but I never wanted to live monogamy and it feels more and more that's where it's kind of headed and I feel angry. I'm really angry," she shared. "I wanted to live plural marriage and I feel like ... I'm starting to feel a little tricked or something or like people are making decisions for my life that I did not choose. It's making me very angry and very depressed."
"With everything going on ... I feel very unsteady. In all reality, Kody is even being different. I don't feel very steady even with him," she continued.
Those statements come after Christine already split from the family, while Robyn's two other sister wives continue to weight whether they want to stick around as well.
In the episode, Meri tried to make it clear to Robyn her move didn't mean she was "throwing in the towel" on their plural marriage. She said it was all about efficiency and vowed she would still be back in Arizona "when I'm needed to be here." When asked whether the move meant "anything else," Meri insisted it only meant "exactly what I'm telling you."
Meri didn't think Kody would "give a crap" about her decision, believing he'll perceive it as her deciding to leave him just like Christine did. In confessionals, she said she still hoped he would "realize that this [relationship] is something he committed to as well and we can work on moving forward" -- but also told Robyn she felt he was "done with me."
"I've heard him say things that are not really kind about me and that have made it very clear to me where he is in our relationship," she continued, before he basically confirmed he had no intention of rekindling anything romantically.
"Meri and I went through an entire process over the last 7 years and we've gotten back to the place where we get along with each other, but I don't want to reconcile the relationship," he said, "because I don't think it's a fit for me."
That seven-year journey began when, in 2015, Meri admitted to entering a catfishing relationship with someone online she thought was a man but turned out to be a woman. Her relationship with Kody has been more of a platonic one ever since.
Getting choked up, Robyn admitting in a confessional she's conflicted about what she wants for Meri -- saying she's torn between telling her sister wife to leave and go find "happiness" elsewhere and begging her to try and find a way to make things work with them.
As all this was going down, Janelle met up with Christine and filled her in on her decision to remain separated from Kody following their massive fight before the holidays. She told Christine that she was "growing" and needed "something different" out of life -- adding, "Like, I don't want to be married anymore."
While she wouldn't say she was 100% done with Kody, Janelle said that he never took any action to try and find a counselor for them to speak to about their issues. She added that she hadn't either and it had been a whole month since they spoke and decided to take the therapy route. Clearly, neither of them are in a rush to fix things.
"I can't think of any reason I would like him to come back at this point. I'm just waiting on God to tell me if what I'm doing is okay. I haven't had any kind of inspiration to that regard yet," Janelle said in a confessional, reiterating that her beliefs don't really allow for her to leave the plural marriage.
Christine didn't believe Janelle was really done with Kody yet and when asked whether she would want a "full marriage with him" if he changed, Janelle admitted that she would. That being said, she acknowledge it was also probably "unrealistic" for him to put in the work.
"I'm in this really weird place right now because I don't want Kody back at my house and there's really no legal mechanism that says we're divorced, but I'm not at all interested in any kind of relationship," Janelle confessed. "I'm not interested in dating, unless God somehow throws this guy right in my arrow and points with big arrows, 'This is it!'"
For his part, Kody said he didn't know what he could "offer her" at this point. He also said that any mistakes made in the marriage, they all made "together" -- telling the women in a confessional to "stop pointing fingers," like at Robyn and himself.
Of things with Janelle, he said he wanted "the marriage to thrive for the sake of our children," calling the idea of divorce "embarrassing." He also claimed that "80-90% of all separations end in divorce," before saying he felt like their was "a mistake."
New episodes of Sister Wives air Sundays on TLC, MAX and Discovery+.