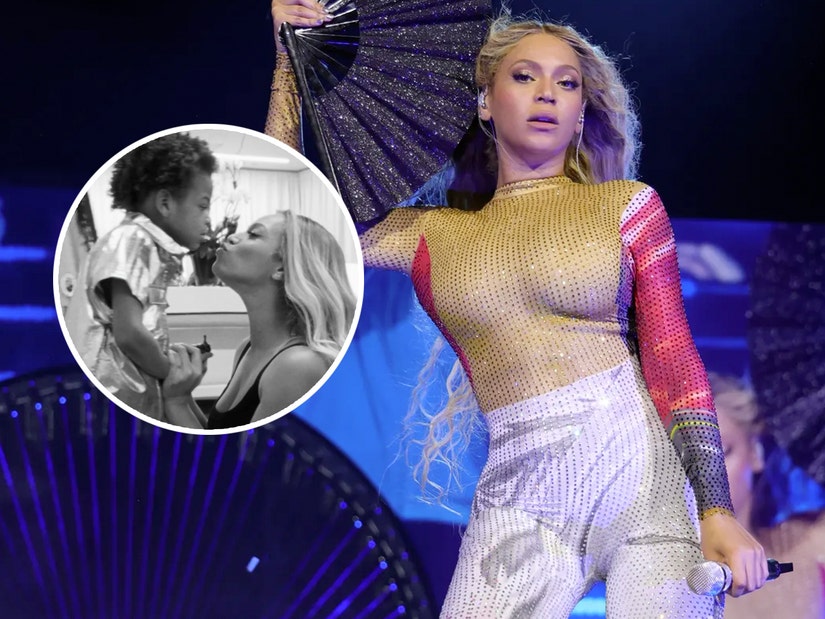 Getty/YouTube
The documentary won't just highlight performances from her epic tour, but also more intimate moments with family.
Beyonce dropped the trailer "Renaissance: A Film By Beyoncé" documentary -- with her twins making a very rare appearance in the footage.
The singer, who just wrapped up a tour that spanned the globe from May to October, confirmed in a post to Instagram last night that she'll drop the doc in AMC Theaters around the country starting December 1.
"When I am performing, I am nothing but free," she says in the trailer, which features clips of her behind the scenes life with her family. "The goal for this tour was to create a place where everyone is free, and no one is judged," she adds over videos of screaming fans.
"Be careful what you ask for, 'cause I just might comply. Tickets on sale now, in theaters 12.01," she also captioned the post.
Some of the more intimate moments in the trailer show the superstar with her family. While Blue Ivy performed alongside her mom throughout the tour, her 6-year-old twins Rumi and Sir are seen in the trailer as well.
In one clip, Beyonce is seen giving Sir a kiss, as well as stretching with Rumi and Blue Ivy, whose performance is also highlighted. During the tour itself, Rumi was also spotted cheering her sister on with a "We Love You Blue" poster, as well as a photo with her mom, Madonna and the Queen of Pop's kids.
"Renaissance: A Film By Beyoncé" will run for at least four weeks and follows Taylor Swift's "The Eras Tour" release, also by AMC. Per the AP, both artists will reportedly reap at least 50% of ticket sales for the films.
"RENAISSANCE: A FILM BY BEYONCÉ accentuates the journey of RENAISSANCE WORLD TOUR, from its inception, to the opening in Stockholm, Sweden, to the finale in Kansas City, Missouri," reads a description of the film on YouTube. "It is about Beyoncé's intention, hard work, involvement in every aspect of the production, her creative mind and purpose to create her legacy, and master her craft."