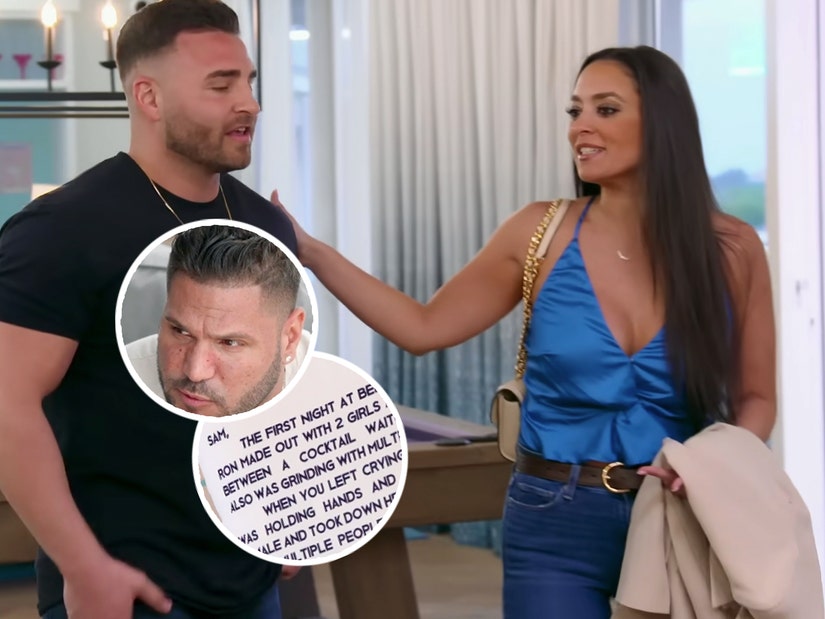 MTV
Find out how he reacted to Sam's room being covered with "The Note" and what her costars said about the show's relationship curse, as Ron considers surprising the whole group.
The reality star's boyfriend Justin May made his MTV debut on Thursday's new episode, as he prepared to meet all her costars for the first time. Before his arrival, Sammi said she was a little "anxious," as well as both "nervous" and "excited" for them all to get to know each other, saying in a confessional it was "a big deal" for her to "introduce somebody new into this group."
That, of course, is an understatement. The last time any of them filmed with one of Sam's boyfriends, it was Ronnie Ortiz-Magro, back on the show's original Seaside Heights run from 2010-2012.
Waiting for your permission to load the Instagram Media.
"We've known Sammi for years being in a relationship with Ron. So to see her in a new relationship is going to be a whole new Sammi and I'm excited for it," Pauly D said in a confessional before Justin showed up for the group vacation to Orlando.
"We haven't seen her in many relationships, we've seen her in one," added Vinny, who noted that Giancola clearly "likes Jersey guys" and is a "Jersey girl" herself. "Based on her last relationship that we know, I will say that Sammi has a type. So I'm expecting a gorilla juice head," he added.
"I'm so excited to see him. He's fun, he's positive, he's so supportive of me, he balances me out in a good way," added Sam, who felt everyone else in the cast was also "pretty ecstatic" to meet him as well. "That makes me feel good," she continued, "I just love him so much."
When Justin finally showed up to Margaritaville Resort, he got some serious smooches from Sam upon his arrival. She then took him to her room, where Pauly D had quite the surprise waiting. Before Giancola even got there, he had pillowcases and comforters made covered with "The Note," which Sam's female costars famously wrote back in the day warning her of Ron's indiscretions.
Waiting for your permission to load the Instagram Media.
"I remember it, I just haven't seen it in a while. This is funny. You might as well get it tattooed on you at this point!" exclaimed Justin, proving he was a very good sport when it came to Sam and her ex. He also joked that they should bring the blanket to dinner and use it as a tablecloth.
"Talk about awkward," she added in a confessional. " What's cool about him is he's so chill, he's like, 'Yeah whatever.' He doesn't even care, which I love. He's so chill."
Justin went on to say he was excited to meet everyone, while Sammi joked that he would "get the boot" if they didn't all get along. She also wondered whether anyone would remember Justin, who used to work at Karma, from their wilder shore days. "Probably not ... everyone was drunk," he quipped.
"I know he can handle his own, it's just nerve-wracking because you don't know what anybody's gonna say," she said as the pair headed down to meet everyone else for dinner.
Waiting for your permission to load the Instagram Media.
The rest of the group, meanwhile, joked that while she "seems happy," there's a bit of a curse when it comes couples on the show. "You know what happens when you're happy out here, right?" quipped Pauly, "It gets f--ked up!"
"Yep, Jersey Shore ruins relationships," added Vinny Guadagnino, as Jenni "JWoww" Farley chimed in saying, "That's a fact."
The episode ended with Sammi saying the meeting could go one of two ways, "really, really bad, or really good."
A preview for next week, meanwhile, showed Ronnie contemplating crashing the party -- saying he was considering heading to Orlando to see everyone. Ortiz-Magro left the show in 2021 to seek treatment for mental health issues -- a decision which came after a string of legal problems -- and has been itching to make amends since.
An earlier super-tease for the whole season (below) appeared to show him first giving his costars a handwritten note, seemingly asking if they would be open to speaking with him face-to-face. He was also seen speaking with some of them in person, though it appears Sammi was not in the room.
New episodes of Jersey Shore Family Vacation air Thursdays on MTV.