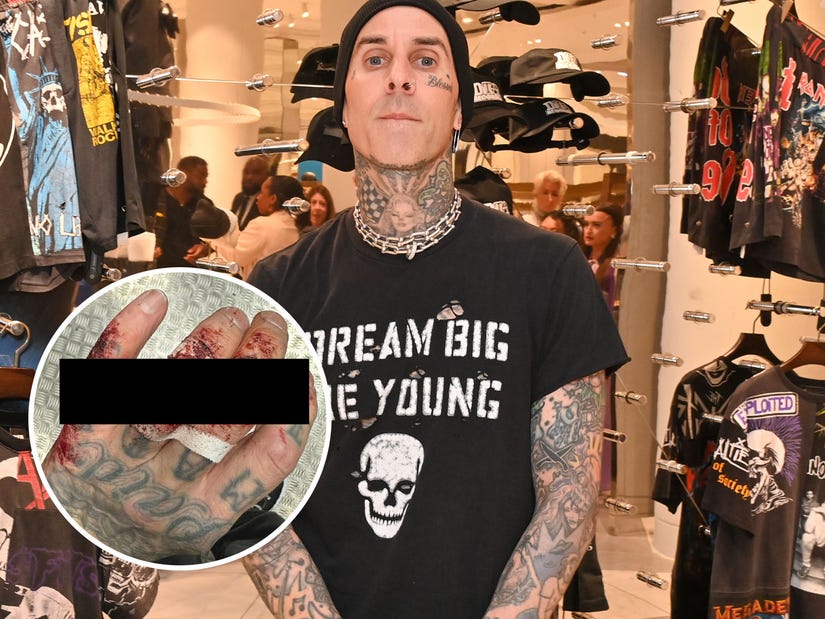 Getty / Instagram
The drummer is also anticipating the birth of his baby boy with wife Kourtney Kardashian.
Travis Barker just revealed a shocking injury to his hand after the drummer performed with his band Blink-182 in Manchester, England.
In the next post, Barker shared his black pants, which were stained red with blood.
Before the bloody aftermath, Barker had simply shared a mirror selfie before the concert, which he tagged with his location.
This is the band's second performance in Manchester, and also the last of their European shows on their Rock Hard tour. They will soon head to Las Vegas for the final shows this year.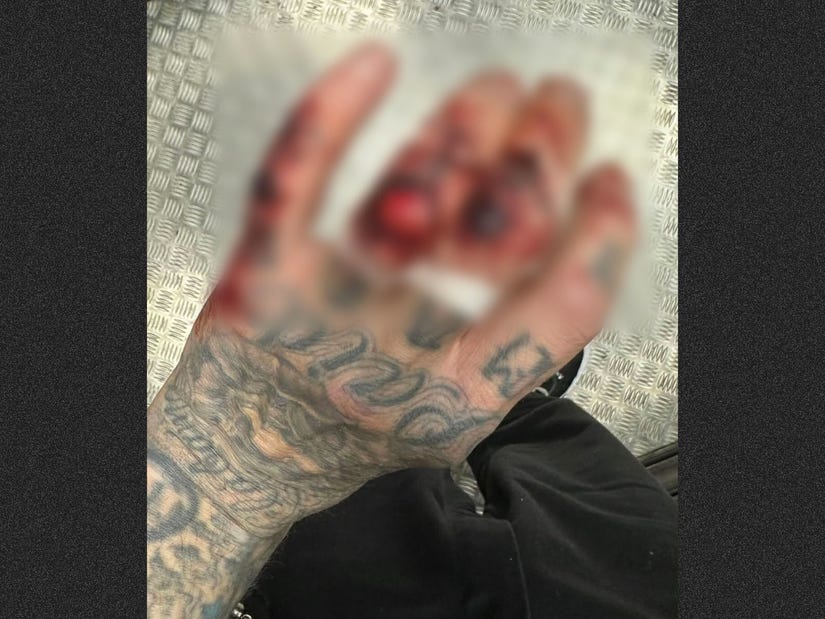 Instagram
"It arrived when both Travis and I no longer even thought about it, and when I had stopped fertility treatment," said Kardashian.
She also shared that she's not concerned with commenting about her age, with the 44-year-old reality star saying "those comments don't affect me." She added, "To those who make them, I just say: 'How could you question God's plan?' Because that's how I see this pregnancy."
Kardashian and Barker started in vitro fertilization before the pair got married in 2022, and Kardashian shared that she felt like she was "pushed towards" IVF "as if it were the only option."
"The truth is, I felt like I was doing something that wasn't right for me," she added.
"My intuition was telling me that it wasn't suitable for me," she continued. "I don't even take medicine, imagine-- that it was working against my body rather than for it."
"I knew deep down that it wasn't the right thing," said Kourt.
"I kept telling Travis: 'If we're meant to have a baby, then it's just going to happen.' And that's how it was. When we stopped forcing the process, then it happened," she said.
Kourtney also shared how this pregnancy differed from her previous ones.
"This time, unlike the other three, I was followed by a different group of doctors, who gave me many restrictions in the first months," she revealed. "No workouts, no Pilates, no caffeine and no plane trips. Even no sex!"
Kourtney shares Mason, 13, Penelope, 11, and Reign, 8, with ex Scott Disick. Barker is father to Landon, 20, and Alabama, 17, as well as step-father to Atiana De La Hoya with ex Shanna Moakler.
The couple decided to share the news of their pregnancy with the world in June during a Blink-182 concert in Los Angeles, where Kourtney held up a sign saying, "Travis I'm Pregnant" -- an homage to the band's "All The Small Things" music video.