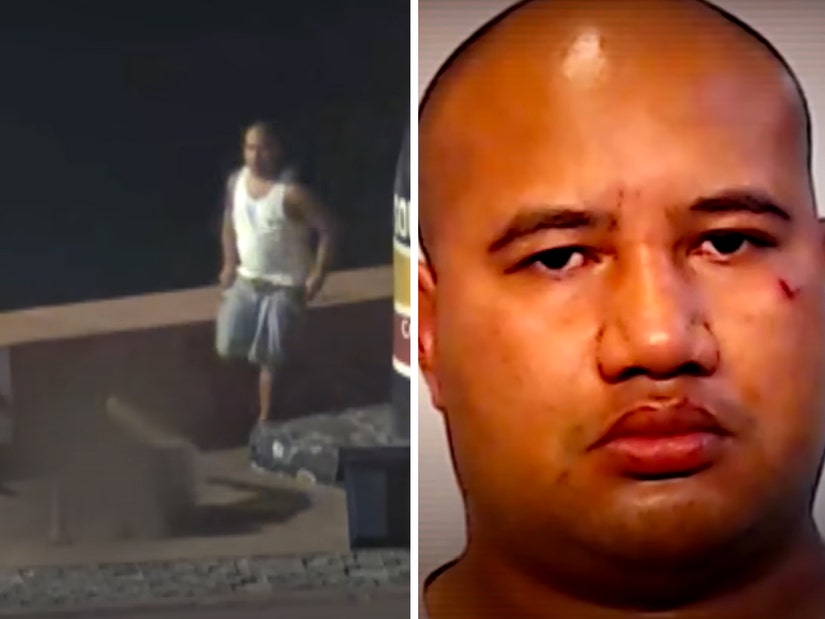 Inside Edition / YouTube
The Uber driver rescued the woman allegedly being raped by another man earlier that night only to then assault her himself once he got her alone -- but did not realize a good Samaritan was watching via a live webcam from over 1,600 miles away
A horrific and brutal attack was witnessed by a man watching a livestream of a hot tourist destination in the Florida Keys while 1,600 miles away in Boston.
Footage of the disgusting assault, shared by multiple news outlets, shows a man dragging a woman in a headlock. As she resists he shoves her behind a famous landmark, the Southernmost Point marker. It's there behind the monument that prosecutors say the woman was then sexually assaulted.
Video shows the woman scramble out from behind the marker just minutes later as the man is seen casually following her while zipping his pants back up.
Unbeknownst to the rapist, the entire incident was live streamed and witnessed by a good Samaritan who was watching the web cam from Boston, Massachusetts.
In the dispatch call to the Key West Police department, the Boston man can be heard saying: "I'm actually calling from Boston. But, bear with me, this is going to sound crazy. But, I'm at work and I have the, you know, the Southernmost Point cam?"
When the dispatcher acknowledged they knew of the live stream, the good Samaritan then said, "I could almost swear that I saw somebody get raped."
The terrifying incident, which took place two years ago, had another horrifying twist. According to police they received other calls regarding a "nude female, crying and screaming," per Local 10 News.
When cops found the victim at a nearby hotel she told them she had actually been raped by another man earlier that night but was "rescued" by an Uber driver, Kerry Calvin Gasag, who took her away in his car.
However, instead of being her savior he turned out to be a predator. He drove her to the famous buoy and proceeded to also assault her. Police say he later returned to the scene of the crime to tamper with evidence.
"He came back and scooped up her clothes," investigators said.
Gasag was apprehended and plead guilty to all counts. Now two years later, he's been sentenced to 10 years in prison. The other rape suspect was also arrested and he has a hearing set for later this month.