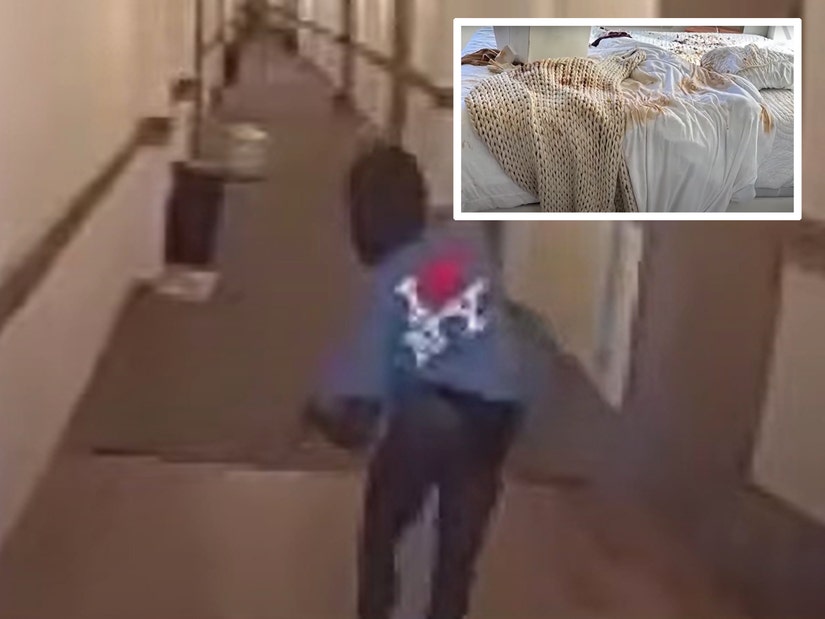 Fox 26 Houston
A Houston woman claims an intruder broke into and destroyed her apartment then swapped out his underwear for hers
A Houston woman says her apartment was trashed by a man who broke in and left his underpants behind, with Ring camera footage appearing to show him wandering the hallways of the complex afterwards in nothing but the victim's t-shirt and panties.
Speaking with local news FOX 26, Allana Mitchell said she left her apartment for a catering job on October 14 and didn't return home until 3:40 a.m. the next morning.
"It was like it was locked from the inside. I went around the building and saw my lights were on," she said of arriving home. "I never do that. And there was even stuff thrown off of my balcony."
Houston Police were called, but due to liability issues would not break down the door for her. Calls to her apartment management, Mitchell claims, were unanswered over the weekend but finally on Monday she was able to have building maintenance open the door for her.
What she discovered was a nightmare.
"There was food all over the floor, everything was a mess," she told FOX 26. "The water was running. I lost everything."
She found someone else's clothes, including underwear, while some of her clothes were missing.
"My neighbor's Ring camera caught him knocking on doors," Mitchell explained. "He had on my underwear and a t-shirt I slept in the night before. His underwear was on the floor along with his hospital shirt."
Mitchell went on to claim that building management is viewing the incident as personal; and says she was told her key fob was used during the time frame of the break-in, however all of the building's key fobs are accounted for.
"How is it personal? I don't know him. They could be a little more compassionate regarding the situation," she told reporters. "I did speak with the regional manager, and she said they're in training, but I don't feel like you need training to show compassion."
There was also another reported break-in that night in the same complex, per FOX 26.
Mitchell is a gun owner, but said she found her firearm when she finally regained access to her apartment on Monday.
Per local news, authorities are still investigating the case and have not named any suspects.
FOX 26 has reached out to the company managing Mitchell's apartment complex but has yet to hear back.