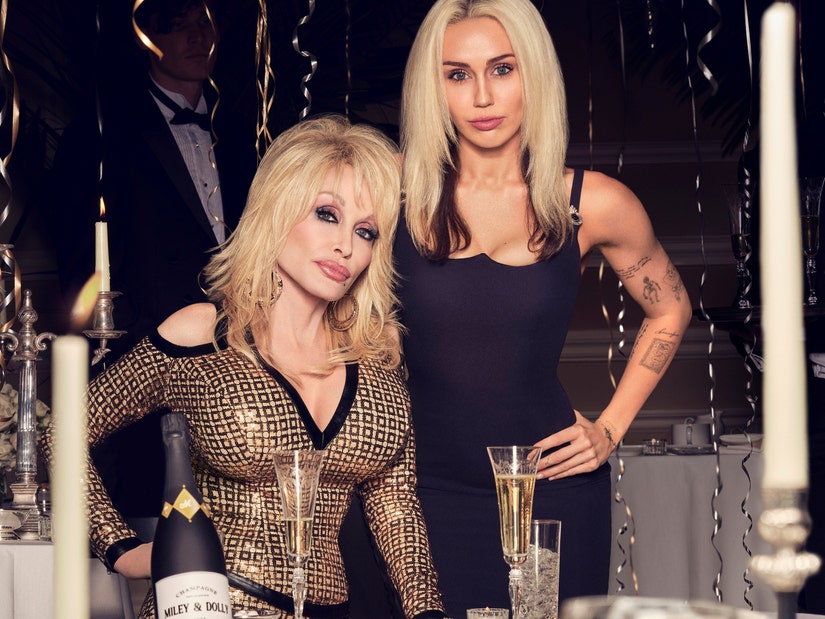 Getty
Dolly Parton covers Miley Cyrus' 'Wrecking Ball' for a rock-inspired duet as part of her upcoming album, 'Rockstar.'
The cover we never knew we needed!
Dolly Parton teamed up with her goddaughter, Miley Cyrus, to release the latest track from her upcoming album, Rockstar -- a powerful, rock duet of Miley's 2013 hit, "Wrecking Ball."
While it's not the first time fans have heard the dynamic duo perform the track, with Miley and Dolly singing the moving melody on Miley's New Year's Eve Party last December, they now will be able to stream the song and listen to it on repeat come Dolly's first-ever rock album.
"When I heard 'Wrecking Ball' I almost wept in my car. When it started into the chorus it hit me like a wrecking ball! I thought how great can a song be and how great can Miley Cyrus be?," Dolly recalled in a press release Friday. "I thought, 'I have to have that song on my rock album and I have to have Miley sing it with me! I love it and I hope you do!"
Miley also shared her excitement over Dolly covering the pop track, taking to Instagram to marvel at the honor of having the country legend sing her song.
"I've grown up covering my Aunt Dollys music & it's an honor to hear her singing one of my songs," Miley wrote alongside a photo of the pair from her NYE special. "I love you Aunt Dolly! I'm so happy to add another collaboration under our bedazzled (studded leather) belt! We're ROCKSTARS now! You can hear so much sweetness and love on this record."
"Excited to share it with everyone," the "Flowers" singer added. "Forever your Doll Baby, Miley."
Fans of the pair know Miley and Dolly are no strangers to singing each other's songs, with Miley famously covering Dolly's hit, "Jolene" back in 2013.
Waiting for your permission to load the Instagram Media.
Dolly's highly anticipated album, Rockstar -- due out November 17 -- features a slew of rock legends for her first foray into the genre, including Rob Halford, Paul McCartney, Ringo Starr, Peter Frampton and Mick Fleetwood as well as Linda Perry.
Rockstar drops November 17 and is currently available for pre-order.