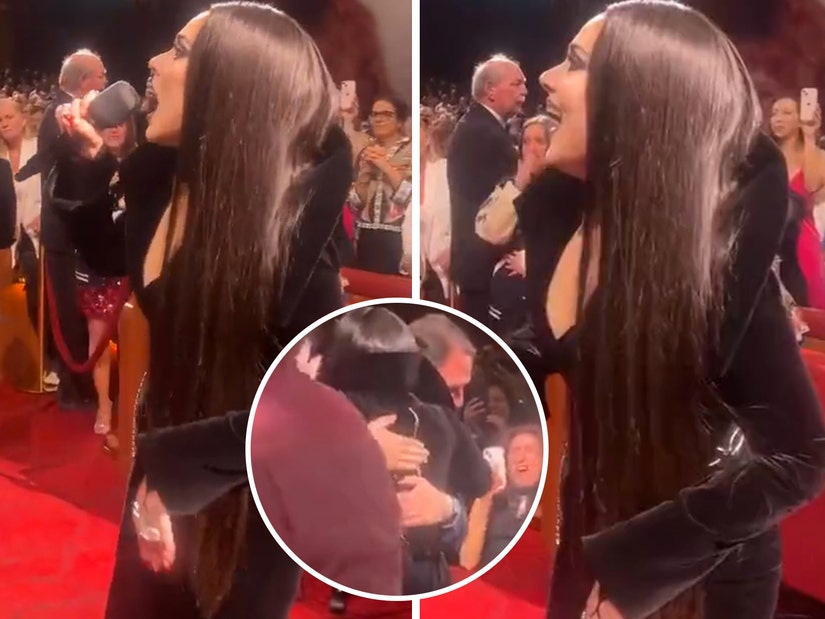 Twitter
"Shut up! Oh my God Colin! This is my doctor that gave birth to my baby, I haven't seen you for years," Adele said embracing him as she welled up with tears
Adele was given quite the surprise when she spotted the doctor who delivered her baby over ten years ago sitting in the audience of her Las Vegas residency.
Video of the moment was posted to X (formerly Twitter) on Sunday night, showing the singer midway through a rendition of her song "When We Were Young."
Adele can be seen interacting with the audience, while dressed as Morticia Addams for the Halloween weekend show, before she stops in her tracks.
"Shut up!" she exclaims before racing over to a man in the audience, interrupting her performance.
"Oh my God Colin," she says while embracing the man. "This is my doctor that gave birth to my baby, I haven't seen you for years."
The pop star then visibly began welling up in tears.
While the band continued playing the song, Adele was too overcome to immediately resume vocals. Instead, she sweetly asked of the audience, "Will you sing it for me? That man delivered my baby."
The fans in attendance, of course, obliged.
She then, according to Daily Mail, told the audience: "I took a double look and he's here. I'm desperate for another baby, Colin, bloody hell, so I might give you a call. My son turned 11 a couple of weeks ago and he's not a baby anymore, it's crazy."
"I don't want everyone to know who has seen inside my insides. My womb is starting to ache a little bit."
"It's like, 'Baby, baby, baby. Need a baby, need a baby'," she joked.
Adele, and then-husband Simon Konecki, welcomed son Angelo in October 2012.