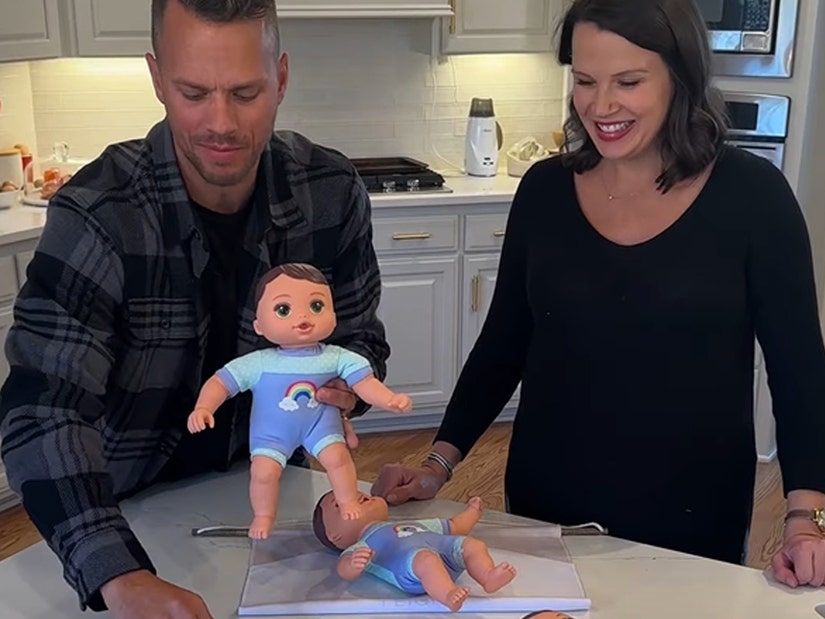 YouTube
It still wasn't as provocative, many pointed out, as what one Australian journalist named her son: Methamphetamine Rules
American influencers Rachel and Jordan Flom have gone viral for one of the names they've chosen for their incoming triplets.
Australian fans of the couple, in particular, were left scratching their heads. However, the Nashville based family bloggers made it clear the names were set in stone, despite the children not yet being born.
The Floms, who boast millions of followers on TikTok and YouTube, are already parents to two-year-old Emerson and are expecting triplet boys early next year.
In social media posts from last week, the couple excitedly shared the names they had chosen for their soon-to-arrive little boys.
The first two seemed conventional enough -- with one being named Locklan and the other Wilder. However, when it came to the final child's moniker things got a bit more creative.
Jordan explained he had lived for six months abroad in a Queensland, Australian city.
He said, admitting he had some nerves with this reveal, that the third baby's name "is Brisbane Leigh. We might say Bris for short. Leigh is my middle name, and I lived in Brisbane, Australia for six months."
Some couldn't help but note a bris is a Jewish ceremony of circumcision, something the expectant parents had likely not thought about.
A previous version of the video included some more explanation, according to various news outlets. In that version, Jordan went on to give further context.
"It just meant a lot to me and I jokingly said the name Brisbane once. I don't think it is a name, but we're making it one," he said. "The meaning of Brisbane … we looked it up after we locked in the name, and the meaning of Brisbane is 'breaking of bones.' Which means he might be a sports player."
The couple then asked viewers to provide feedback, but requested it all remain positive -- which, as you know, one should never do on the internet.
"If you don't like the names, well, we're not changing it," they added. "They're locked in, we made banners."
The original version of the video, on TikTok, raked in comments from across the globe -- with the lions share focusing on the choice of Brisbane.
Many Australians chimed in with suggestions for other names based off cities in their homeland.
"You should name your next kid Ipswich."
"Imaging someone named after Perth though."
"These are my kids, Brisbane, Caboolture and Mackay."
Despite the chorus of Aussies gently mocking the moniker, others among their followers thought the name was cute and fun.
Meanwhile, Brisbane is certainly not the most provocative name to have some relationship to Australia in recent months.
An Aussie journalist, Kirsten Drysdale, went viral in September for naming her son Methamphetamine Rules. Which was able to actually be pushed through the system as the child's official name.
Drysdale at the time was working on a story for a TV program that looks into viewers' burning questions and attempted to come up with the most "outrageous" name possible.
"We thought, what is the most outrageous name we can think of that will definitely not be accepted?" the journalist previously said.
"Methamphetamine Rules we thought would surely get rejected, and then when it does, we can find out what name the Registrar chooses," she explained. "It was really just a lighthearted, curious attempt to get an answer to this question."
Drysdale admitted she never expected it to go through and has since been able to correct her son's legal name.
"Baby Meth's real name … I'm not publicly disclosing it, because I don't want it to be attached to this," she told news.com.au.
"It's a beautiful name and I can tell you has nothing to do with class A drugs. We think it'll be a very unique 21st birthday present to tell him this story."