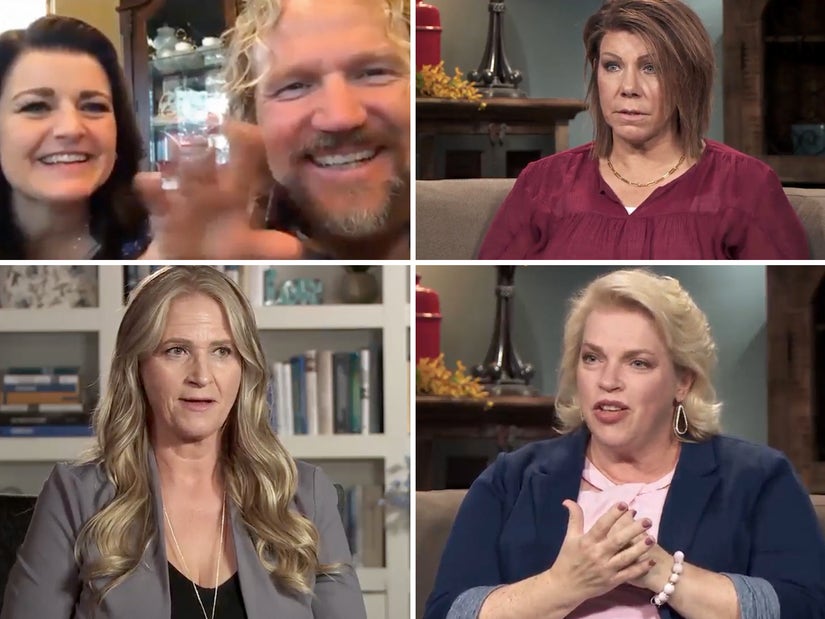 TLC
Christine and Kody's daughter Mykelti was able to get almost everyone together for a family affair -- despite the growing strain between them -- but excluded one of the Sister Wives.
Sister Wives star Kody Brown isn't the only one on the outs with some of the man, many children in the Brown family.
On Sunday's new episode, one of his six kids with ex-wife Christine -- Mykelti -- and her husband Tony held a virtual gender reveal party after they recently announced their pregnancy. Even though the family event was held over Zoom, the parents were all pretty concerned about how it would go down, following continued estrangement between Kody and several of his children.
Christine worried Janelle's sons Gabe and Garrison wouldn't show up, after their big falling out, whole Kody admitted he was "really nervous" due to the fact he hadn't "had a really positive children with some of my children" of late. That being said, both he and Robyn -- his only wife, of four, he's still with currently -- joined the celebration.
"I'm hoping that them seeing Kody and I and our smiles and our encouragement will help them to realize that I'm not the bad guy," added Robyn, who has always had a tight bond with Mykelti and even offered up pregnancy advice on a previous episode.
"I think it's great that Robyn and Kody are on this call. They are a couple. I don't have a problem with seeing them as a couple, them participating in family stuff as a couple. It's just what it is," added Janelle, who was also part of the celebration.
MIA, however, was Meri -- who Christine said was not invited to attend.
"Our older kids choose who they want to have relationships with," explained Christine. "She's not comfortable with everybody in the family. She won't be on any other things for Mykelti and her children."
"I was really happy that, you know, even though there's like strife and struggle, they're still like, well, this is still a family, we can still try to be a family," added Mylekti, who did not address the Meri snub herself. She said she hoped that even through separation, they would all remain a "family, just different" -- but also added it would be "a dream" if they could all "completely reconcile" and "go back to being on unified family."
"I think that they all need each other. I think that Robyn's kids need Janelle's kids and my mom's kids and Meri's kids," she continued. "I think that all my siblings need each other. We all need each other. I think that ultimately we all need our moms too."
Her husband Tony added: "I think it says something that they're willing to get together for big life stuff tells you that there's still something there, which is nice to see."
While Janelle later added she hoped they could get to a place where they could all get together In person, and just not virtually, Christine wasn't exactly feeling that idea. "I'm not interested in getting back together again for something yet. All I'm going to be is cordial," she said in a confessional. She then added, "I would love to say I'm going to be more, but I'm not. And I'm not interested in that either."
Kody went on to call the call "bittersweet," admitting he began the Zoom "in a state of paranoia" and anxiety "over the contempt that has been thrown in my direction." He also expressed the thought that "someday our family civil war may end" and they "deal with" said contempt. That being said, he added there's no world where his kids can get their dad back without fully accepting Robyn as well."
"Robyn and I ... you're not gonna separate us," he declared. "They want their dad but they don't want Robyn? That's not gonna work."
Sister Wives airs Sundays on TLC, MAX and Discovery+