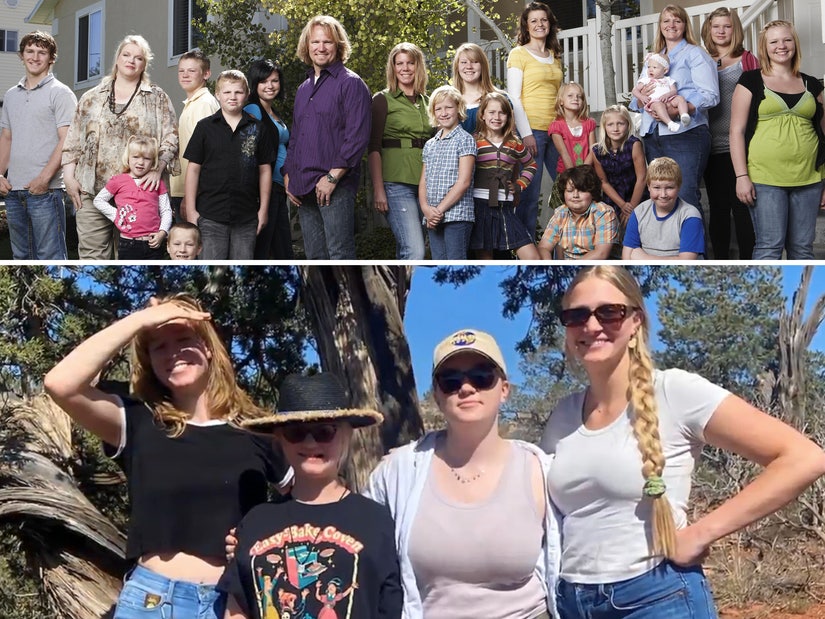 Puddle Monkey Prods/Kobal/Shutterstock/TLC
Kody admits "this situation is very disappointing" and can't understand why one of his daughters "quit reaching out to me" on the latest episode of Sister Wives.
Kody Brown's estrangement from some of his older kids -- and sons especially -- isn't really a secret to anyone who's been watching Sister Wives, but on Sunday's hour, viewers heard about ongoing tensions between him and some of his daughters as well.
As two of Kody's kids with ex-wife Christine, Truley and Ysabel, came to his home to celebrate Truley's birthday, they opened up about the 20-year-old's bond with Robyn's children. Since Truley was born right as Robyn married into the family, she was one of the few kids from Kody's other wives who grew up with her around basically since birth. For that reason, she remained closer with Kody and Robyn than some of his other elder children.
While both Robyn and Kody loved having the girls visit, he opened up about how he was "constantly concerned" about feeling "this gloomy cloud hanging over us most of the time." He added that after Kody and Christine's divorce there was "a little undertone of strain" and distrust with his kids -- noting that while Truley seemed "perfectly fine," Ysabel "seems uncomfortable a lot of the time."
"My relationship with my dad, it's never been like 100% solid," Ysabel admitted in a confessional. "So, with the divorce right now, everything's rocky because nobody knows what to do in a divorce. And in a divorce with a polygamist family, nobody knows what to do."
Kody said the whole family was still "just processing through some stuff," calling the current situation "very disappointing" for the goals he set in his life.
"My goal from the beginning is that my family would be under one roof. I wonder if some of the failures in plural marriage were my part, in expecting too much from the family with this one family idea," he continued. "We might have been more successful had we been in different homes, with the kids kind of growing up like they were cousins."
He went on to say that if they were still living in Utah he would "almost be embarrassed" to show his head in church "because of the struggles my family has had.
Kody was then asked by a producer about his relationship with his daughter Maddie, his eldest daughter with Janelle, with whom Ysabel lives in North Carolina.
"I do not know what happened, but during the breakup with Christine, Maddie stopped reaching out to me," Kody replied. "Might have been Covid, I have no idea what was going on, but she quit reaching out to me."
Janelle had a pretty good idea what was going on, however, and said in her own confessional that their daughter "doesn't call him because of his behavior lately."
"She's like, I don't know what to do with him, I don't know who this guy is," Janelle continued. "She has to consider her children, she has to consider the stability of what they see or perceive as a grandfather, there's a lot of things at play here, it's not just Maddie not calling him."
She went on to say those feelings weren't exactly specific to Madison either, saying her children "have not talked to their dad" and "Generally ignore him, because what's the point of having a conversation with him." She added that Kody is "getting exactly what he puts into" his relationship with them in return.
While Robyn said her own children have "really missed their siblings," Kody added that the whole situation feels like they're in a "broken family" he can't fix. He also admitted he feels that when his children have graduated from high school, his "obligation" to them "shifts."
"It's an obligation of mutual respect. If the relationship goes bad, go get your own place," he said. "You don't belong in my home if you can't respect me."
The family drama continues when new episodes of Sister Wives air Sundays on TLC.