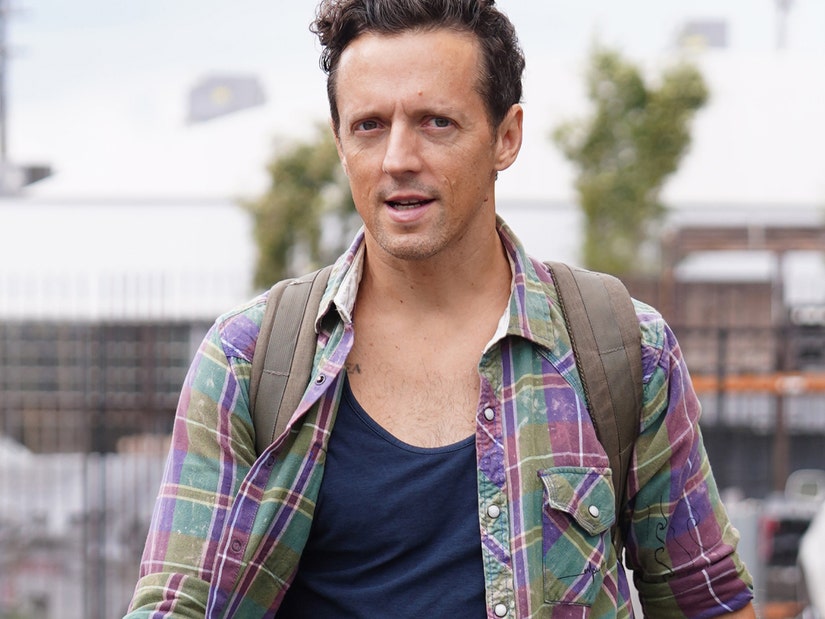 Getty
"You want to heal as many relationships of the past as possible and, at the same time, step into this new acceptance and new identity or whatever I'm claiming," said the singer, who split from Christina Carano earlier this year.
Jason Mraz is opening up about his journey with his sexuality and self-acceptance since coming out.
In an interview with GLAAD, the singer -- who came out as bisexual in 2018 -- spoke about "heal[ing]" previous relationships, and working through past feelings of "shame" and "guilt," while also reacting to being named on the 2023 Out 100 list.
"I had to play out a lot of other scenarios before I arrived here," said Mraz, 46, who is currently competing in Season 32 of Dancing with the Stars. "It's both hard to do those and hard to unravel those, and what I'm basically describing is a divorce, you know? And that's very hard. You carry a lot of shame [and] guilt."
He continued, "You want to heal as many relationships of the past as possible and, at the same time, step into this new acceptance and new identity or whatever I'm claiming, and that's also hard."
"So being on the Out 100, it's nice to be acknowledged," the Grammy winner added.
"It's as hot as the Billboard 100."
Mraz also reflected on his experience on Dancing with the Stars, where he's paired with pro Daniella Karagach.
"All day, you're looking at yourself in the mirror, and that can be hard for anybody, any human, to accept themselves looking in the mirror," he said. "On top of it, then my partner, my coach here, is asking me to move in ways that I've never moved before, and my reaction is, 'I look silly.'"
"Then you break through that and it's like, 'OK, I feel kinda cool.' And then it eventually becomes confidence, and so it is a journey," he continued, addingm. "Dance is an amazing medium for that transformation and for that accepting of one's self."
Waiting for your permission to load the Instagram Media.
The "I'm Yours" singer also reacted to his fellow contestant, Ariana Madix, who is also openly bisexual, saying she wanted it to be them in the final two. (Madix is paired with Pasha Pashko, who is Mraz's partner's husband.
When asked if they've "bond[ed]" over both being a part of the bisexual community, Mraz said, "Ariana and I haven't talked at that level, but we have gotten close through this competition. Getting to know each other, and getting vulnerable in front of each other as we sometimes do show and tell, and basically show each other our dances."
"I've enjoyed getting to know her," he added. "She's such a wonderful person. She's tough competition as well."
Meanwhile, Madix commented on Mraz's GLAAD interview, which was posted on Instagram, writing, "yessssss the bi representation this season is 🔥🔥."
Mraz was married to Christina Carano for eight years, announcing in June that they had divorced.
In an interview with Billboard in 2018, Mraz addressed his sexuality for the first time, revealing that he had "experiences with men" during his relationship with Carano.
"I've had experiences with men, even while I was dating the woman who became my wife. It was like, 'Wow, does that mean I am gay?' And my wife laid it out for me. She calls it 'two spirit,' which is what the Native Americans call someone who can love both man and woman. I really like that."
This came a month after Mraz wrote a "love letter" to the LGBTQ community during Pride Month in June 2018.
"We still have a long way to go," he wrote in the poem, which was shared on Billboard.com at the time. "But know / I am bi your side. / All ways."