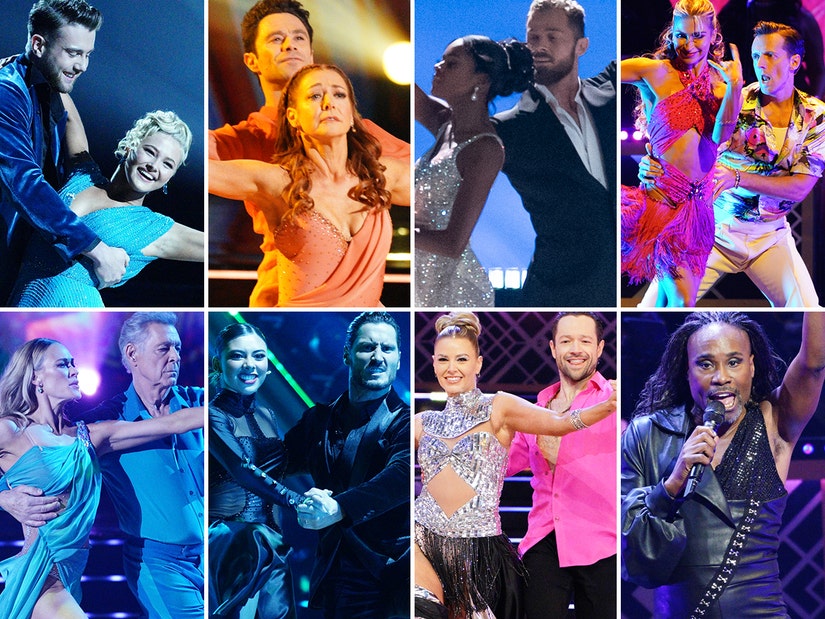 ABC
It's a night of Whitney Houston on Dancing with the Stars as Billy Porter kicks off with a fantastic opening number before joining the judges' panel where they deliver the first perfect score for a single couple this season ... before standing in shock as another favorite leaves.
Dancing with the Stars continues leaving fans scratching their heads as fan-favorites and strong dancers keep leaving the competition, while social media star Harry Jowsey continues to stumble his way toward the Mirrorball Trophy.
It's a mirror of what happened in Season 27 when Bobby Bones managed to snag the title despite lacking as a dancer from start to finish. After his win, the judges' save was implemented. This was the first season it was dropped and it's definitely been déjà vu each week.
This week, Billy Porter joined the festivities with an incredibly fun opening number in tribute to Whitney Houston, who provided all the night's music and inspiration. Despite some technical difficulties, Billy proved why he's a grade-A entertainer.
He then joined the judges and offered solid and pointed advice. This guy knows what he's talking about. The judges were tough on the contestants across the night, but they still managed to offer up the first perfect score of the season for a single couple (one of last week's group dances got one, as well).
The first round was a standard round of competition, while the second paired off the stars to compete head-to-head for bonus points. As the highest scorer from last week, Ariana Madix didn't have to compete in this round and picked up the bonus points anyway.
The bonus points did shake things up on the leaderboard, but even they can't explain what keeps happening with these results. Week after week, it's one upset after another. At this point, we're starting to worry for the stronger dancers in the competition.
Who do I think I am? you ask. Well, I spent nearly a decade of my life sweating and bleeding to the music as a dancer. From a young boy learning a shuffle-ball-change to performing with the St. Louis Ballet Company, I experienced the ups and downs of one of the most difficult physically demanding sports on the planet. During this time, I was also a member of the St. Louis Symphony Youth Orchestra, as well as a gymnast, writer and cartoonist. I had a lot more energy in my younger years. And I've spent the last twenty years analyzing and critiquing reality competition shows for various media publications. I've got this.
("How Will I Know," Whitney Houston) This was a fun way to open the show, despite several, several moments in a row where there were serious moments with the audio. We lost all of it, save the crowd, for a moment, lost all but percussion at another. It was just a mess audio wise through a large portion of the middle -- we even got Jason Mraz introduced twice -- but props to Billy and the dancer for keeping it going (they may not have even known). As always, we love seeing the dancers getting a moment to shine, and we love that co-hosts Alfonso Ribeiro (a former winner) and Julainne Hough (a former pro winner) can hoof it with the best of them because it's always fun to see them representing in these numbers.
ROUND 1: WHITNEY HOUSTON NIGHT
Harry Jowsey & Rylee Arnold
(Viennese Waltz - "I Have Nothing," Whitney Houston) Harry reminded us of a tourist in the opening part of this dance, even looking around as if excited to see the sights. He continues to have zero musicality or dance/elegance in his movements, despite going to that ballet class to learn a little bit of grace. The one thing he has going for him is he's there where Rylee needs him to be for lifts and moves. She looks very pretty when they dance, but we're still not seeing enough growth from him and we are too deep into this competition to be delivering these awkward postures and lumbering movements, still.
Judges Scores: 7, 7, 7, 7
Jason Mraz & Daniella Karagach
(Samba - "Higher Love," Whitney Houston) This one lacked a lot of connection between Daniella and Jason as he spent the majority of it singing along with the track and not even really looking at her. Samba should smolder with connection, oozing with synchronicity. Jason wasn't consistently on point, too, and we found ourselves wondering if he was distracted by the lyrics and all the singing (his own) as he's usually so much cleaner. Also, he could have been a little more sinuous with his body. We absolutely loved the backwards dancing down those steps because that is no joke mid-performance. There was a lot to love about this piece and Jason remains a favorite, but he didn't quite step up from last week, which was his goal.
Judges Scores: 8, 9, 8, 8
Alyson Hannigan & Sasha Farber
(Contemporary - "Greatest Love of All," Whitney Houston) Alyson really connects to this song as it spoke to the lonely child she was teaching her the value and importance of self-love. Even now, she gets emotional thinking about it. As such, Sasha's vision was that he will serve as her angelic guide in this but she's dancing alone and discovering that self-love. Her goal was to thank the song for what it meant to her, and try to keep it together. It was definitely an emotional piece with Alyson fully committed. There were a lot of lovely elements in there as well, with some very cool lifts and tricks. We kept thinking it was going to go somewhere even more dramatic and then it ended with a sweet hug. Still, we found it palpable and beautifully raw with some lovely line work from Alyson.
Xochitl Gomez & Val Chmerkovskiy
(Tango - "I Wanna Dance with Somebody," Whitney Houston) There's such a love of this dancing, this experience that permeates Xochitl's movement, and occasionally creeps to her face in a joyous smile, we find ourselves loving it, too. There was proper form here and intensity from Xochitl, and no sign of her recurrent ankle injury (which did look really bad in rehearsal). The head whips, the intensity, the hip swivels, the intention behind every step, this was the first dance of the night that felt like it was showing us how dance should look; this could have been two pros dancing. She has been a front-runner and this should definitely keep her in the conversation.
Judges Scores: 10, 10, 10, 10
Barry Williams & Peta Murgatroyd
(Rumba - "Didn't We Almost Have It All," Whitney Houston) We had to laugh with them when Barry said he was looking at what they could do to improve and Peta candidly replied, "It's kind of everything." But that's the rub. He's got all the pieces in place, he just needs to finesse and improve each of them. His wife being a hula dancer meant there was some good advice to be had, but could he apply it? Honestly, it wasn't great, but there was a sweetness to Barry really trying and he has a very lovely elegance in the way he moves. You can't help but smile when he dances as there is so much charm. Peta went easy on him here (Billy urged them to put in more content), but he did what he needed to do to be where he needed to be. He could have put a little more sway and flare into what he did, but we still found ourselves loving him as a performer.
Judges Scores: 8, 8, 8, 8
Charity Lawson & Artem Chigvintsev
(Viennese Waltz - "I Will Always Love You," Whitney Houston) We adored that spin move and we liked the break into the bigger part of the song as she had it for a little bit. The problem was the rise and fall, or rather the lack of it. There is a distinctive ONE-two-three-ONE-two-three rhythm that you could see in Artem as they moved across the floor, but Charity looked more like she was just hurrying along. The steps might have been there, and we're not sure how clean those were as we couldn't always see them, but her body otherwise wasn't capturing that graceful, elegant gliding look the dance wants. Even though you could see she was giving a lot, it lacked control, so we suppose what we want now is finesse into the style.
Judges Scores: 9, 9, 9, 9
Ariana Madix & Pasha Pashkov
(Paso doble - "Queen of the Night," Whitney Houston) There was so much drama and character in this dance, we almost forgot to breathe while watching it. Ariana definitely brought the intensity to the piece, maintaining her character throughout. The exaggerated poses were beautiful and there was passion to spare from both of them. This partnership is really bearing fruit in the most beautiful ways. It's rare to see a celebrity on this show give this much paso attitude, but Ariana was delivering.
Judges Scores: 9, 10, 10, 10
After coming in with the highest score last week, Ariana Madix earned a pass on this week's dance-off with the couple automatically picking up three bonus points. Everyone else had to fight for it.
Alyson Hannigan v Harry Jowsey
(Rumba - "One Moment in Time," Whitney Houston) Sasha quipped that Harry and Rylee already have a bit of a connection, but he and Alyson could fake it, too. As she pulled away, Alyson said, "I guess I'll forfeit." The rumba demands a sensuality, but it doesn't have to be romantic (it just needs to fake it really well). The couples went with very different approaches to the dance, with Harry leaning heavily into his lifts and stunts while Alyson kept things simple with grace and connection. Honestly, we'd have liked a little more liquidity of movement from both couples. Harry felt like he was overcompensating for his stiffness with stunts and Alyson just felt like she wasn't doing as much as she could have been, though the content we did get was capably performed. We'd give her the slight edge because the quality was at least consistent.
Judges Winner: Alyson & Sasha
My Winner: Alyson & Sasha
Barry Williams v Jason Mraz
(Salsa - "It's Not Right but It's Okay," Whitney Houston) Jason and Daniella decided to be clean to try and combat Barry's showmanship … but it did NOT work! Barry ripped his shirt open, he performed with suck reckless abandon, we had a dopey grin on our faces by halfway through and it's still there. He was absolutely infectious in this performance. We suspect Jason's technique was cleaner -- when we could steal away to watch him -- but how could we stop watching Barry and Peta? This was definitely the most fun either of them has had this season and we were here for it! Plus, there was salsa happening, he had his hips on swivel (wifey would be proud) and he was giving everything!
Judges Scores: Barry & Peta
Xochitl Gomez v Charity Lawson
(Cha-cha-cha - "So Emotional," Whitney Houston) This was easily the tightest dance-off of the night as both partnerships were really bringing great and very strong cha-cha movement. Charity seemed to swivel non-stop while Xochitl's hips were hitting it hard. In fact, we'd say Xochitl was hitting her marks a little harder throughout, bringing an intensity to the dance that really fit it very well. It was a consistent intensity and drive and character in her dancing that kept us feeling her dance a little more. When the technical sides are so even, what else do we have but how the dance makes us feel, and Xochitl hit us in ours a little harder.
Judges Scores: Charity & Artem
Once again, the bonus points had a huge impact on much of the leaderboard, including pushing a new celeb into the lead -- and they didn't even have to compete in it. Ariana Madix held onto the lead after Xochitl Gomez failed to pick up any bonus points, but the Marvel star is still handily in second place after that perfect score in Round 1. Both should be safe.
The biggest difference on the night comes for Jason Mraz, who fell from fourth place to sixth, coming in just ahead of Harry Jowsey. Neither picked up their bonus points, allowing both Barry Williams and Alyson Hannigan to pull ahead of them. And with Harry seemingly immune week after week, could we be in for our biggest upset yet?
Remember that Jason was among the frontrunners in the early weeks of this show, battling it out with Xochitl and Ariana and Charity week after week. He started to slip these past couple of weeks and now his game could be in danger. At the same time, though, it's not been the person just above Harry going home most weeks.
While Harry is consistently in the bottom, the eliminated star has been coming from the middle of the pack, like Lele Pons last week. That means that maybe Barry and Alyson did have to worry. If that were the case, we'd have to say the worry would lie firmly with Alyson. In fact, she was our prediction to go after Barry's showstopping dance-off, shirt-ripping routine. But what did America do?
Sent first to safety was Alyson, so clearly they wanted us to know that we were wrong right off the bat. So either this is bad news for Barry or Jason, or it's going to be a huge, huge upset … or could it finally be the night that Harry's fans couldn't come through for him?
Next to celebrate were Ariana, Xochitl, and -- of course -- Harry. That meant it was time for another upsetting upset as either Barry, Jason, or Charity was going to be heading out. Our money was on Jason, despite his more consistent season. If it was Barry, though, at least he would have gone out with the most memorable night of his journey.
In the end, it was the final stop for Barry Williams and Peta Murgatroyd after a stellar journey and really representing well for seniors on this show. Barry gave more than many people half his age have given and he never stopped delivering great, memorable moments. He's such a delightful and charming dancer and the season is weaker without him.
We also have to note that Barry was in fifth place out of seven in judges scores, which means voters for Jason and Harry overcame that points deficit to keep their favorites safe. The question for longtime fans now -- as Harry moves toward becoming the next Bobby Bones -- is how much further can he go?
Dancing with the Stars welcomes back Mandy Moore, lead choreographer for the Eras Tour, for "A Celebration of Taylor Swift" next Tuesday at 8 p.m. ET on ABC and Disney+.