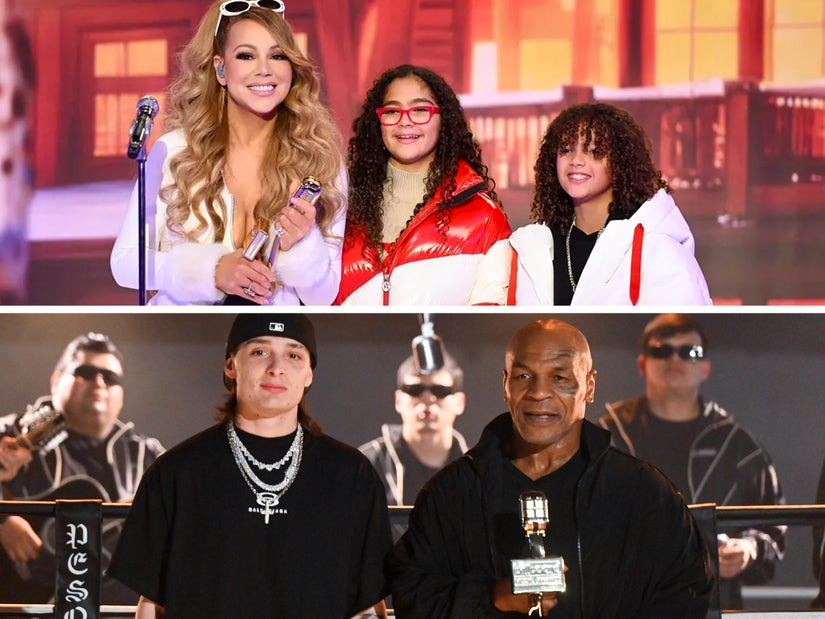 Getty
In a break from tradition, this year's Billboard Music Awards saw performances from around the globe ... none of which were televised.
The 2023 Billboard Music Awards kicked off on Sunday with a unique new format that gave fans some a few performances from venues and locations across the country.
Not televised this year, the online-only format allowed for Sunday's performances to be more experimental than ever before for the BBMAs, with artists rocking out from different locations and utilizing set designs featuring dance numbers on stages covered in water, rooftop sets and even a performance inside a boxing ring.
From Mariah Carey ushering in the holiday season with a performance of her hit song, "All I Want For Christmas Is You," to Taylor Swift's big wins, TooFab is rounding up the top 5 biggest moments from the 2023 Billboard Music Awards.
1. Mariah Carey puts audiences in the holiday spirit
Mariah Carey took her rightful place on the throne as the queen of Christmas with a performance of her holiday hit, "All I Want for Christmas Is You." Carey transported fans to a winter wonderland, as she cascaded from a ski lift before belting out the iconic melody.
Later in the evening, Carey was honored with the Billboard Chart Achievement Award, which was adorably presented to her by her 12-year-old twins, Moroccan and Monroe.
2. Taylor Swift makes BBMA history with record 39 wins
Taylor Swift took home the biggest award of the night -- Top Artist -- and shared a pre-recorded message thanking her fans for making it happen.
"I love you so much. I feel like the luckiest girl in the world to have you in my corner and caring about the music that I make," Swift said in the message, delivered straight from her sold-out Eras Tour.
The win gave Swift a record 39 BBMA awards, tying her with the award show's most decorated artist, Drake, who also boasts 39 BBMA trophies.
3. Peso Pluma brings out Mike Tyson for ringside performance
The Mexican musician performed his hit song, "Rubicon" with music video-like flair. Featuring a special cameo by Mike Tyson, the boxing-themed performance saw Peso Pluma, whose stage name in Spanish translates to "feather weight," step into the ring with the heavy hitter, as well as a seven-piece band.
Pluma also took home the award for Top Latin Song Sunday -- his first ever BBMA -- which was also presented to him by Tyson.
4. Morgan Wallen is the biggest winner of the night
The country singer was the night's single biggest winner, earning a total of 11 trophies -- including Top Male Artist.
In a speech thanking his fans, Morgan Wallen looked back on the trajectory of his career.
"You took a boy from East Tennessee driving a two-door Toyota Tacoma, and turned me into Billboard's top artist, so, God bless y'all," Wallen said.
Wallen also performed his single, "98 Braves," from Truist Park, home of the Atlanta Braves, featuring an audience full of fans -- both of Wallen and the Georgia baseball team.
5. Karol G delivers a tantalizing performance from a water-soaked stage
The sultry songstress transported fans to the middle of a deep blue sea with her performance from a shallow, water-covered stage.
Complete with a bevy of buff backup dancers, Karol G sang her hits, "QLONA" and "Ojos Ferrari," along with a rendition of her unreleased collab with Kali Uchis, "Labios Mordidos."
In addition to the epic performance, Karol G won a few awards, taking home the BBMA in the Top Latin Female Artist and Top Latin Touring Artist categories.
The 2023 Billboard Music Awards is available to watch at bbmas.watch.