Chris Carmack has come a long way since his days modeling for Abercrombie & Fitch and punching out Ben McKenzie.
He's already made the smooth transition from modeling to acting -- starring as preppy boy Luke on "The O.C." and gay country singer Will Lexington on "Nashville" -- and is taking it one step further with his latest project, a new EP called "Pieces of You" he's releasing this Friday.
While he sings on the ABC soap, the five tracks from his upcoming release were all written by Carmack as well, long before he ever played a performer on TV.
With the new EP and a performance at the Grand Ole Opry coming Friday, December 11, toofab's Brian Particelli chatted with the strapping star about his music, his character's future on "Nashville" and a few memorable moments from his past in the entertainment business.
toofab: We just listened to the EP -- it sounds great -- and we're big fans of "Nashville" as well. Is it true you wrote a lot of these songs before being on the show?
Carmack: I did. I wrote them when I was living in Los Angeles before I became part of the show.
toofab: Did you think when you were working on them that you would ever release them as part of an EP, or was it just for fun at the time?
Carmack: A lot of it was for fun. I performed around Los Angeles, I had a couple of bands I played in. Original music was just something I loved to do on my own time. I didn't foresee myself creating such a studio recording of it all. I thought maybe someday I'd release some raw acoustic versions, but being part of the show gave me the opportunity to record in these great studios with these great musicians and understand the process a lot more than I did when I was just writing songs and performing them in Los Angeles.
toofab: How much fun has it been to take your own music out on the road. We saw that you did Stagecoach this year.
Carmack: Yeah, I played at Stagecoach and the cast went on a big tour of the country before that. I toured and did a couple of shows with my own band as well. It's been a blast!
toofab: Of the new songs that are going to be coming out next week, which one is most personal to you?
Carmack: I wrote all of them, so they're all very personal. They all have bits and pieces of my life and bits and pieces of the lives of people who are near and dear to me. As I sing all of these songs, I have family members and friends running through my head, or myself and my past relationships. They're all present in every one of these songs.
toofab: Is there one that you are most excited for fans to hear?
Carmack: Yeah. "Pieces of You," the title track is probably one of my personal favorites off of the album and it's certainly one of my favorites to perform. It's one I get to dig into verbally as well, and if I perform it with my electric guitar I get to jam out and have a nice solo at the end.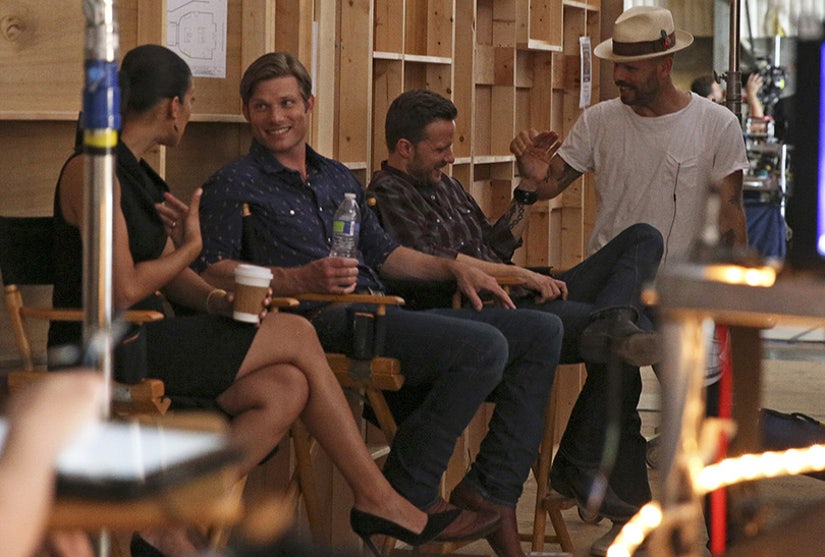 ABC
toofab: Have you found that fans of the show are actually surprised that you are a singer in real life as well?
Carmack: Well that was certainly the initial reaction. We got a lot of surprise that all of the cast is actually singing on the soundtrack. The surprise has kind of waned now that the fans have been with us for four seasons now. They know the drill and know what we do. I wouldn't say the enthusiasm has waned. Our fans are very enthusiastic and they keep buying the soundtrack albums and they're interested in us making our own personal music as well.
toofab: You've talked a little in the past about being uncomfortable with the attention that comes from being on a show like "Nashville." Is it easier to navigate the fame aspect filming in Tennessee instead of Los Angeles?
Carmack: Well, you know it's interesting. I don't know if it's any easier to navigate because of where we are, but the older I get and the more experienced I get, the easier it is to navigate the whole 'being a part of a show and being recognized wherever you go.' I've grown into those shoes a little bit.
toofab: You toured as a cast, how close are you off set. Do you hang out on your downtime too?
Carmack: We do. Quite often. I had dinner with Clare [Bowen] last night as well as Callie [Khouri], the creator of the show. I hang out with Sam [Palladio] all the time and we get together and we watch the show, sometimes we have music sessions and we jam, we write music together. I see Chip [Charles Easten] all the time together as well. We performed at a show last week together. So I see the cast quite frequently.
toofab: Being on "Nashville" and being able to perform at legendary Ryman Auditorium, how does that feel?
Carmack: It does feel a little bit like we cut the line. But I promise you, it doesn't go unappreciated by every one of the cast members when we step on stage at the Ryman as part of the Grand Ole Opry or the Opry house. We do recognize the tradition and how special it is and how hard so many people are working to get a shot at that. I also have to remind myself, when it feels like we are cutting the line a little bit, we have paid dues, just not here in Nashville. We were all out in Los Angeles or wherever we were pounding the pavement, wearing our souls thin, knockin' on doors, and trying to get a leg in. Our dues were paid, just in another city.
toofab: Speaking of these dues in the past, I have to bring up the Abercrombie modeling. I was looking at the list of everyone that has done it and there are some impressive names, Jennifer Lawrence, Channing Tatum, etc, how do you feel looking back at that now?
Carmack: Well… It was certainly.. When you're first starting out as an actor, it's hard to get your foot into any sort of door, and it's hard to get any sort of leg up or attention. So having been a part of the Abercrombie campaign was at least something to lead with when you're going into those rooms as a 20-year-old actor with no professional experience. It was something at least.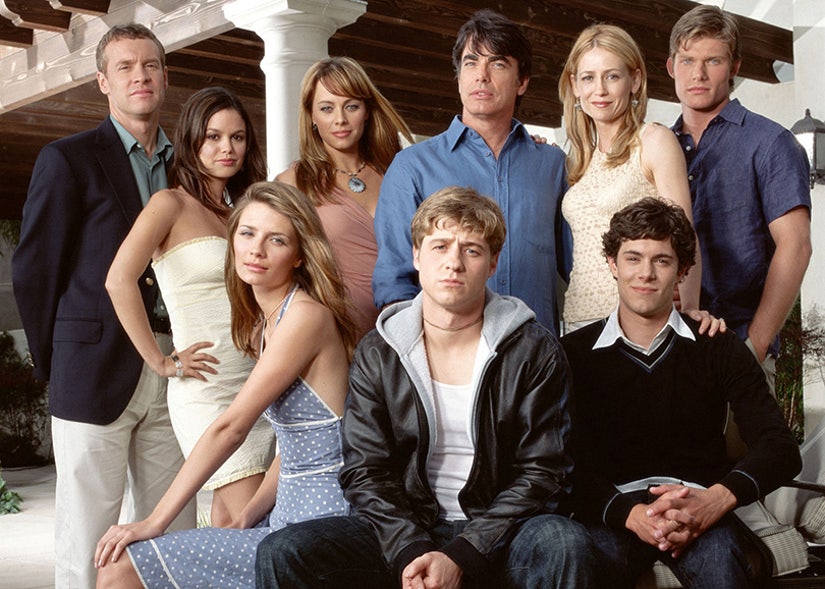 Everett Collection
toofab: "The O.C." was such a big deal when it came out -- 12 years later, do you still have people coming up to you asking you to say "Welcome to the O.C., bitch"?
Carmack: I do get that! It's kind of an iconic line, and they still get a kick out of it. A lot of the time people will be on their phone and they'll be like "Can you say this to so and so?" and it's always a little weird when a father is like "Will you tell my daughter 'Welcome to the O.C., bitch." [I'm like] "Are you sure you want this? Okay, I guess!"
toofab: The mid-season finale of "Nashville" airs the 9th -- can you tease a little bit about Will's journey coming up?
Carmack: Well, if you watched last week's episode, you saw that he's trying to join the co-writing culture of "Nashville," and he's going to be co-writing with Wade Cole, who he's had a bad experience with in the past. He knows that Wade is very vocal – him and his wife both — about "Family values," which means anti-gay basically. He's going to have to swallow his pride and write a song with him for his professional sake. We'll see how that goes.
toofab: And to the fans who hope Kevin [Kyle Dean Massey] would come back, do you have anything to say to them?
Carmack: I'm right there with them. I loved working with Kyle Dean. He's a sweetheart. He's a fantastic actor and it was lovely to see Will sort of happy and level with somebody. Things got shifted around a little bit in post production. There was a breakup scene between the two of them that sort-of got cut. It seems that Kevin Bicks left the show a little unceremoniously and I hope we get to have him back and sort of tie up ... either tie it up nicer or give him a second chance of love with Will Lexington. I can't say that it's going to happen, I just wish it would.
The mid-season finale of "Nashville" airs tonight on ABC. Carmack's EP, "Pieces of You" drops Friday.