This is Megan Mullally like we've never seen her before!
The actress has an edgy new role playing Leanne, an unhinged white supremacist for NBC's new comedic drama, "You, Me and the Apocalypse" -- and even Megan's costar Rob Lowe and show creator Iain Hollands were blown away by her transformation.
While promoting the show, Lowe and Hollands opened up about the hilarious new series with toofab's Brittany Kyles, where they dished on Mullally's "bold" makeover and Rob's equally-edgy new character.
The drama follows the story of a group of unconnected characters, each coping with apocalyptic chaos as a comet is headed for Earth, who cross paths when a chain of bizarre events bring them together.
Lowe plays Father Jude Sutton, a foul-mouthed priest who is tasked with being the "devil's advocate."
Though this isn't the first time Rob and Megan have collaborated -- they both starred on "Parks and Recreation" together -- Lowe says she was unrecognizable when she stepped onto set.
"I didn't recognize her, and I have known Megan since 1984," Lowe tells toofab. "You know she is a chameleon. She is an amazing actress and I think that's no surprise. Everybody knows what a stunning actress she is and when she was on 'Will and Grace' people thought that's who she was, literally. And when she was on 'Parks and Rec' as Tammy, you know she just inhabits those characters and this is no different. I think even Megan Mullally fans, when they see her in this, at first probably won't even realize it's her."
Hollands echoed the actor's sentiments and says it was Megan's decision to take the character even further.
"I have to say she was so amazing. She was so brave," Iain gushes. "She was the one that wanted to push it further, further and further. I think when you first offer a part like that to an actress, you're always kind of worried that they are going to want to look amazing. And she was the one that was like, 'No, no, no, I want the teeth, I want the hair, I want the full on works.' So I think that was a really bold step for her to make."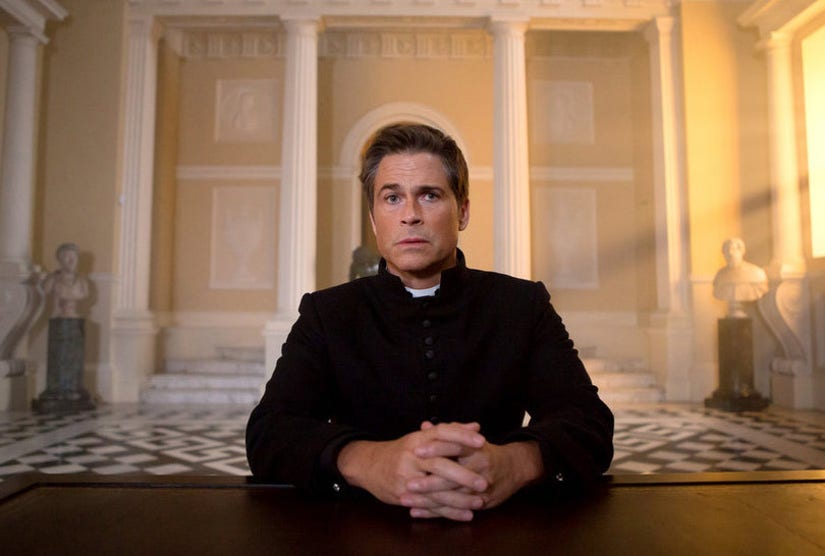 NBC
The series is also a very bold step for Lowe. While we all fell in love with the actor's portrayal of Chris Traeger on "Parks and Rec" -- Father Jude sounds like he's far from nice. So what's it been like playing the antithesis of Traeger?
"Great, is the answer! [laughs]," he confesses. "You know, if I could design my career, which we all try to and sometimes you can and sometimes you can't, it would be going from one extreme to the other with each role."
"So this was the perfect tonic for me right after playing Chris," he continues. "He's such a beloved character, people love and I loved playing him, but I was definitely ready to exercise my more, what's the word I'm looking for, misanthropic muscles."
We can't wait to see Rob and Megan in action when the sure-to-be hilarious series premieres January 28th on NBC.
What do you think about 51-year-old's candid comments? Sound off below and check out the gallery above to see more extreme makeovers!