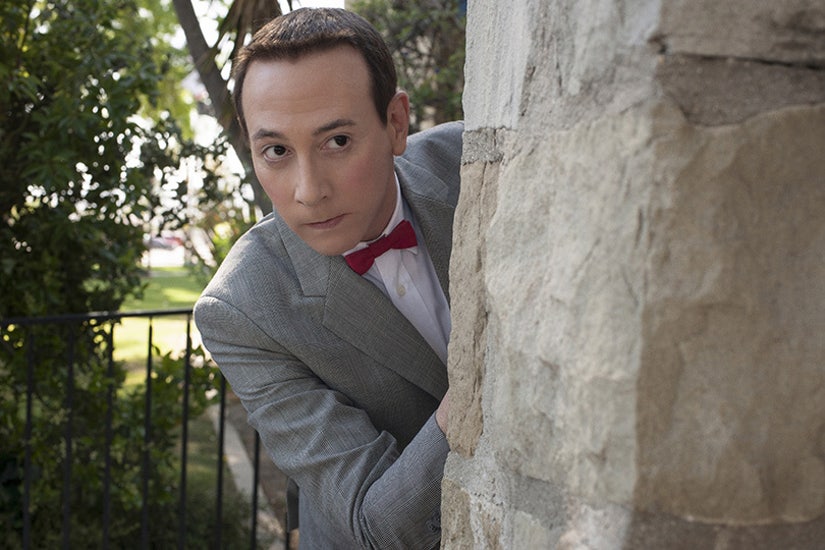 Glen Wilson/Netflix
It's a great time for icons of decades past. The O.J. Simpson trial's back on TV, a Tonya Harding movie is in the works and Pee-wee Herman's got a new movie!
The delightfully bizarre star makes his latest appearance in "Pee-wee's Big Holiday," which Netflix released last Friday. Paul Reubens, of course, returns to play the character he invented, and the result is a movie only he could've thought up.
In the flick, Pee-wee leaves his hometown of Fairville for the first time in his life, embarking on a madcap road trip to Manhattan in the service of this critical mission: go to his new buddy Joe Manganiello's birthday party.
Naturally, the road is pocked with holes for him to step in - not least of which is a gang of three bank robbers headed up by the ruthless Pepper, portrayed in a scene-stealing comedic performance by Jessica Pohly.
Jessica was kind enough to sit down with toofab and dish about working with a legend, the atmosphere behind the scenes, and much more. Keep reading to see what she told us!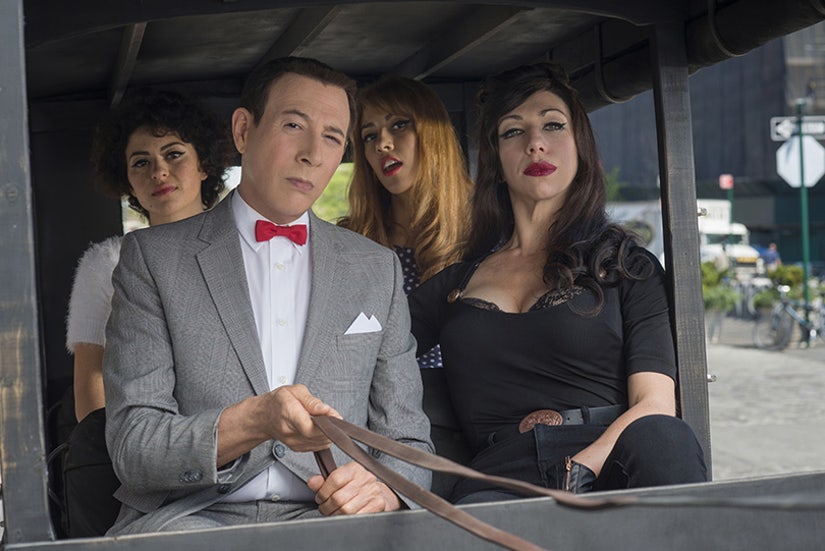 Glen Wilson/Netflix
toofab: [The movie] looks like it'll be a major break for your career. Did Paul Reubens give you any advice on set?
Jessica: Paul himself has had an amazing career, and it's, you know, it spans decades. So, he does have some great advice. He's also got some great stories. It's amazing to hear him talk about his career, and all of the people and places it's taken him to. But yeah, you know, he did tell me something. Some actors have a hard time watching themselves on camera, and he said it's always good to watch something a couple times in a row before you make a judgment on your own performance. And that was really valuable advice for me to have.
toofab: Being the star, writer and a producer, how much control did Paul have on set?
Jessica: I would say he had control in that he set the tone. He was incredibly welcoming, generous, and kind to everyone on set. He knew every single person's name in the entire cast and crew. But you know, on set, everyone has their roles, and it's important that people - you know, that the director is able to give direction and that the actors are able to take it. So yeah, he was a team player. He took direction from John Lee just the way all of us did.
toofab: And within that, was there room for you to ad lib?
Jessica: Sure, yeah. We really stuck to the script, in terms of our little trio of bad girls. Paul himself, though, he improvised a little bit here and there. He pretty much did something different for like every single take. It was pretty awesome.
toofab: You mentioned the gang of bad girls. You share all your scenes with Stephanie Beatriz and Alia Shawkat. The three of you seem to have a lot of fun together on screen. Did you guys hang out off the set?
Jessica: Oh, these girls are so amazing. I cannot tell you how lucky I am to have been paired - or grouped - with such awesome talents and awesome humans for my first big job. You know, it could've been really intimidating, but they're just two really great girls. And so it was - we, you know, on set there's a lot of down time. There can be, and there can be a lot of waiting around, but it was all, at the time, really fluid then, 'cause they all got along really well. Just, it was so much fun.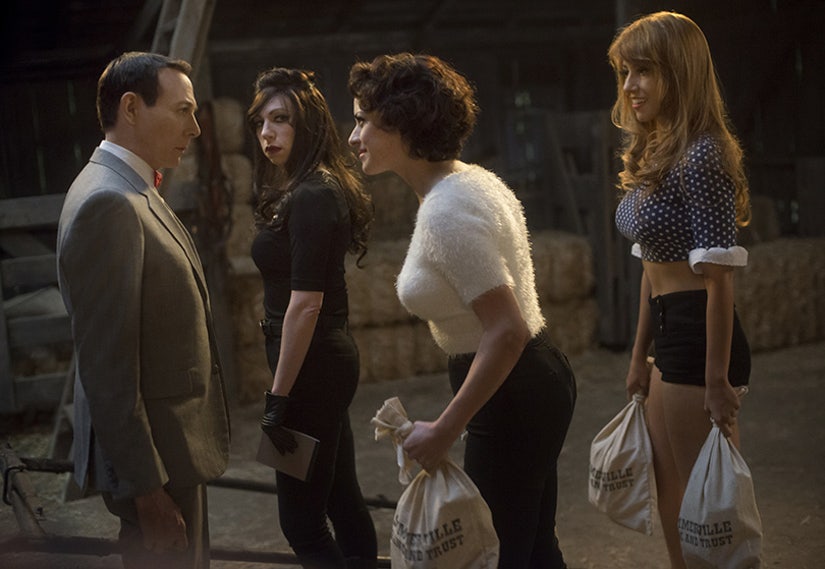 Glen Wilson/Netflix
toofab: Did you guys have any influences for the bank robber characters in mind while you were shooting?
Jessica: Sure, yeah. I mean, early on in the process, Paul told us that the - these girls were really inspired by the Russ Meyer movie, "Faster, Pussycat! Kill! Kill!" So I went home and watched that, and that was, you know, was sort of a jumping-off point for these characters, for sure.
toofab: And did you ever meet Joe Manganiello at all before the press tour?
Jessica: Yeah. I actually was on set one day when he was working, although I didn't have any scenes with him, and I kind of sat in the studio village with him and got to see him, which was cool.
toofab: What was he like?
Jessica: Oh, he's lovely. I mean, you know, he's very, very tall. Sort of skyrockets above all of us. So, you know, physically he's just kind of intimidating - this incredibly, incredibly good-looking human. So I was just like, "Hi!" [laughter]
toofab: So, did Sofia [Vergara, married to Manganiello] ever stop by?
Jessica: Yeah. She was at the premiere, which was really cool. They were the most adorable couple there. So, they're like super cutesy together.
toofab: Going back to the set -- is Reubens one of those comics who is kind of "on" all the time?
Jessica: You know, I don't know. I don't think that he's "on." I don't think he's ever inauthentic. He's - he is himself. But he is just very naturally an entertaining personality. So, you know, he was constantly doing the balloon gag. If you've seen the movie, you know what I'm talking about.
Any time there was like - he was just an amazing tension reliever, like if things would get tense on set. We were in very challenging environments, like very hot desert, and the middle of New York City. And he would just, sort of, just go up to the director and hold the balloon in his ear and make a fart sound or something.
toofab: So what was your favorite moment from the set?
Jessica: Oh, gosh, I don't - there were so many amazing moments. I think - I have to say, though, that being able to shoot in New York was pretty emotional, and, for me, I spent many years working in New York not getting paid to do what I do now. And so, to be on an actual job with an actual lifetime hero of mine, shooting in the middle of New York City, was a pretty epic moment for me.
toofab: You started in the theater, right?
Jessica: Yeah. My background is all in theater, and there's a lot less money in theater. And so, oftentimes, you take a project just because you're incredibly passionate about it, and you know that you'll have to, you know, work - you know, pick up an extra restaurant job to do it, or take extra shifts, or, you know, I was always working a couple different jobs at a time.
See Jessica in action in "Pee-wee's Big Holiday," streaming now on Netflix.