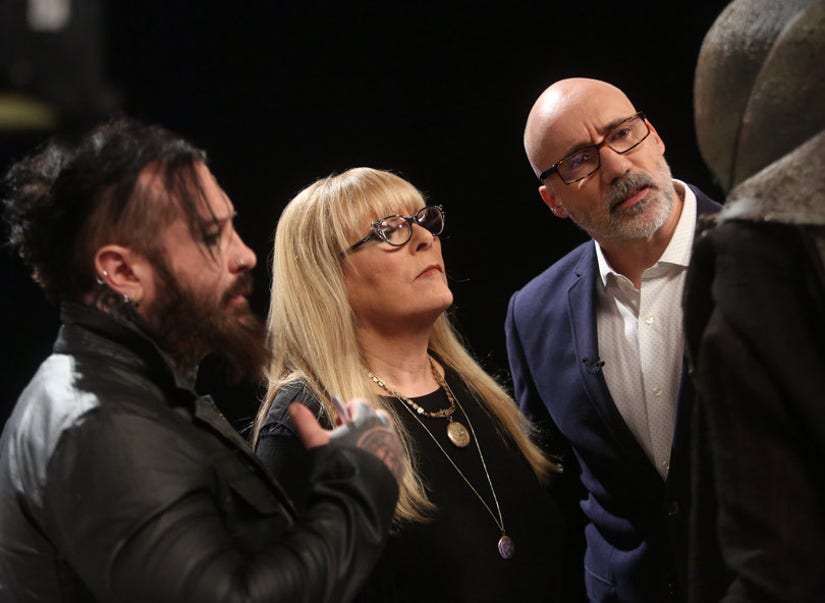 Syfy
It's a hot July day in Burbank, California and some creepy creatures are running amok.
While the sight of half made-up monsters grabbing lunch might cause some to do a double-take, it's just another day at the office for the stars of the Syfy series "Face Off."
toofab's Brian Particelli visited the set of the reality competition show -- where aspiring special effects and makeup artists battle it out for a cash prize and major bragging rights -- and got an inside look at how it all really goes down.
The challenge for the contestants on that July 2015 day? Create a creature that could live alongside one of the most famous movie monsters of all time: King Kong.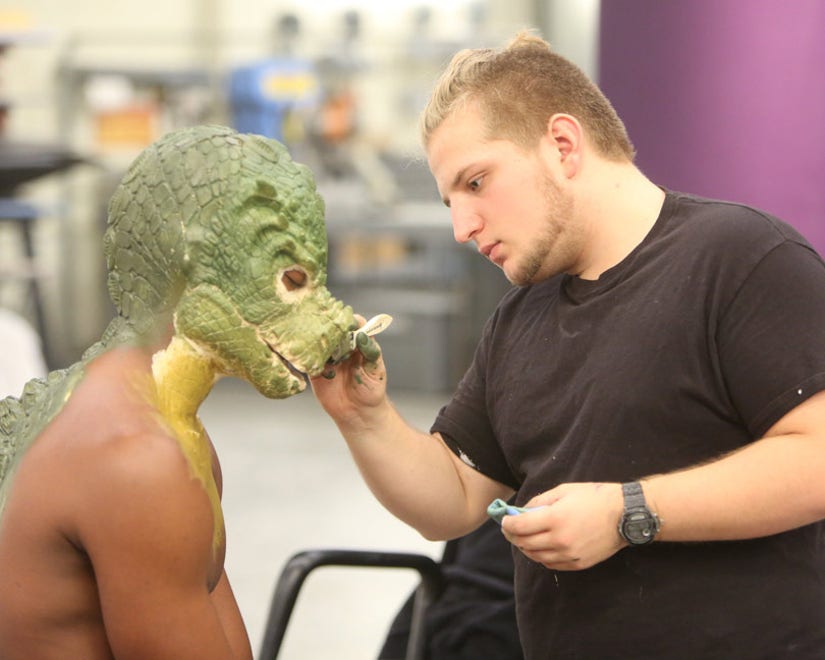 Syfy
Fans of the show will get to see their hard work when the episode airs tonight at 9pm on Syfy, thanks to a challenge inspired by Universal Orlando Resort's new "Skull Island: Reign of Kong" attraction. The contestants are tasked with reimagining one of the island's "uniquely evolved species" as an "intelligent being." The species at their disposal: a dinosaur, a giant bat, an oversized insect and a crab creature. This should be fun.
"This is a really hard one, obviously," judge and creature designer Neville Page tells toofab on the show's set. "One of the hardest ones to do is probably the T-Rex. How do you take the T-Rex and turn them into a person? You gotta be so careful how you do that. If you take a regular T-Rex head and put it on a person, it's going to be a bad mask."
"[The contestants] are destined to fail if you do the obvious. If you take the referential material and use it verbatim," he adds. "It's all about how you balance the details of the morphology in something like a lizard and balance it with it being on a human being. That's always the trick. We all know there's a person under there, so how do you convey the illusion that it's not?"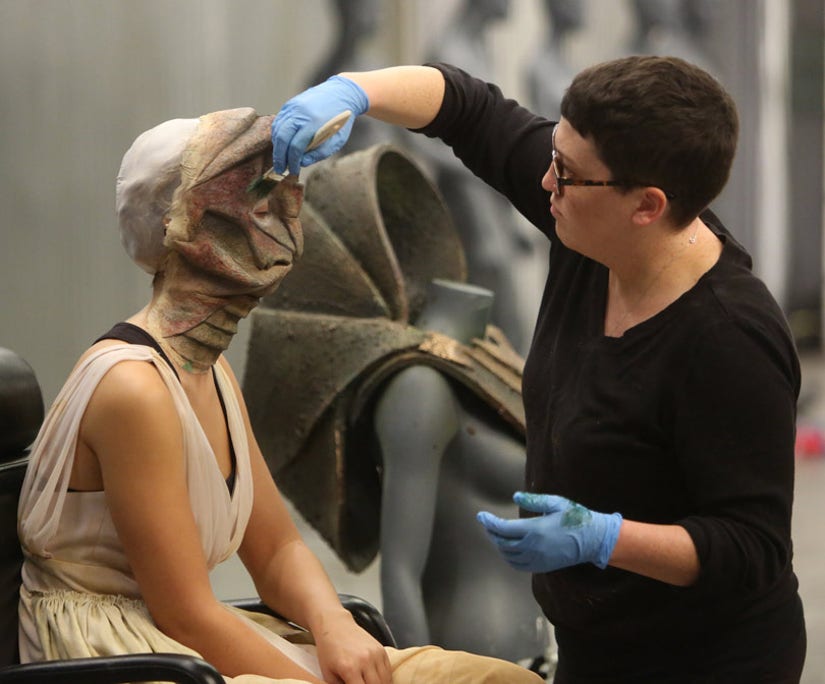 Syfy
10 episodes into the season, there are only four contestants left -- and, by now, they hopefully all have a good grasp of what they're able to get done in the time allotted. We've seen way too many already bite off more than they can chew.
"The thing is, at this point in the competition, what I'm looking for is not so much for the specific look," fellow judge Glenn Hetrick says. "I hope they stay away from doing things that are far greater than what they can accomplish. It's a hard lesson to learn. There's so little time in this competition, and some of the most talented artists make their mistakes and get eliminated because they try to do more than what they can do well in the time that they have."
"I'm hoping not to see poor decision making that leads to the situations where – no matter how good their time management is – they just can't succeed," he continues.
Syfy
With the talent only getting stronger as each season progresses, the elimination process gets even more challenging week by week.
"It gets harder as we go along, let me tell ya," Oscar-winning makeup artist Ve Neill explains. "At the beginning, it's so frustrating. There's not much to go off of. Maybe they just had a bad day. We don't know them that well and we haven't seen what they can do ... but it's even more difficult as we go along because we can see what they can do, we've learned their talents, and it's like. 'Oh, my God, we don't want them to go home! We know they can do better! I don't know what happened!' But you know, somebody's gotta go. It's the nature of the competition."
All three judges agree on one thing: They almost never all agree on who should go home.
"It's usually a two-to-one vote," Glenn explains. "Usually two of us agree. Sometimes it's Ve and Nev who want something, they vote someone off and I think they should have another week. It just changes constantly as to which two people are on the same page."
In fact, deciding on who to send home can be so challenging, Hetrick wishes they could do away with it altogether.
"I wish we could watch all 13 of them compete, with everyone in the competition and then at the end, maybe award someone a win, you know?," he muses. "I don't like sending them home 'cus you always wonder, 'What if they were here in this challenge?'"
"Today, I'm not looking forward to it," Page says of tonight's elimination. "We each trade off on who gets to say the last words to the person going home."
That can't be fun, we ask. "No, it's not."
"Face Off" airs Wednesday nights on SyFy.